About a year ago I decided I wanted to run the VT100k. I had ridden the Moonlight in VT 50 several times and I thought that knowing a bit about the course and the terrain might be advantageous in my first race of this distance. Turns out that knowing the terrain and actually RUNNING it were two very different things.
My friend Laura and I signed up about 5 minutes after registration opened in January – and then the fun began. Since I had never run more than the 50k distance, I thought it might be prudent to get some expert training and advice. That training and advice came in the form of Deb Livingston. She's a bit of a legend in my neck of the woods (ok, in my mind she is) and has run too many ultras to count. Under her watchful eye I prepared for the hills and heat that accompany the VT100k. By early July I felt ready and anxious to test myself on what was sure to be an amazing adventure.
I arrived in VT on Friday with my husband/crew chief Joe, my pacers Wendy and Dean, and Laura and her crew. We checked in, got our bibs, and did a quick weigh in (I was at 130, which was just what I expected to see after the massive amounts of food and water I'd been consuming in the past week), and then did a bit of shopping in the VT100 on-site store (call it a bit of taper madness). At the runner meeting we learned that we would not be required to do mandatory weigh-ins and med checks at the medical stations as in years past. I was a bit worried that I'd have to rely on my own assessment of my condition, but what the heck – how hard could it be? After the meeting we took a walk to see the last ¼ mile of trail and the finish line. I was itching to get the race underway.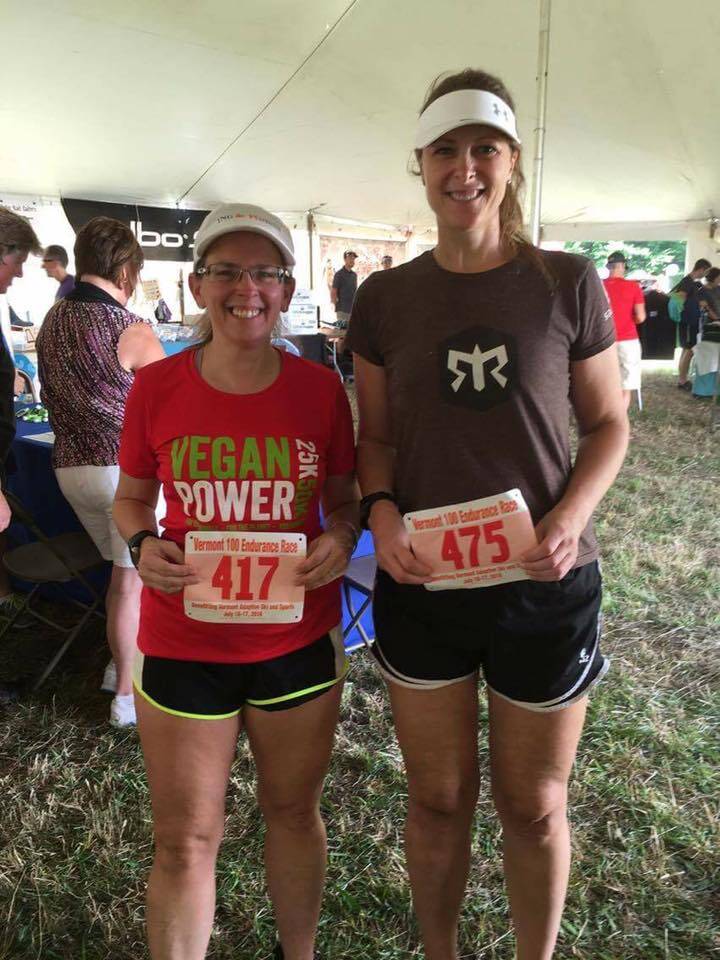 Saturday morning arrived warm and sunny, just as predicted. Luckily the weather gods were kind – it was only projected to reach the mid 80's and not the mid 90's as earlier forecasts had warned. Laura and I checked in at the start line and began awaiting the countdown to the unknown. We got a great picture of us with our crew and race director Amy Rusiecki moments before she sent us off up the road (yes, the race starts with a cruel ½ mile uphill section).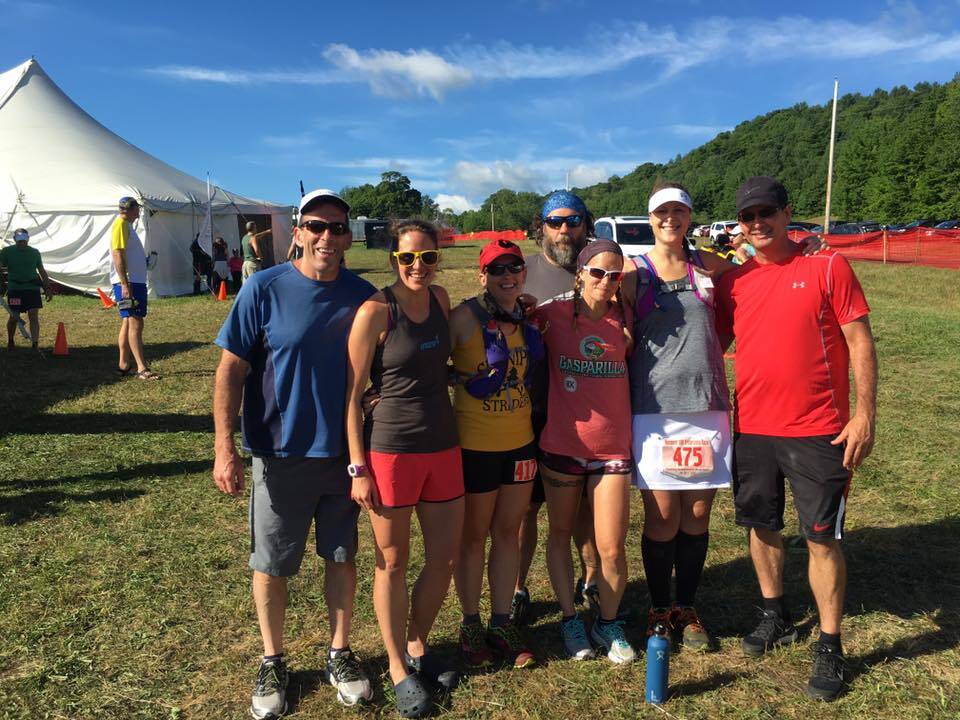 The first 9.3 miles literally flew by. We were cruising along at a great pace, keeping the heart rate low, and arrived at Camp 10 Bear for the first time in 1 hour 50 minutes – well ahead of the time we expected to finish that section. Most of the early miles are hard-packed dirt roads, so it's relatively easy to run. We filled our water bottles, cruised the aid station food as well as scarfing down pickles and Coke from our crews' coolers, and set off on the next section. We would be seeing our crew again at Margaritaville, which was only a short 11.5 miles away. Lulled into false security by the way we had been running, we charged up the hill and out of Camp 10 Bear.
Reality slammed us in the face in the form of Agony Hill, a rugged, steep, mile-long uphill. Hands on knees, a struggle to keep going, and lots of profanity is the only way I can describe it. Now I had done a lot of hill training in the weeks leading up to this race, but absolutely nothing had prepared me for this. All I kept thinking was how I couldn't imagine the 100 milers doing this hill after already running almost 50 miles. Laura and I had done the Mt Greylock half marathon a few weeks previous and I remembered telling her how nothing in VT could be this bad. Boy, was I WRONG about that!!! We got through it and hoped that that was the worst of it. Yeah, it wasn't.
We arrived at the Margaritaville aid station still in good spirits, despite the uphill grind, and overheard a volunteer saying that we were the only runners in the past 30 or so to come into the aid station at a run. That made me feel good, knowing that we were going strong at mile 21. Again we refilled our water, stuffed ourselves at the food table, and got some much-appreciated encouragement from our crew. Laura needed to attend to a nasty brewing blister on her heel, so I took some time to just soak up the atmosphere and enjoy the moment. With Laura's foot taken care of (or so we thought), we grabbed a few more snacks and headed back out on the course.
The next section was a mix of easy running and some long, steep uphills, again on hard-packed dirt roads. We were still running the pace that were hoping to be doing, about 2 hours ahead of the cut-off. The heat was starting to take its toll and we were doing our best to keep cool by filling our buffs with ice at the aid stations, taking salt tabs every hour or so, and drinking a lot of water. We talked about how awesome it was to be such an historic course. We were rewarded at the top of the grinding hills with breathtaking views. And we discussed how much easier it was going to be to run when the sun started to go down. Little did we know that the hardest sections of the course were yet to come.
It was about this point that Laura's foot became a problem again. She came to a stop on a hill and told me that she couldn't go on. Another runner behind us asked what was wrong and how he could help. Explaining that she had a horrid blister on her heel, he promptly took off his pack and whipped out a tube of Krazy glue. Laura took off her shoe and sock and we peeled back the bandage, horrified to see skin come off with it. This kind runner reassured us both that it would be fine, and then he proceeded to cover the whole area with glue and lay the bandage back down. He told her to wait a few minutes and then try to move on, and he headed off down the road. Within a half mile Laura was much more comfortable and we set our sights on the next crew station, about 5 miles away.
Coming into Camp 10 Bear the second time was a little chaotic. It's a steep, speedy downhill to the aid station and we came flying in like we were on fire, hoping to see our crew waiting for us. While there were plenty of volunteers clamoring to get us what we needed, we scanned the crowded aid station for our crew and came up empty. Two fellow Shenipsit Striders, Steve and Sean, saw my slightly panicked expression and immediately asked what they could do. When I mentioned that my crew was missing, as well as my pacer, they took off to find them. Steve came flying back over saying that they were on the other side of the aid station and were on their way. And the Striders had BACON!!! Nice, crispy, delicious bacon. My friend Wendy was geared up and ready to go for her 18 mile pacer duty, so after we ate and drank our fill we were off again.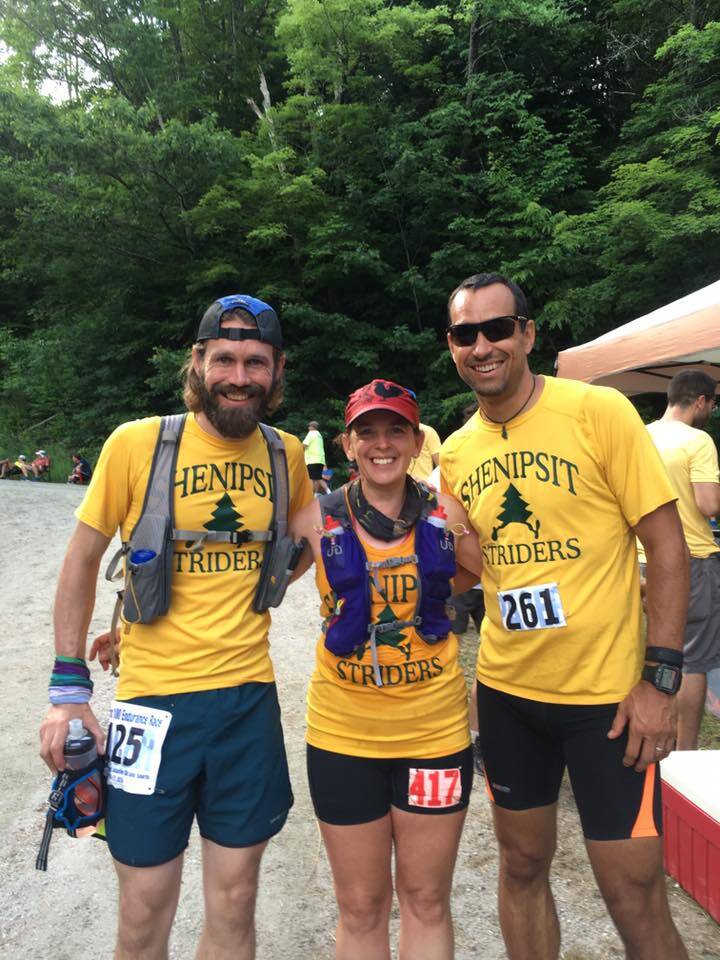 A half-mile or so from the aid station we were faced with Heartbreak Hill. Ugh. Another steep, technical hill. Ok, I know we're in VT, but I swear there was way more uphill than downhill!!! Grinding up that hill I kept thinking to myself, "where is this downhill section that I was told about???" Eventually we found it and enjoyed a long stretch of road that was, in fact, mostly downhill (peppered with some steep uphill spots, of course). We soon began seeing some odd signs, and I was certain I was hallucinating. "Brownies ahead?" "Carrot cake?" "Flour girls?" Oh my sweet heavens, those signs actually existed and guided us to an amazing aid station with all kinds of baked goodies and my new favorite food – frozen grapes. Best. Food. Ever. Until the Ramen noodles a few miles later….
By now it was getting dark and we switched on our headlamps. The cooler weather definitely lifted our spirits and we pushed on towards Bill's aid station at mile 50. Seeing my husband waiting for me was such a blessing. By now I was beyond tired, my feet were stinging from the downhill pounding on the hard dirt roads, and I was ravenous. I weighed in (just for kicks, since we didn't have to pass a med check) and was happy to see I was at 132. No cause for worry there. I cruised the aid station food and was overjoyed to see the Ramen noodles. Taking a cup, I decided to sit down and get off my painful feet for a few minutes. Of course you know what happened next. The flash from my phone awaked me as Joe took a picture of me napping. I actually think that quick catnap did wonders, as I quickly got up and finished my soup and was ready to get back on the trail.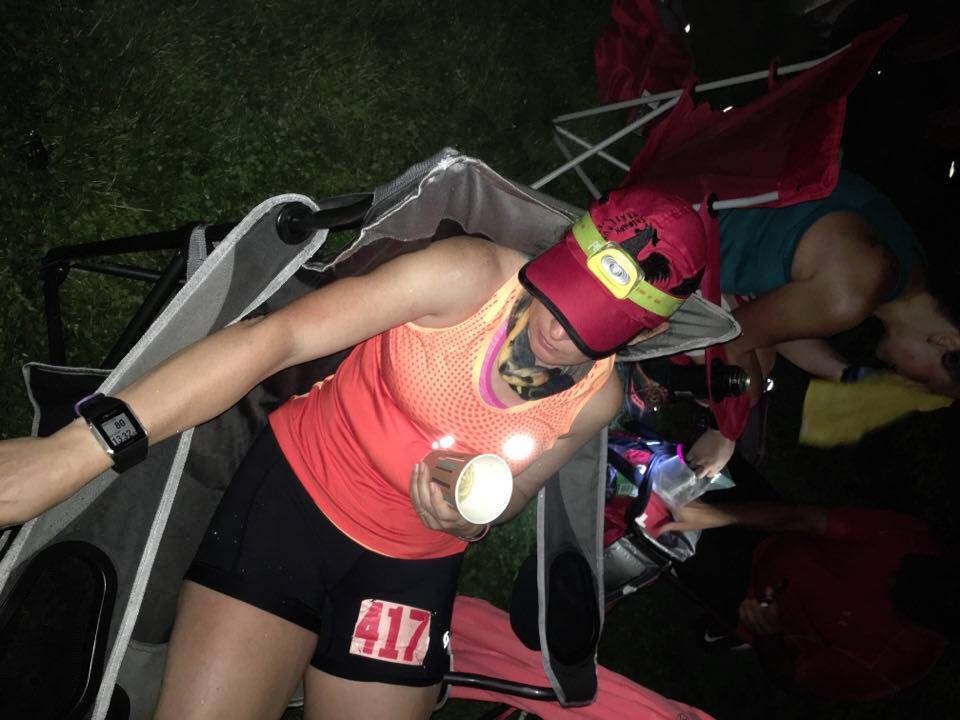 My friend Dean was now pacing us, and I hoped he knew what he was in for. Two very tired, sometimes cranky, swearing, staggering girls. There was a lot of trail in this section of the race and I knew that the two worst hills on the entire course were yet to come. Laura's heel had become a problem again, so we took our time getting through rooty trails and slick fields, and got a beautiful view of Mt Ascutney for our troubles. Soon after that we began to hear rumbles of thunder. Rut-roh. Rain I can handle. Lightning? No thanks!! Praying that it would hold off, we kept pushing towards Polly's aid station and our last chance to see our crew before the finish line. Less than a half mile from Polly's the skies opened up, drenching us. I was shaking uncontrollably within a few minutes because I was already so depleted. Joe found us a few hundred yards up the road and got us into the aid station where we got more warm food and some dry clothes.
We waited in the garage at Polly's for the rain to subside. I dropped my hydration vest and opted to go with a handheld for the last few miles, and I was shocked at how stiff and tired my shoulders were. I hadn't noticed it until I took off my vest. I did some stretching and Joe rubbed my back for a bit, and then it was time to kick the rest of this course's ass and get across that famous finish line. I got one last hug and then the three of us set back out on the road.
Time seemed completely suspended throughout the entire race. I had no idea what time it was, how much time had passed, or even if it was the same day. I marveled at how good I felt when Laura said, "hey, do you know its almost 3am?" I swore it couldn't be that late (or that early, depending on how you wanted to look at it). Distance also seems warped. Sometimes the miles passed quickly, and other times they seemed to go on for an eternity. Unfortunately, this was one of those times where a single mile felt like 10. We walked and ran and walked and ran. Polly's is less than 5 miles from the finish line, but I felt like we had been running forever. When we came to the "1 mile to go" sign, I almost cried. Seriously? We STILL had another mile? I even remember saying to Dean, "I can't do another mile!!" His response was NOT the sympathetic one I wanted. He basically told me to suck it up, that my mind was just lying to me. At that moment I hated his guts, but in the end he was right. Of course right at that moment the rain started again, and the trail quickly turned to slick mud. With less than a half mile to go, I told him to go on ahead and tell Joe we were almost there.
Now, I have never walked a finish line and I had no intention of this one being my first. But the trail was so slippery and we were so fatigued that I was afraid to do anything more than a slow walk. Luckily the trail levels out with a few hundred yards to go, so I looked at Laura and said, "let's rock this thing!" and we painfully started to run. Seeing the lights of the finish line and hearing people clapping and encouraging us was more than my weakened body and mind could take. I barely got into the chute before I started to cry. Amy, the race director, was there to meet us and I fell into her arms and just sobbed. A year of training, preparation, anticipation, dreams, and hard work had paid off. I had finished my first 100k in 17 hours and 52 minutes, and even though I was physically shattered, I was emotionally so high that I didn't think I'd ever come down.
With Joe holding me up, we made our way to the med tent and got some food before we headed back to our rental house. I looked around at all the runners, volunteers, crew members, pacers, friends and family and thought about what I had done. It was so surreal. And I can't wait to get back there and do it all again. Thank you to my husband Joe, for being the most amazing crew chief and for supporting me the entire journey; to Laura for logging all the training miles with me and for enduring my almost constant string of profanities as the night wore on; and to Wendy and Dean for being the best pacers ever and keeping us going with the jokes and encouragement. I love you all more than words can express. I'm glad you were all a part of this magical experience. On to the next!!!