I have been dreaming of running the VT100 since I started trail running in 2013. In my former life I was an endurance rider and had completed the Moonlight in VT 50M several times with my equine partner. I can remember passing runners and questioning their sanity. Fast forward 15+ years and here we are.
I got my feet wet by completing the VT100k three times in 2016, 2017 and 2018, finally earning my VT100 qualifier by finishing the 2018 race in 15:51 (here is my race report for the 2018 edition of the VT100k). I felt ready to tackle the big one.
I toed the line of the VT100 for the first time in 2019. We all know how that worked out for 51% of us. My day ended at Camp Ten Bear #2, mile 47. The hardest thing I've ever had to do in my life was walk over to the race officials and hand in my bib. Of all the races, THIS was the one I never wanted to DNF. The race and VT Adaptive mean so much to me that I felt like a huge failure. It took a long time to shake this one off.
I picked myself up and registered for the 2020 race – and then the world stopped. For two years we were in a holding pattern, and we waited while the COVID-19 virus ravaged the planet, canceling everything, taking way too many lives, shutting down way too many businesses, and forcing people into isolation. We held our collective breath until we got the long-awaited email that yes, the 2022 race would go on. Everything kicked into high gear.
Training went well under the guidance of my coach Amy Rusiecki (yes, she is also the RD for the VT100). I had to run another qualifier due to the long stretch between my last one and this year's race, so I ran the Jack Bristol 50M in New Preston, CT in April (finish time 10:50). Being a part of the Team Run 2 Empower, we were able to do some training miles on the course. At home, I did LOTS of hill repeats at Sleeping Giant, did some heavy weightlifting, and worked on fueling and hydration strategies. We also worked on cooling techniques, so I didn't get overheated again this year.
The weather stalking began early – probably a month out for me. Heat is a big problem for me, but I knew that if the weather played nice, I had a good shot at finishing this race. Finally, about 7 days out, it became clear that Mother Nature was going to bless us with an incredible day. I think we all breathed a collective sigh of relief to see low 80s and clouds in the forecast.
Also 7 days out, my husband and I moved from our home in Groton, CT to our new house in Springfield, VT. What? Doesn't everyone move two states away a week before their 100 miler? No? Just me?
As we settled into our new home (only 30 mins from the race start – yay!!) I also began to organize and pack my gear for the race. Historically I have been an over-packer and I really wanted to whittle things down this year, not only to make it easier on my crew but also to make my crew stops quicker. Having all that ready helped calm the nerves a bit and I was ready to roll.
Race morning!! Holy shit it was finally here. We got to Silver Hill meadow about 345am (yep, a little late), checked in, and I headed right over to the start line. I managed a quick hug with my friend Maria, a couple of good lucks to my fellow runners, and the gun went off at 4am. I headed down the road with Maria and 300 of my closest friends, totally ready for the day ahead.
Vermont is notorious for its hills. You are almost always either going up or going down and there is very little true flat at this race. My plan was to power hike all the ups, run all the downs, and run/walk what flat there was. The race starts with a long downhill and finishes with a long uphill. Who thought that was a good idea?

VT100 Elevation profile (PC: vermont100.com)
We quickly merged into a group with Vin, Kimmy, Anya, Amy, and Kyle. The first 14 miles rolled along easily, and I was surprised at how good I felt. Amy cautioned me about going too fast as Maria and I passed her and Kyle, but I assured her than my HR and effort were low, and we kept on moving. Shortly after we came to the first manned aid station, Taftsville Bridge. I felt the need to slow things down a bit, so I let Maria go on and I grabbed some food and some Coke and started up the hill out of the aid station.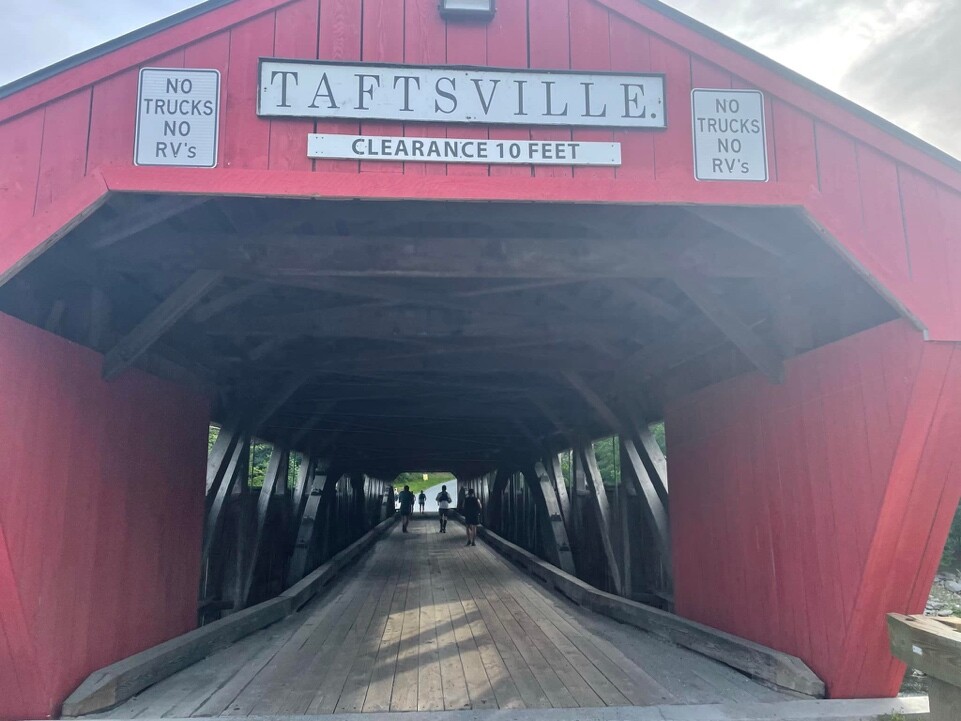 Taftsville Covered Bridge (PC: Melissa Arnold)
I continued to climb all the way to the first crewed aid station at Pretty House at mile 21. I was still feeling pretty good and quickly switched out my singlet and my vest, gave the hubs a kiss, grabbed some cookies and potatoes at the aid station, and left. Shortly after leaving the aid station, I saw Ben Kimball and threatened him with a big sweaty hug. He snapped some amazing photographs as I went by and wished me well.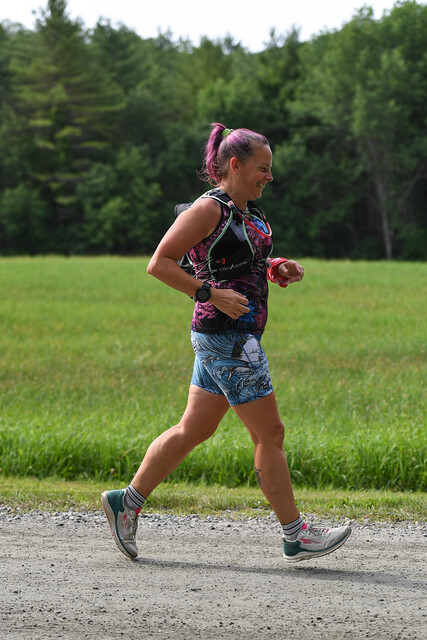 Leaving Pretty House Aid Station (PC: Ben Kimball)
The hills rolled along, and I alternated between running alone and running with Vin, Kimmy and Anya. I leapfrogged with Kyle, now with his new guide Julia. Julia and I had communicated a lot on social media but this was the first time we'd met in real life. We chatted a bit and then I moved on ahead, and soon I began the climb up Sound of Music hill.
This hill is known for its 360 views of the gorgeous Green Mountains, but it's also a long uphill and a steep downhill in the full sun. I moved forward as best I could without going too far into the hole and took the downhill very slowly. I knew I was losing a lot of time here, but I wasn't willing to risk a fall this early in the race. When I finally got to the bottom and back onto some dirt roads, I pushed the pace a bit and cruised the long downhill into the next crewed aid station at Stage Rd at mile 30.5.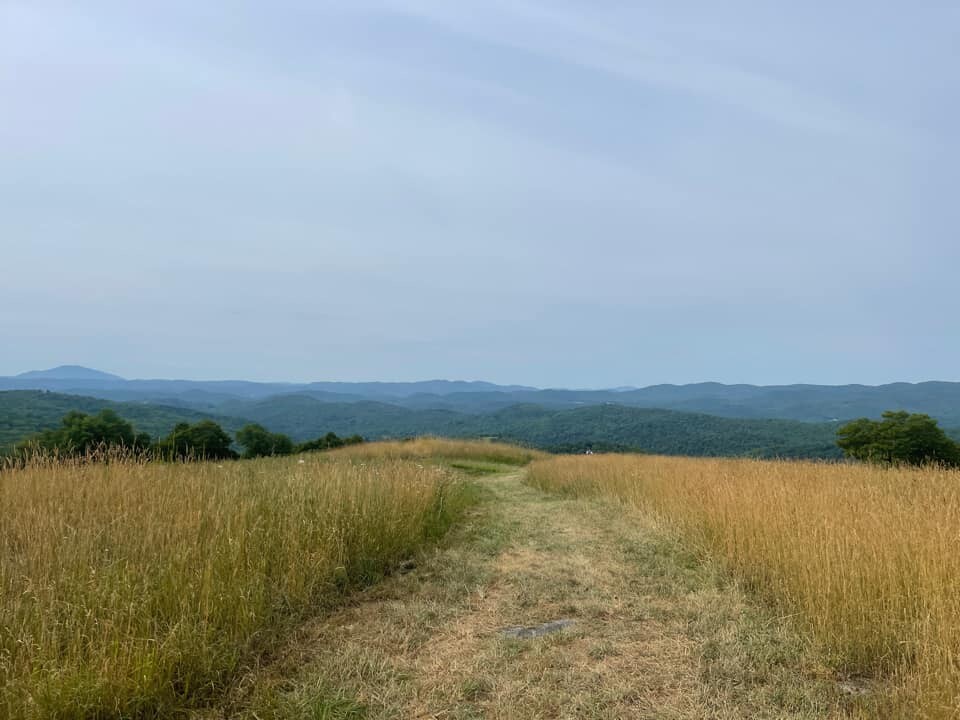 Sound of Music Hill (PC: Matt Klein)
I have a love/hate relationship with the Stage Rd aid station. It's at the bottom of a nice long downhill so you arrive well-rested and ready to eat. However, shortly after leaving Stage Rd you start the god-awful climb up Suicide Six (now renamed Saskadena Six). Imagine climbing a ski slope at mile 32 of a 100-mile race. This thought weighed heavy on my mind as I chowed down at the aid station. Not wanting to waste any time brooding about it, I again changed my singlet and my vest and, feet dragging, headed off to certain death.
While I did have to stop and let the HR come down a couple of times on the climb, it wasn't as scary as it should have been. Cresting the top, I thought "wow, that wasn't bad at all!" and started down the backside towards the Rt 12 aid station. The weather was also cooperating well, and while I was sweating, it wasn't nearly as oppressive as 2019. I said a silent thank you to the weather gods and kept pressing on.
Arriving at the Rt 12 aid station at mile 33.5, I was happy to see friends Adam and Crutch, both looking well. I also met fellow UltrAspire ambassador, John, who was volunteering at the aid station before his pacing duties of another ambassador later in the day. This aid station blessedly had a hose and popsicles, both welcome as we were approaching the warmest part of the day. I also chose to dump ice into the sports bra, trying to keep the cooling going as long as possible. Adam, Crutch and I left the aid station together and started the climb (why does every aid station at the VT100 have a hill directly after? Must speak with management about that.)
The short uphill was followed by a nice, long downhill to Lincoln Covered Bridge. After a short run on the busy Rt 106, we crossed through our second covered bridge of the day and rolled into the aid station. I became aware that the exercise and the weather had combined to create a pungent aroma that wafted from my body. I remember saying to my friend Ryan (who was volunteering at that aid station – thank you!!) that I smelled really bad. The things you say at mile 38 (wait, was I really at mile 38???). These guys had more popsicles (yay) and ice (another yay) so the three of us loaded up on both and headed for one of the worst climbs on the course. This is the one that did me in in 2019, so my husband and I had come here the previous weekend and "ran" the hill, in the hopes that it would make it less scary on race day. The plan worked (thank you for the advice, Amy!!) and I powerhiked all the way to the top. We got a little bit of flat road before starting another climb, and it was there that Adam and Crutch let me go. I cruised the next downhill into Lillian's aid station at mile 44.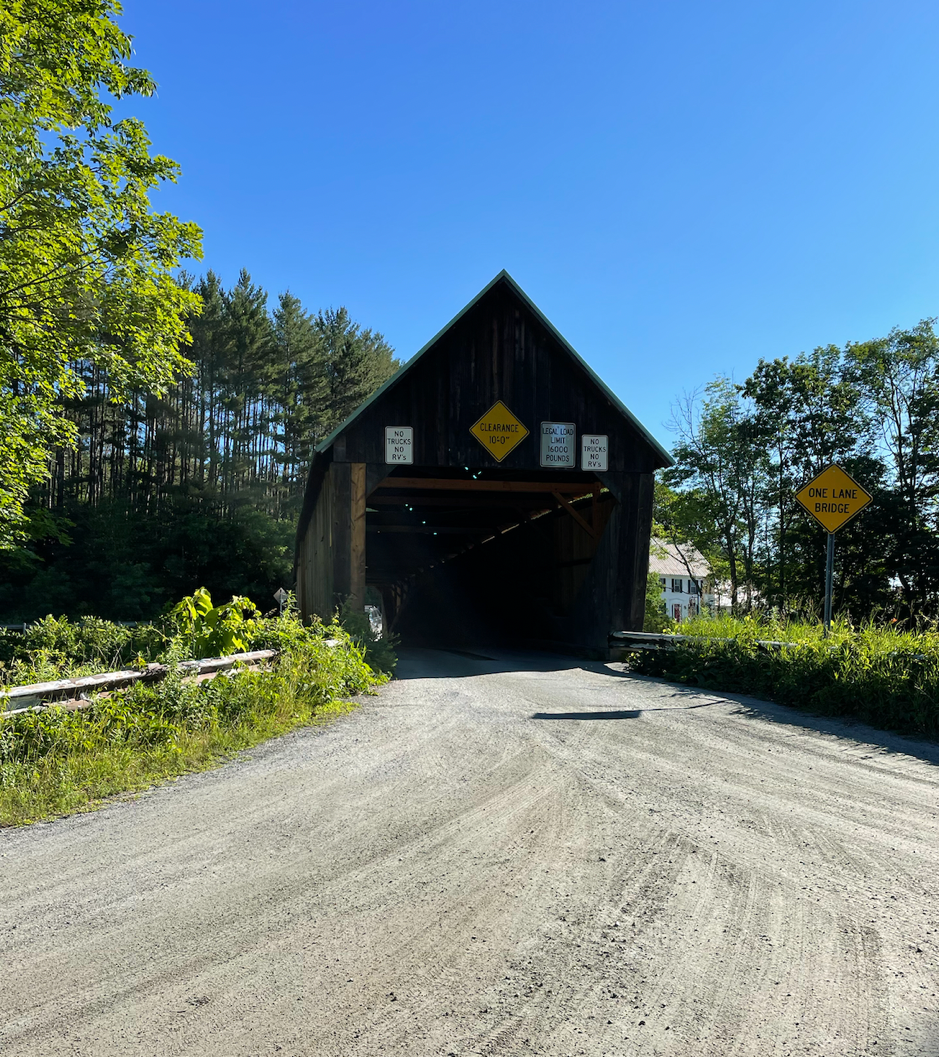 Lincoln Covered Bridge
I stopped to grab some fruit and Coke and headed off to Camp Ten Bear for the first time (we hit this aid station twice during the race). It's only a few miles from Lillian's to CTB, but in 2019 it felt like it took an eternity to travel that distance. This time, I picked off the Rt 106 road section, the new trails through the newly logged section, and popped out just above Jenne Farm. This view is spectacular and is featured in many photos, paintings and movies (including Forrest Gump). I paused for a moment to take it in, ran past the farm, and shot down the hill to CTB at mile 47.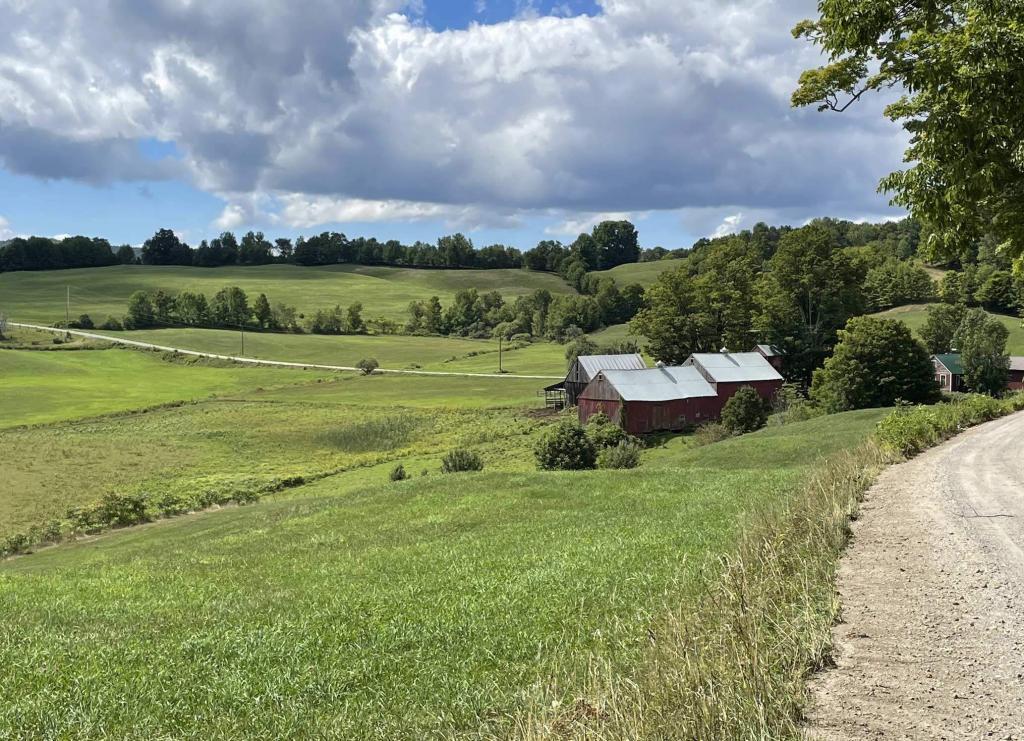 Jenne Farm
My husband Joe had gone to get my pacer, Danielle, by this point, so they were both waiting for me at CTB. Like a pit crew, they handed me my vest, dry singlet, and clean socks, and went over to the aid station to grab whatever I wanted while I changed. I was starting to get some blisters, so I lanced those quickly before putting getting back into my shoes (I wore my Altra Torin 5 for the entire race). Knowing I had yet another adversary in the form of Agony Hill soon to come, I left the aid station and headed for Margaritaville.
The climb up Agony Hill is, well, agony. The first part is hard packed dirt road followed by a section of rugged class 4 jeep road that is often washed out and laden with large rocks. This time we also had to deal with the added challenge of dodging the loose dogs that were bent on having us for dinner. Kyle and his guide were directly behind me and between us we were able to alert the owners to come get their hounds. We wasted a bit of time having to wait for them, but it allowed us a bit of recovery and we finished the hill without incident.
I was less than impressed with the next section, which included a lot of new trails through a freshly logged area. I was too tired to run this terrain and was frustrated at how much time I was losing through here. It seemed an eternity before I finally came out on a dirt road and was able to start moving along again at a reasonable pace. Before long I came to the two mile climb up to Margaritaville at station at mile 59.
I was getting some chafing in the lady parts area, so I had to take some time at this aid station to rectify that situation. Other than that and a few blisters, I was virtually unscathed and amazed to be in such good condition at this stage of the race. While I took care of business, my pit crew again got everything ready for me to make the quick switch. When I returned from the portajohn I saw Adam come in and realized that Crutch wasn't with him. I felt awful when I realized that he must have dropped, and when I finally saw him with Adam's crew, I hugged him and cried a few tears. Realizing that we were now both alone and heading to a remote section, soon to be in the dark, Adam and I decided to leave the aid station and make our way back to Camp Ten Bear at mile 70 together.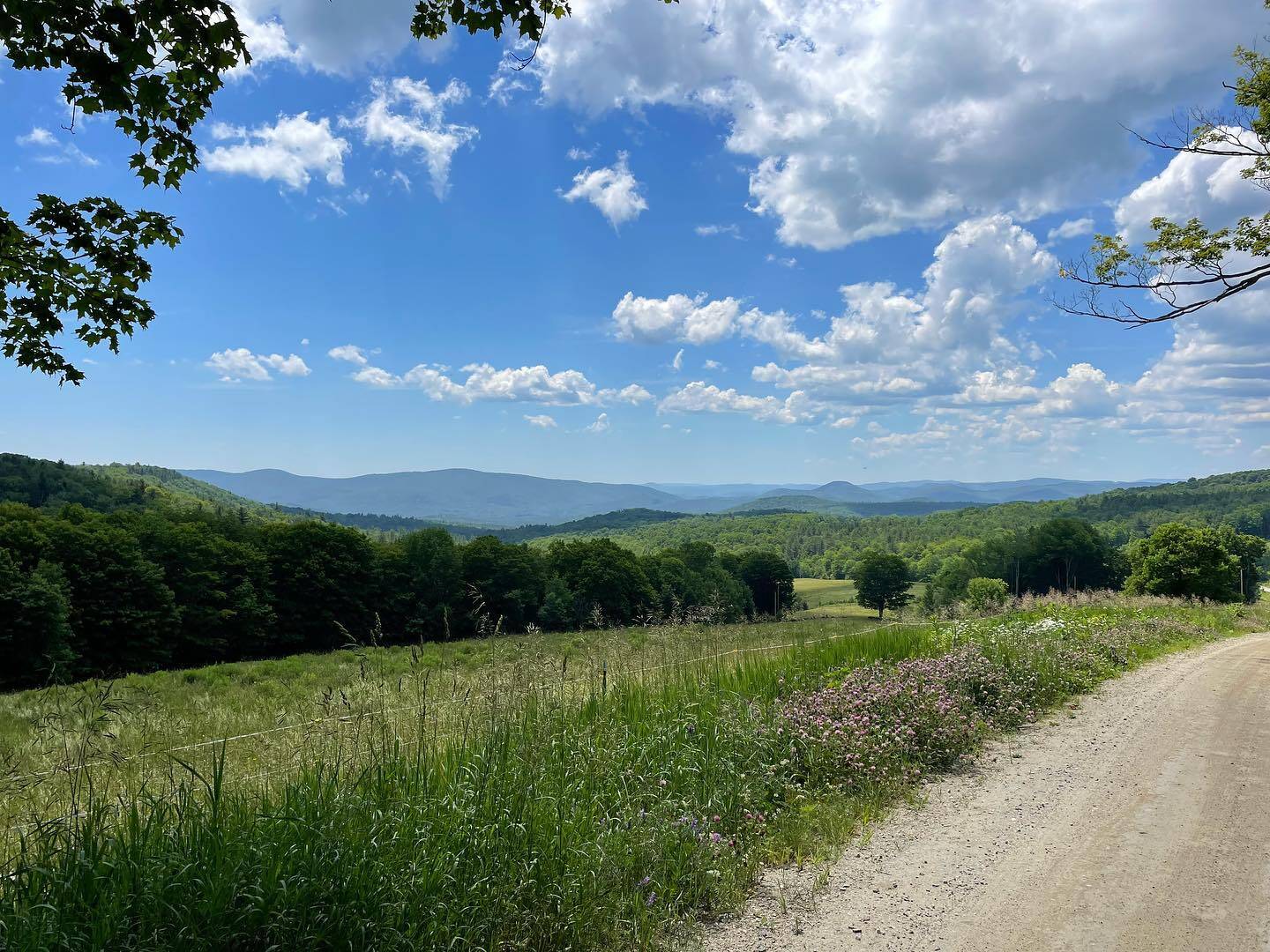 Leaving Margaritaville Aid Station (Photo not taken during the race)
We made good time on the road sections along N Puckerbrush and Brown Schoolhouse before we had to switch on our headlamps. I just wanted to get through the next downhill Jeep road segment because I couldn't see well, was getting super tired, and felt like I was holding Adam back – which didn't help my mental and emotional state. I think this section took a toll on me and I arrived at CTB a little defeated and starting to doubt being able to finish this race. It was here I picked up my pacer, Danielle. She and Joe got my gear switched out and got a jacket on me because I was beginning to get chilled from the fatigue and the cooler nighttime temps. Adam chose to continue running with us and as we left CTB and headed towards Spirit of '76 I shared my thoughts about not finishing with Danielle. She had none of it. She acknowledged that I felt like shit, listened to my doubts, and then said "yep, the trail is that way".
The section from CTB2 to 76 is riddled with technical single track that is very steep, both up and down. I was unable to run any of this and it bothered me a lot. I knew I was getting close to the time cutoff and not being able to move quicker was frustrating. I don't remember much of it, except for the non-stop complaining I made to Danielle about how angry I was at the terrain and my lack of ability to negotiate it quickly. Again, she acknowledged my complaints, agreed that it sucked, and said "yep, the trail is that way". We eventually got to 76 and I was greeted by Ryan asking me if I smelled better. Um, no, I did not, but I was lifted by the laughter, and we got in and out of that aid station quickly and out onto more runnable (for me) terrain. I was looking forward to getting to Bill's at mile 89 where my husband Joe would pace me the rest of the way home.
I'd like to say that this next section went well – but it really didn't. I was beginning to really doubt myself and my ability to get home in time. My feet were hurting, the blisters kept coming back despite my lancing and draining them at every crew stop, and I just couldn't seem to move forward fast enough to imagine making the time cutoffs at the end of the race. I was alternating between freezing and overheating (thank you Danielle for continually putting my jacket on and taking it off) so I knew I was getting depleted, but nothing seemed appetizing at this point. I kept chugging down the liquid calories (Skratch, Coke and tomato juice) and fruit and was managing to subsist on that for the moment. There was a lot of road on this section and Danielle and Adam kept me moving as fast as my body (or maybe my mind) would allow. It is during this segment that you come very close to the finish line and then turn away from it (I think it's around mile 85 or so). I didn't even glance in that direction and just made the turn and headed down the hill to Cowshed aid station.
I love this aid station. For no particular reason, and for every reason imaginable. The folks are great, they always have hot Ramen, and they have a fire going. And the best décor (although seeing the elevation profile can screw with your mind, especially when you note the climbs you still have left to do). While Adam and Danielle got some food, I sat near the fire and looked dead into the eyes of the folks sitting there and said, "I want this so bad…but I don't know if I have the ability to suffer any longer". One of these kindly old gentlemen quietly asked me "which will last forever, the finish line or the suffering?" I smiled at him (I actually probably grimaced, but in my mind, it was a smile), stood up, and we left the aid station.
I'm pretty sure I repeated that same line to Danielle and Adam about a thousand times in the next few miles. I felt bad because I knew Adam was suffering too, but he encouraged me along with Danielle – who said "yep, the trail is that way" – every time I whined. We continued trudging along, running when we could, and finally reached Bill's. It was the first time I'd ever seen that aid station in the daylight (in the 100k I was always here at about 11pm). Mt Ascutney loomed over the field, and I had mixed feelings about the distance I still had to cover. It was 6am and I only had 11 miles to go. But it was 6am and I still had 11 miles to go. Bill's closed at 630, which meant I was only 30 mins ahead of the cutoff. I told Adam to go ahead without me because he was able to move faster, and I wanted him to finish his race and not sacrifice it for me. Here the pacing duties switched from Danielle to Joe, and she filled him in on what had been working for me so far ("ignore her whining and keep her moving"). I sat for a few mins, trying to gather a little strength, before Joe and I headed off towards Polly's aid station and the last crew spot on the course.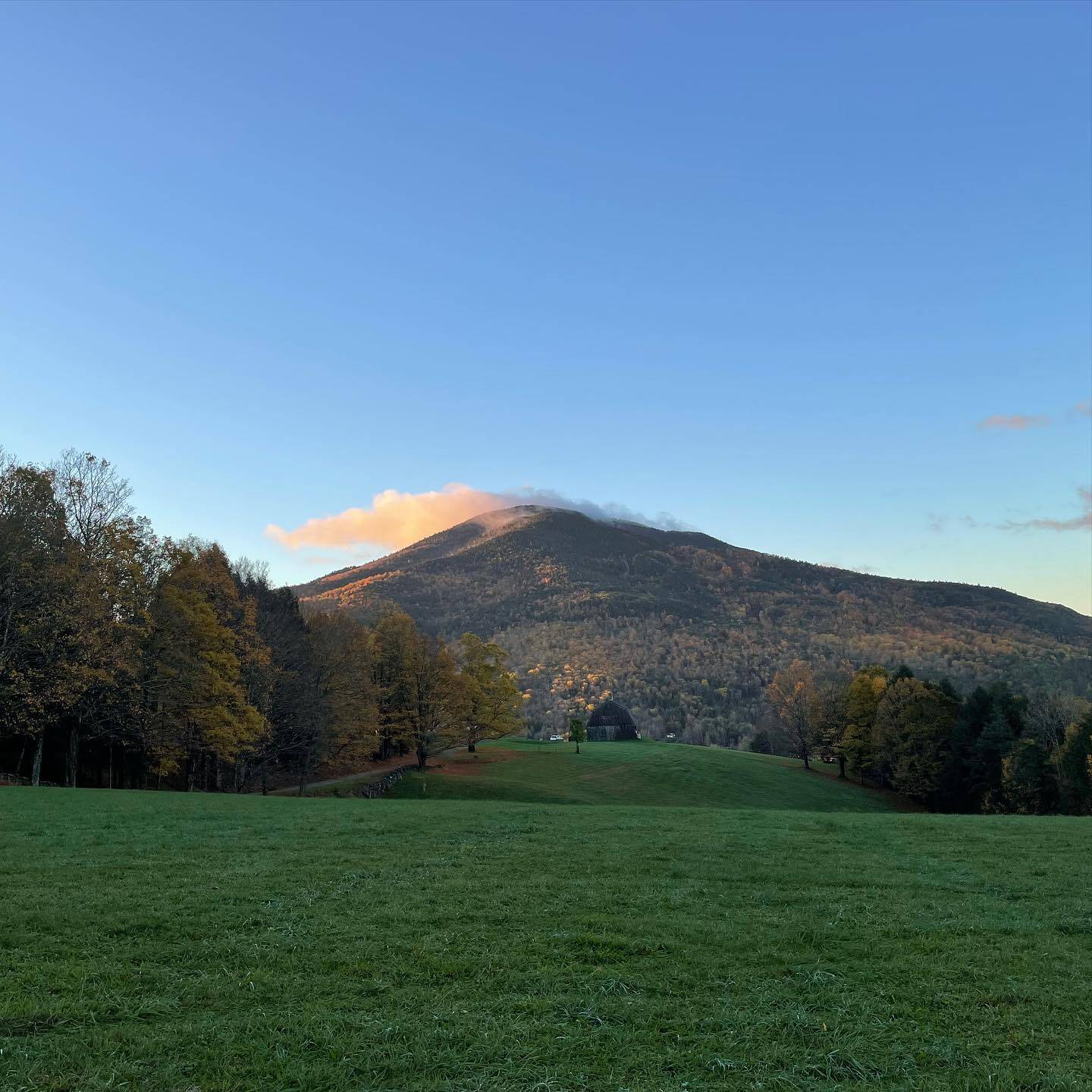 Mt Ascutney view from Bill's Aid Station (photo not taken during the race)
The whole way between Bill's and Polly's was a battle between "ok, I can make this" and "shit, I'm not going to make this". Joe and I talked a lot about all kinds of stuff, trying to keep my mind off the inevitable decision we would made at Polly's. Polly's was a mere 6-ish miles from the finish line, but it held all the cards for me. There was no way I would leave Polly's if there was even a doubt as to whether I could finish in time, because I couldn't have Amy have to stand at the finish line and tell me that I didn't get an official finish. We agreed that if I was even remotely close to the time cutoff at Polly's, I would drop there. I was sure the time cutoff at Polly's was 8:15, and we were creeping ever closer to that point of no return. I just kept moving as fast as I could, trying to will myself there quicker. At the end of Pond Rd, about a mile before Polly's, is Keating's aid station. I vaguely remember blowing by it, hearing someone (who I was told later was Jesse Farnham) screaming my name, cheering me on, but I was deeply focused on just getting to Polly's as fast as I could. As we closed in on the aid station Joe did some mental calculation and concluded that it was really close, and I might not make it. When the aid station came into view at about 8:13am, I heard Danielle start screaming "there's my girl!!! COME ON, GIRL, YOU GOT THIS!!!" She came running over to me with French toast and a coffee and I told her I was too close to the cutoff and was dropping here. Her words came like a beacon: "the cutoff is 830!! Get out of here!!" and I burst into tears. Joe's calculations had been a bit off because it was really 5.1 miles to the finish, not 6. I did the coffee like a tequila shot, dropped my hydration vest, grabbed my handheld, and bolted for home – leaving Joe to catch up.
The last few miles were a mix of an excited "holy shit, I'm going to finish this thing" and a desperate "holy shit, when is this thing over??". I don't think it truly sunk in that I would finish until I saw the "one mile to go" sign and knew that I had about 30 mins to get home.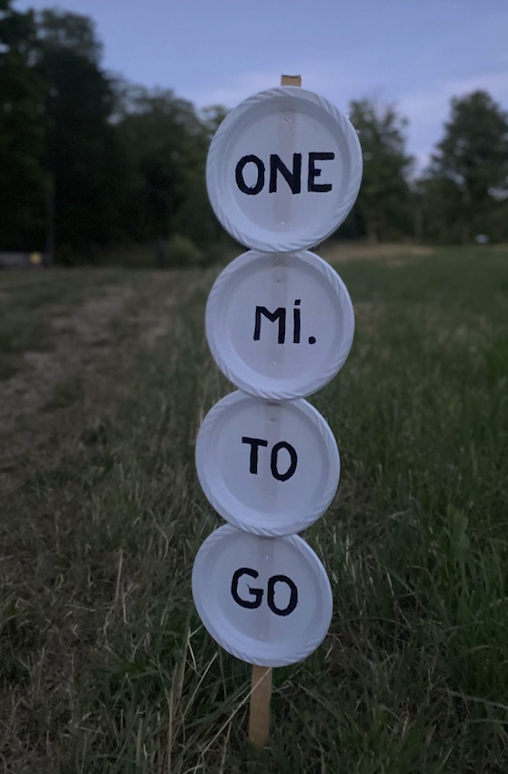 One mile to go
We ran/walked this last mile as best we could (being chased by a large horsefly. I mean, like B52 size). I came around the corner with ¼ mile to go and saw Amy standing there on the trail. I just melted into a blubbering mess (and so did she). My heart swelled in gratitude for her, Joe, Danielle, Adam, Crutch, all my training partners back home (Laura L, Michele O, Liz G, Don W, and so many others) – everyone that had a hand in creating this day for me. Suddenly, I didn't want it to end. It was such a crazy feeling. I had fought so hard to get there, and yet I didn't want to get there because then it was over. But there it was, the finish line. I had expected it to be empty because typically that's been my experience at the back of the pack. But as I came up the last hill at a sprint, I was greeted with a whole bunch of screaming runners, including Adam, Heather and Donna (whom I met on the course), Jacki, Pat (thank you for the photos) and many others. I crossed the finish line in 29:45:21, dropped to the ground, and sobbed.
I did it.