Well, I did it! I finished my first Ultramarathon by completing a 50K at the Chesterfield Gorge Ultra & 25K on July 10, 2021. It was a great way to try out a new distance. While it had rained the day before leaving everything a muddy mess, everything else was lovely. The pathway is 7.5 miles, and the course is designed as an out and back. It gently descends going out and ascends heading back to the start.
I had been attracted to this race for a few reasons – one being that it was an out and back I would only have to repeat twice to complete the distance. After running 6 hours on the Hamsterwheel course in November 2020, the idea of running the trail only twice was super appealing. On top of that, it wasn't super far from home and in a part of the state I like. Also, the timing – one day before my birthday. What a fun way to spend a birthday!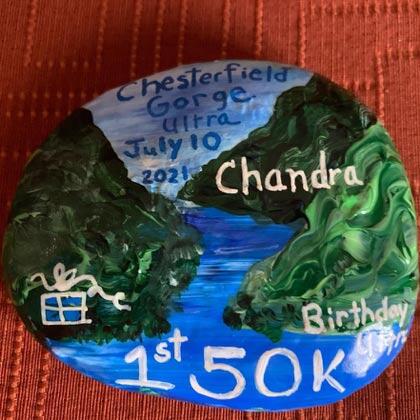 I am super lucky because the lovely Laura offered to run the courses with me. And she did. She did not leave my side for a second, which means time flew as we talked about all the things. I highly recommend getting someone to run the whole way with you at a race. It's a lot of fun! Laura also painted the rocks for top finishers in each age group. And she made a special one for me because it was my first 50k and my birthday.
While I was a little bit undertrained, it all worked out okay. This is probably because the course was really easy as trail runs go. The Chesterfield Gorge Ultra race uses a jeep road, so it's not particularly technical. And it runs right next to a gorgeous river most of the way. I heard later that some people had spotted bears in the river fishing! I think I am happy I missed that, but also, how cool is that? It was also helpful that the temperatures were lower than they can be in July. Not ideal, but not too bad, either.
I started the day running late in the Chesterfield Gorge Ultra. I just got behind trying to leave the hotel. Then, I got to my car and my phone could no longer find the parking lot I was heading to. Argh! I just aimed my car at the Chesterfield Gorge and hoped for the best. I arrived so close to starting time. But I did have a moment to add bling to my bib and do a quick Port-a-Potty run.
Chesterfield Gorge 2021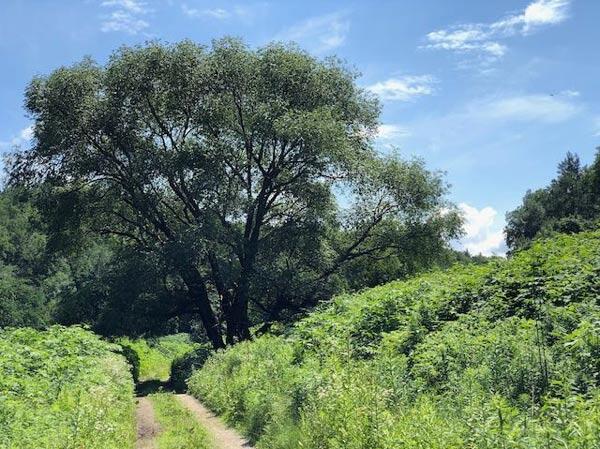 At the starting line, everyone running the Chesterfield Gorge Ultra 50K sang Happy Birthday to me. That was fun and awkward for my shy self. But, what a fantastic memory! Then, we were off. And my goal was to try to keep my feet as dry as possible – which was pretty hard because of the water everywhere. We headed down the road next to the river for about 6 miles. Then, we emerged from the woods and Laura told me her tree was coming up soon. So, I waited, and it appeared. A beautiful full tree just kind of sitting there away from the other trees. I can see why Laura remembered it and thought fondly of it.
As a newbie, I brought along so much food! I knew I had overdone it but didn't really care. I know that when I get hot, my stomach gets pretty picky. For those times, grapes, and Twizzlers work. I also know that I get tired of sweet stuff, so I brought along some Fritos that I kept at the starting line. To carry with me, I had my Skratch chews and Crispy Rice Cakes which I like because they are made from ingredients I can pronounce. I also had Spring Energy gel, which I like because it's not the sticky gooey sugar rush that other gels are.
My general plan on any long trail run is to eat every 4 miles and I basically stuck to that. I also had Skratch Hydration in my bladder and Nuun in a smaller bottle I carried in my hydration vest. I like the Nuun because it isn't as sweet as other drinks, but still has electrolytes. I like Skratch Hydration because it tastes good and provides some calories, but not a ton of them. This means I am constantly giving my stomach a little bit to work on, which may help it keep working so that when I actually eat it's ready to go. I had prepared a second small bottle and bladder and kept them in a little cooler so I could swap them out after the first lap. This was delightful as it meant COLD water for a little bit on the second lap.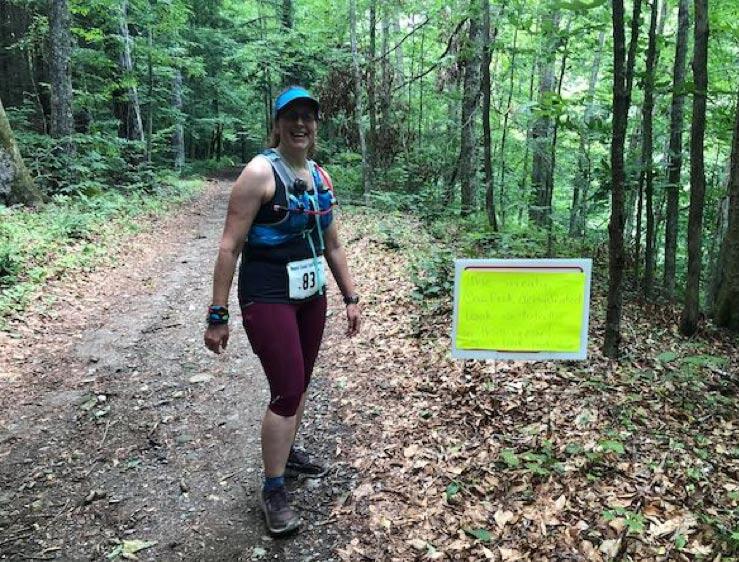 The aid station for the Chesterfield Gorge Ultra was super well stocked. My choice was Girl Scout Cookies. Yeah, I know, don't do anything new on race day. But Thin Mints! As I stuck the first one in my mouth, I pondered the wisdom. It all worked out fine.
Heading back the first time is when we realized we had been running downhill all the way out. Both times, the trip back to the starting line definitely felt longer than the trip out.
At the end of the first lap, I grabbed some Fritos and swapped bladders while Laura changed her shoes, and we were off for lap 2. I was surprised that I didn't feel more inclined to stay at the rest area. That meant all those long runs really had built my strength and endurance. Fifteen miles wasn't enough. For this half marathoner, the whole thing was a bit surreal.
The second lap was largely uneventful. Somehow the road had many more hills on the second lap than in the first. Funny how that happens. I think because I had Laura with me time went by quickly and I didn't start feeling the "will this ever end" despair until the last 5 miles. Those miles were long. So. Very. Long. But, we got them done by running and walking and trying to stay focused. I still had enough energy to run across the finish line.
Coach Faith and Amy, the race director, were both there to greet me with so much enthusiasm. I was just tired. So tired.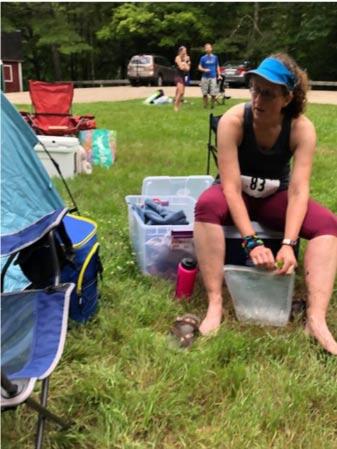 Then, the best part, I sat down and took off my shoes. On a warm, humid day taking off my sneakers is just such a delight. I think bringing sandals with me was one of the best ideas I had while I was packing. Another great idea I had was to use reusable silicone bags for ice. These also work really well as ice packs for your feet when you finally get to sit down.
Overall, I think it was a great day at the Chesterfield Gorge Ultra. My time was on the slow side, but I expected that given that I was undertrained. I met some interesting people and got a glimpse of the community everyone talks about in trail running. It was a great first race and I am glad I did it despite the challenges getting ready for the race.
As for gear – I brought too much, but I ended up needing enough of it that I don't feel bad at all about what I brought. I had a small first aid kit that included blister stuff, some KT tape, and a couple band-aids. Luckily, that just stayed in the tub. I brought extra food as well as Skratch Recovery and plain water to drink at the finish line. I used reusable silicone bags as ice packs because I could fill them with ice from the hotel. I also brought an extra shirt, socks, and sandals. The shirt and shoes were very welcome at the end of the race as my racing shirt was soaked. Just changing my shirt and removing my trail shoes made it feel so much more comfortable.
I also had my hydration vest with more food in it than I knew I'd need, my bladder (1L) and water bottle (16oz). Because I get both chafed and sunburned easily, I had stuff for both of those issues as well as tick repellent and flying insect repellent. It was nice to refresh on all of these at the half-way point. I also brought a towel that I kept in my cooler. It's really nice to wipe of a sweaty face with a fresh, cool towel. Mostly, I had a tub that was really too big, but that worked out perfectly because once I was done, I just kept throwing all the things in it to deal with later. Shoes? Check. Shirt? Check. Hydration vest? Check. Empty bottles? Check. All the things. Then, when it was time to leave, I just closed up the tub and was ready to go.
On to the next adventure!!!
Chandra Orrill is a UESCA Certified Running and Ultrarunning Coach. She lives in Massachusetts with her husband, 3 cats, and a parrot.