Well I'm finally coming down off the high of the VT100k so I guess its time to get my adventure down on (digital) paper.  The weekend went off without a single hitch and I still can't believe the amazing time I had, considering the difficulty of this course. With that being said, let's get down to the details.
We left CT for the Green Mountain State on Friday afternoon, picking up Liz on the way.  We went directly to Harpoon Brewery to meet up with Tammy and Kenny and a few of their friends from the Trail Monsters.  Now I don't suggest that everyone start a huge race weekend with beer and pub food (wait…what am I talking about???) but we couldn't resist the urge to visit this local brewery, especially since it was only about 10 minutes from our rental house.  While most of us had burgers with our brews, one of Tammy's group decided that chili was a great idea.  Thank goodness he was running the 100 miler because I really didn't want to be behind him on the trail the next day.  Hopefully things didn't go south for him (see what I did there?).  We also met Samantha and Sean there (the last two members of my crew team).
Our group left Harpoon and headed to our rental.  Now, the listing had described this as a gem in the woods with a beautiful view.  What an understatement this turned out to be!!!!  The house had everything we needed and more, including an awesome fire pit and sheep to serenade us.  While Sean spoke to the sheep, we unloaded the car and investigated the rest of the house.  It was cozy and inviting, with beautiful hand-made wool blankets on the couches and bird feeders and flower gardens right outside the windows.  We quickly unpacked and then headed to bib pickup and the runner meeting.  This was pretty uneventful, as we had been through it a few times now.  Once we left there, we headed to Quechee for dinner and then returned to the house.  We packed for the following day, relaxed for a while, and then hit the rack for our 6am wake up.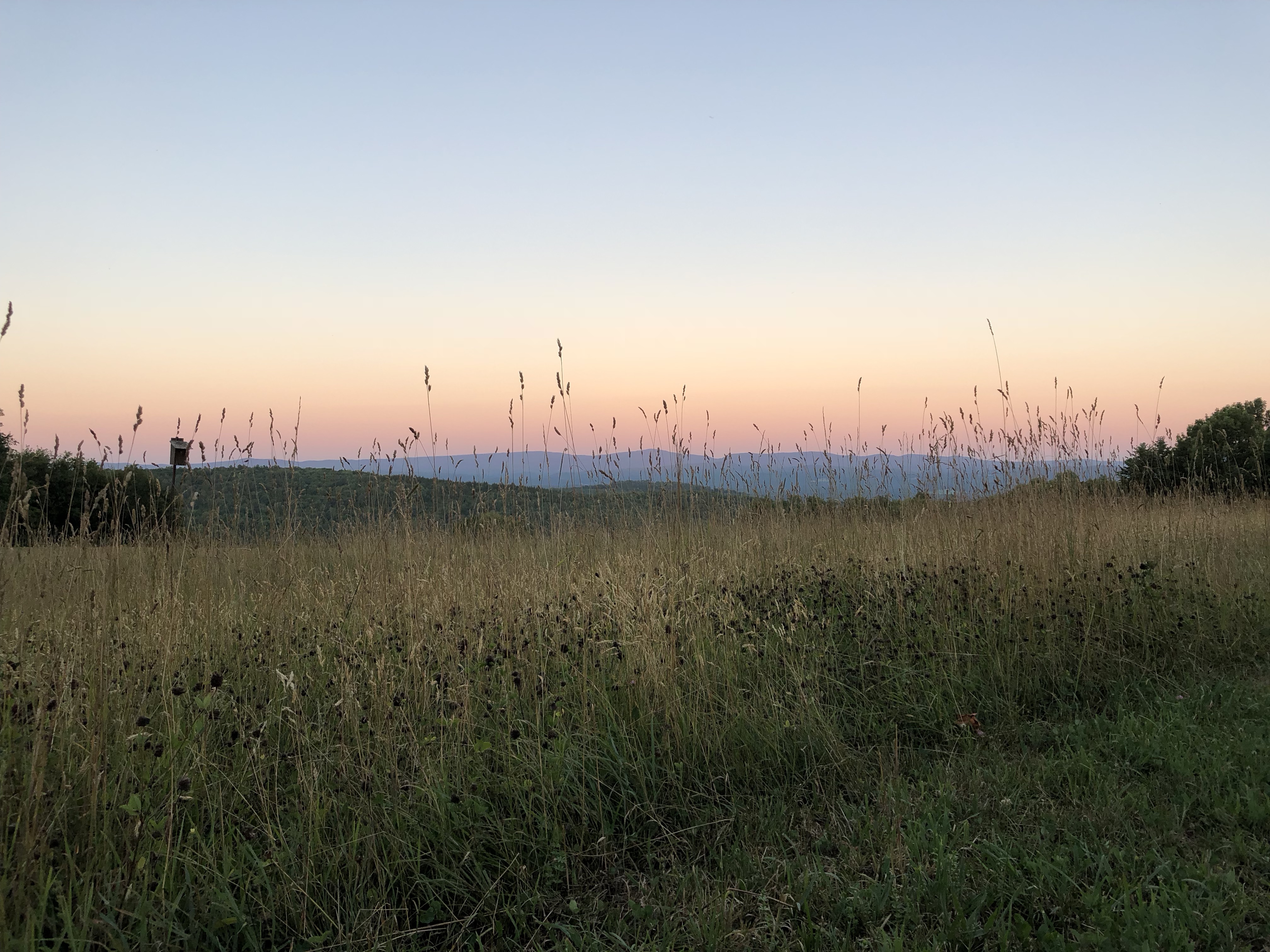 Race morning arrived with better weather than had been predicted.  We got to the venue plenty early so we could see Amy (the RD), check in with all the awesome folks we knew who were running the 100k, and then chill until gun time. It's always fun to chat to first-timers and veterans alike, as they all have new stories to tell.   It wasn't long before we heard the timer yell "ten minutes to start time!!" and that always send butterflies through my stomach. I love this race.  And knowing how ready I was this year, I was jonesing to get out on the course and give it the beat-down.  The ten-second countdown began, the air horn fired, and we were off up the road.
The first 9 miles of the race are fairly easy.  After the initial ¾ of a mile of uphill, most of the next section is rolling to downhill, so I'm usually trucking right along until I get to Camp Ten Bear the first time.  I had the honor of running a few miles with Kyle, a VI runner and RD Amy (his guide for the first 9 miles).  We chatted and ran and eventually I let them go, as they were doing a pace that was a bit too much for me at this point in the race.  I had told my crew that I planned to at least change socks and re-fill my hydration bladder at every crew spot, so they had everything ready for me when I came blasting into CTB.  They were incredibly efficient and I was able to do what I needed to do and head back out on the course within about 5 minutes.  One crew station down, 5 more to go.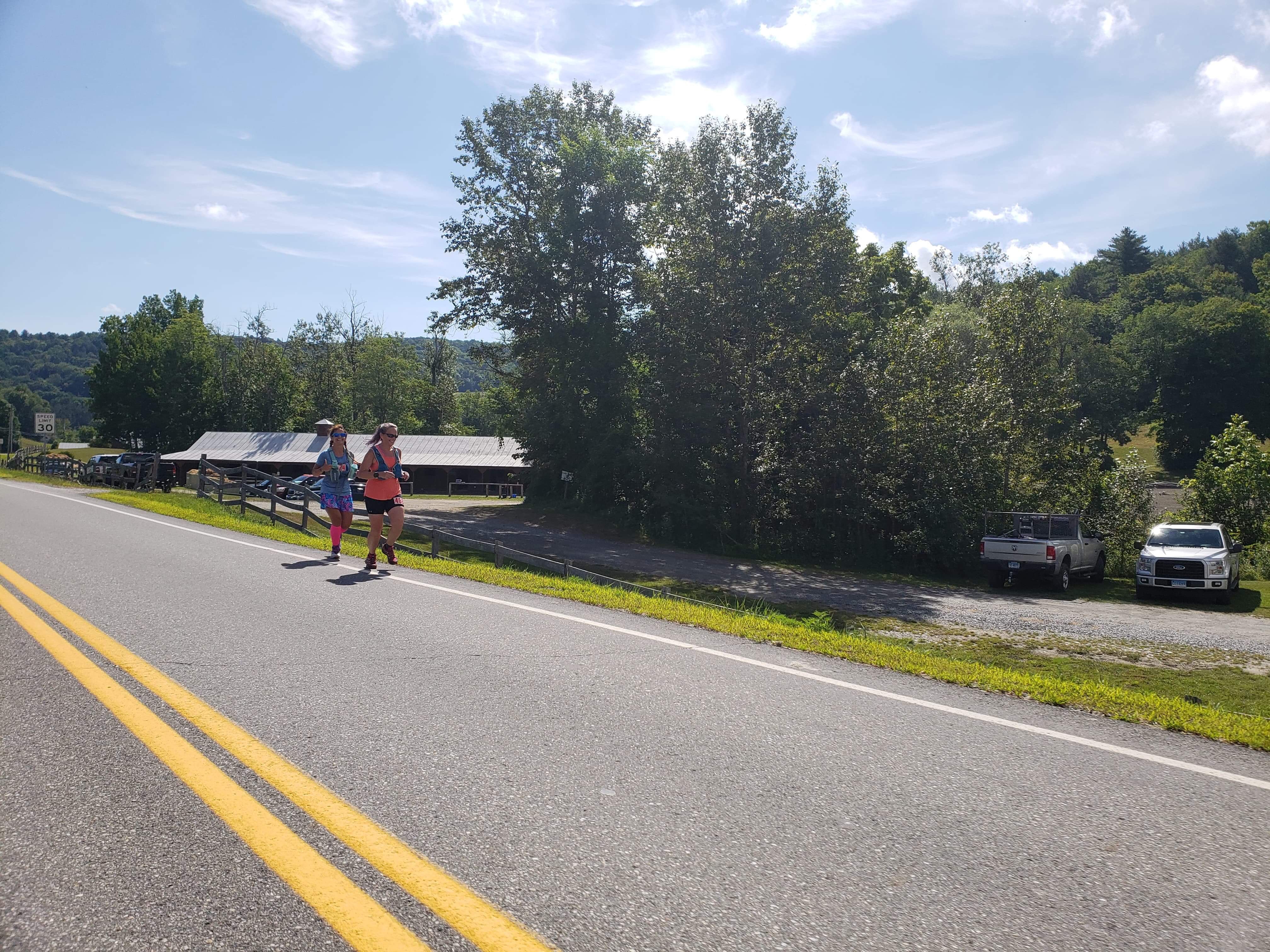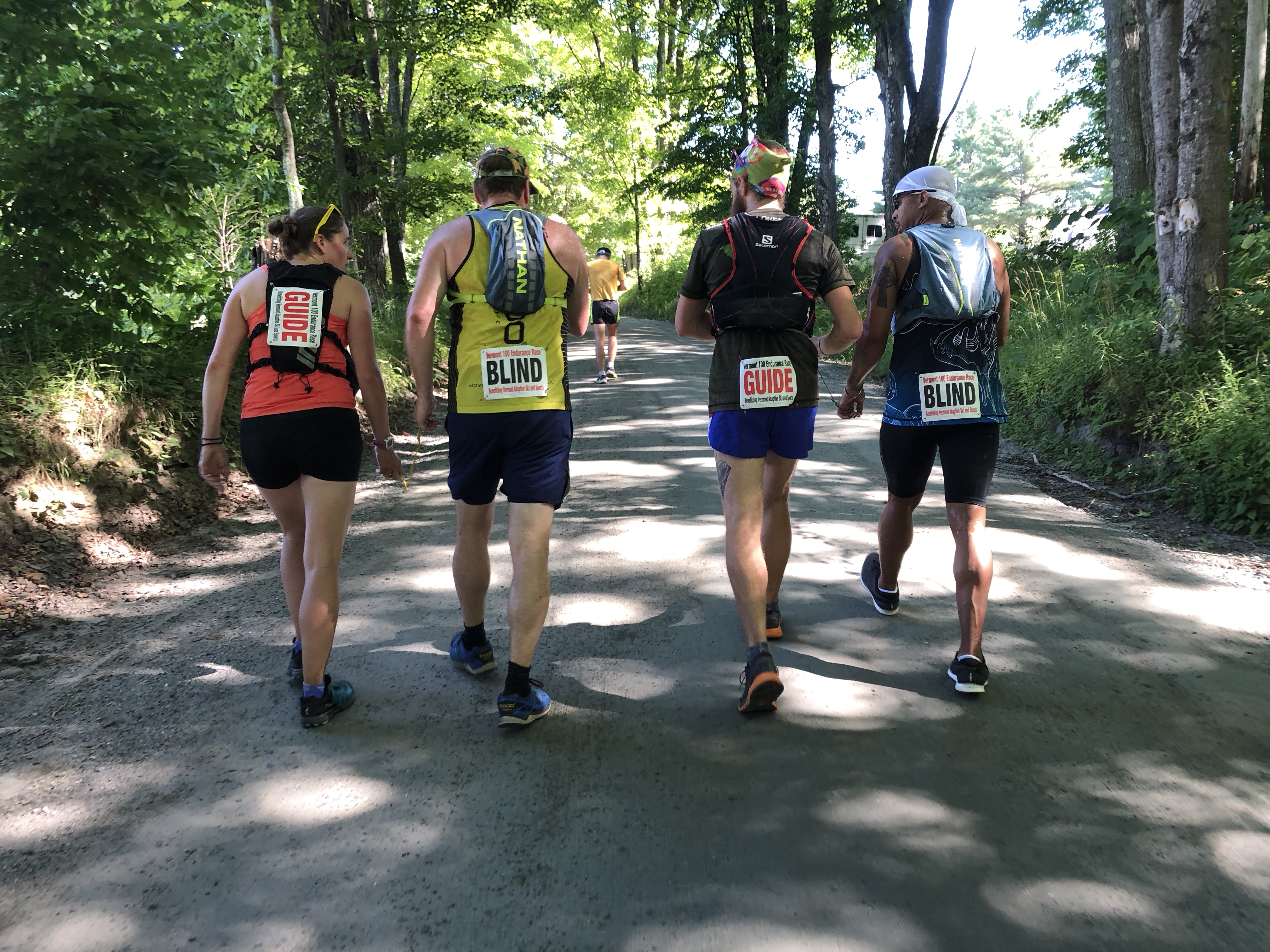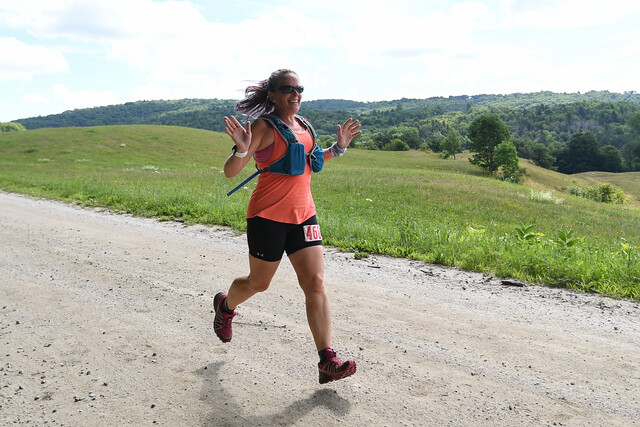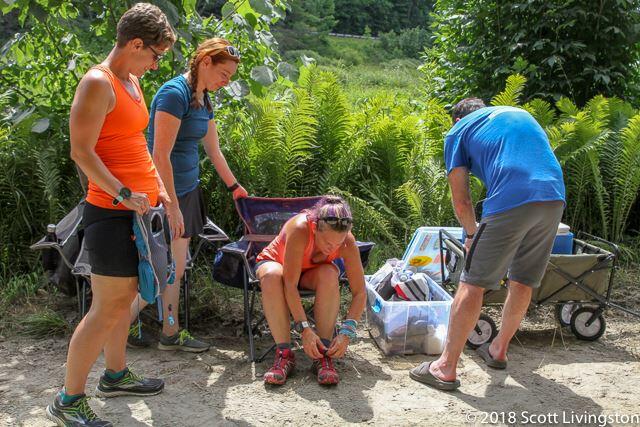 The next 11 miles are a mix of rolling to uphill, culminating in a 2-mile climb up to the Margaritaville aid station.  I cruised along for the first couple of miles, knowing that it was waiting for me – Agony Hill.  This lovely stretch of the course is a one-mile climb starting on dirt road and ending on rugged jeep trail.  For the previous two years, this hill has been my nemesis – forcing me to stop and catch my breath or turn around and walk backwards when my calves and hamstrings were screaming.  Not this year, Agony Hill.  I've been training for you.  All those Wachusett hill repeats I'd done had given me the legs and the lungs to beat this one into submission, and I climbed all the way to the top without stopping. I was so dang proud of myself that I started singing as I ran the flat section to the next aid station.  And then I proceeded to run/walk the climb to Margaritaville.  Well, this race was going quite according to plan.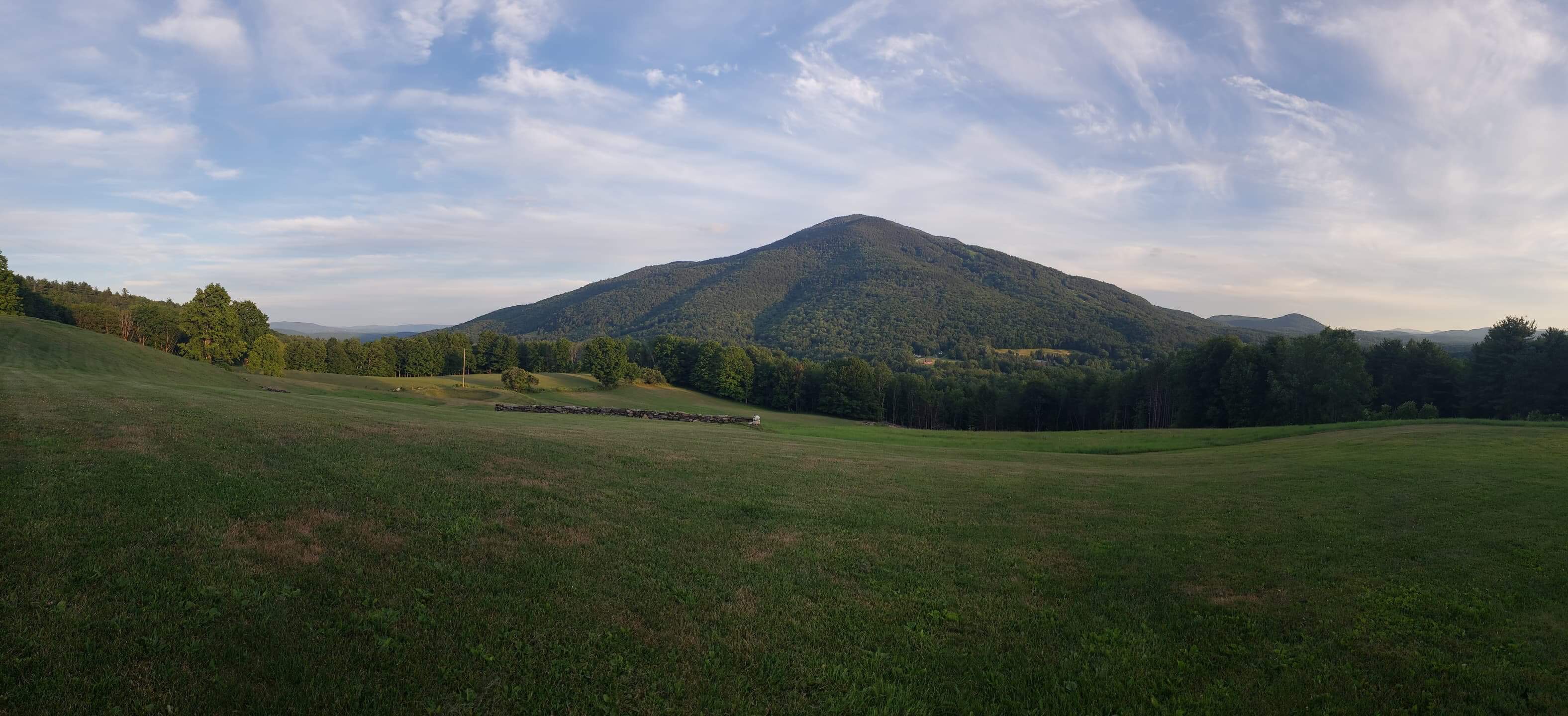 I spent a little bit of time at this crew spot, as I had overheated a bit on the climb and I knew I still had more climbing to go before starting the downhill trek back to Camp Ten Bear.  I took a few minutes to just sit and enjoy the atmosphere while I chowed down on fruit and Coke.  I finally changed my socks, laced back up, and headed back down the trail.
I'm always surprised at how deceptively tough the descent back to CTB is.  After some rolling to downhill dirt road, the course follows a rugged Jeep trail for quite a while before popping back out on the dirt road a couple of miles from the aid station.  While it is downhill, the footing is tricky and the legs were getting fatigued.  At least this year it was dry – mud adds to the fun but it also adds to the difficulty.  I'm still fairly new to this level of ultrarunning so I'm less appreciative of the extra challenges that are brought on by mud than some of my trail buddies are.  I kept glancing at my watch to see if I was still on pace, and I was dancing dangerously close to my self-imposed time cutoff of 15 hours.  I pushed as hard as I could up the last hill and charged back into Camp Ten Bear, knowing that I would be accompanied for the rest of the race once I got there.
Arriving at CTB the second time is like running into a giant party, because now a lot of the 100 milers have joined us and there are runners coming into the aid station from two directions.  It can also get pretty confusing if you haven't done the race before.  I witnessed two runners go out the wrong way and have to retrace their steps back to the aid station and get on the right trail out.  Luckily we had this down to a science, so I raced in, changed my shirt, socks and shoes while Liz filled my pack, got some food, and Samantha and I were off towards Spirit of 76.  Ahead of us was nemesis #2: Heartbreak Hill.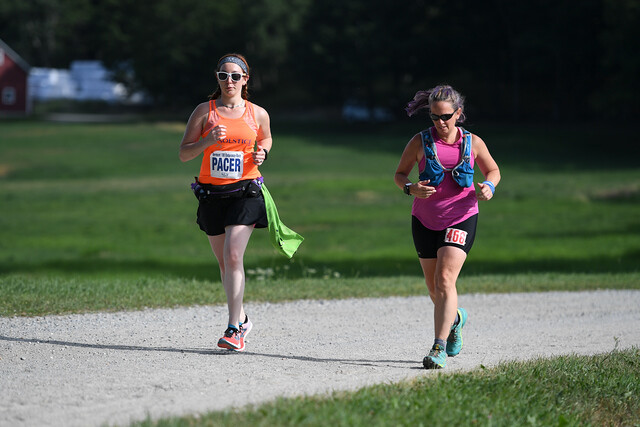 I was able to climb Heartbreak without much issue, only stopping a couple of times to catch my breath.  This section of trail was partially unfamiliar to me.  The race committee had to re-route part of the trail to accommodate for local logging so I told Samantha we were in uncharted territory somewhere after Heartbreak Hill.  She took this information in stride and we continued to pick our way down the trail.  When we got to the new section, we slowed down.  I mean WAY down.  Loggers had left the trail strewn with branches and bark and the footing was rocky and loose.  I moved along as best I could but I was getting very fatigued.  My spirits were still high, though, because I knew I was still going as fast as I could and I wasn't too far off from where I wanted to be. By the time we dropped down to the road that led to 76, I was about 10 minutes behind my pace but I didn't care. The race was unfolding so well, and despite being tired I still felt really good.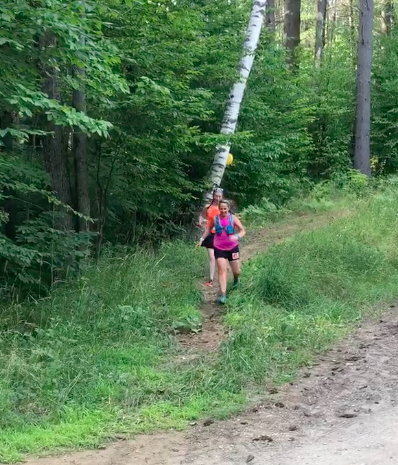 Coming up the hill to 76 we were met by an aid station volunteer, and he asked me who I was and where I was from.  Samantha also told him that I was on pace to do a two hour PR. He proceeded to announce my arrival with his booming voice, adding the tidbit that Samantha had shared. Everyone along the sides of the road and at the aid station cheered, and I was in tears.  When you're this deep in an ultra, emotions are right at the surface and it doesn't take much to bring them out.  I had a little cry and then set about the business of again changing my socks while someone filled my pack, enjoying the yummy fruit smoothie the volunteers had made for me, and just taking in the moment.  I had 23 miles to go, and I was ready to tackle them. Riding the high of the welcome I'd gotten, I headed down yet another new section of trail, now with Liz in tow.
Liz and I have run many miles together.  She knows when to push and when to just let me be.  Often we ran in silence, just enjoying the time and saving our energy for the climbing.  Fortunately this section had a lot of downhill, and Liz took full advantage of it.  We passed several runners and spent very little time at the aid stations.  When we crested the hill at the end of Bryant Rd, a sight I had never before seen greeted me:  the start/finish area in the daylight.  It had always been dark by the time I got here.  This was yet another boost to my confidence, and we flew down the hill to the Cowshed aid station.  Here we fueled up on Ramen and Coke and took off.  We had less than 5 miles to Bill's, and we wanted to try to get there before we had to turn the headlamps on.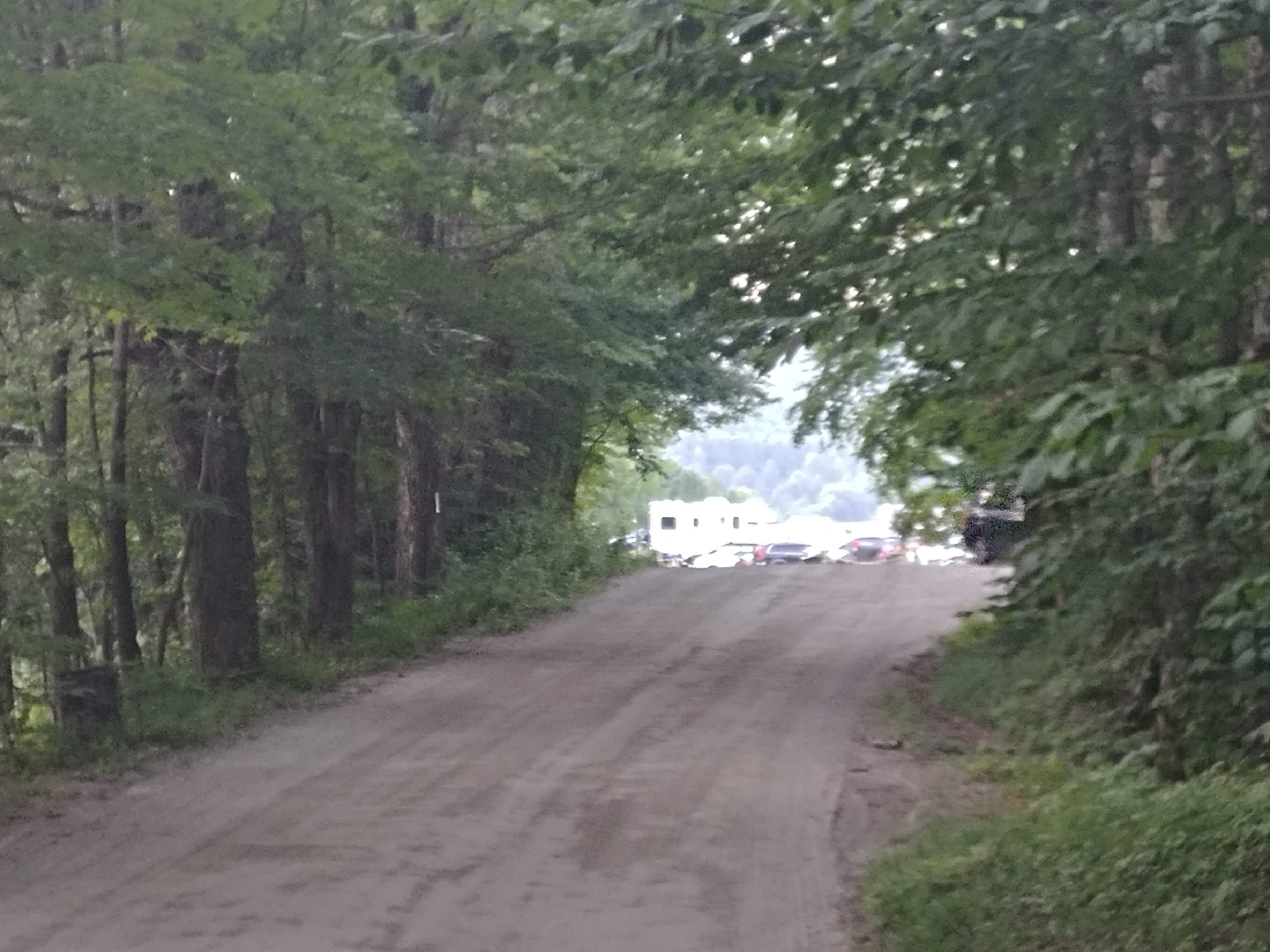 We just missed our mark, having to use our headlamps for the last mile or so on the climb up to Bill's.  We started searching the sides of the driveway, which was where my husband had always met me at this aid station.  We didn't see him, but Liz tried to calm me by reminding me that he was getting ready for his pacing duties and maybe he was just back at the barn. We got all the way down the driveway, and I searched the aid station for my crew and came up empty-handed.  Panic set in.  Liz and the volunteers tried to reassure me that I could just go on with her. Just as I was about it crack, I saw Joe. He had missed us on the driveway because, well, we were unexpected.  Liz had helped me make up the 15 minutes I'd lost between CTB and 76.  Holy crap I might still make my goal, I thought.  I opted not to change my socks or shoes because my feet felt good and I didn't want to waste the time.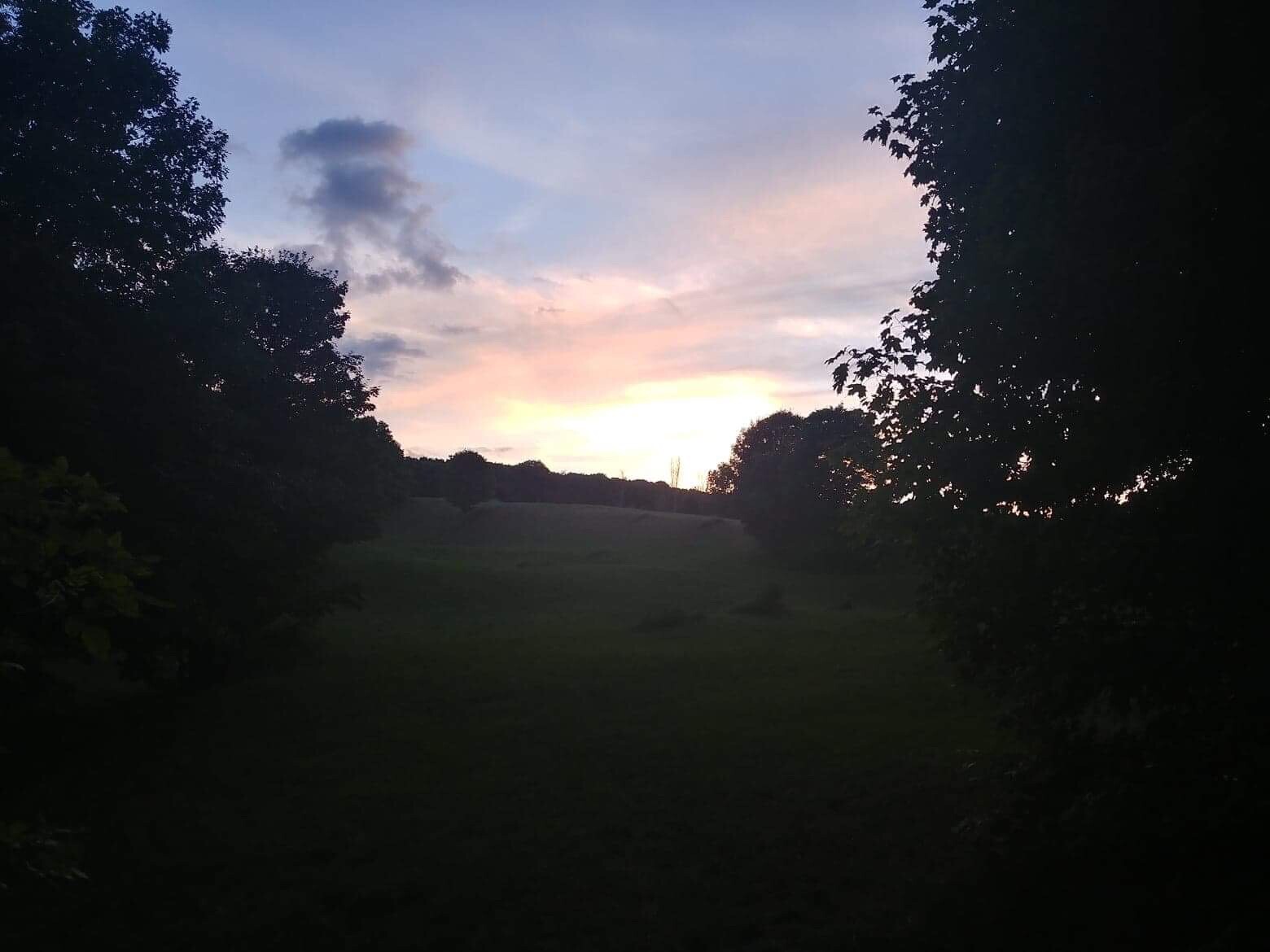 Then I remembered the horrific hills out of this aid station and knew I didn't want to wreck myself and not be able to finish strong. It was here that I decided that I was just going to keep moving, not worry about the time on the clock, and enjoy the rest of this ride.  I had been looking forward to this section all day.  My husband and I don't get to run much together anymore because of a chronic injury that he sustained years ago.  It really meant a lot to him to do this, and I know the pain he would have to endure to get it done.  I made a silent vow to give him my very best, as little as that might be at this point, and we grabbed some final snacks and headed out on the last 11 miles.  I knew that we had some fairly flat stuff before hitting the last obnoxious hills, and I did what I could to keep moving along. Joe kept inching ahead of me, and I kept calling him back.  I knew how much he wanted me to get my time goal, but I just didn't have anything left in my legs for the technical trails and the slippery fields.  I did manage to power hike up Hunt Rd at a pretty good clip and felt good about that, but I knew I was losing a lot of time.  I kept telling myself, "just get to Polly's and you'll be almost home."  I nearly wept when we finally saw the signs that Polly's was just ahead.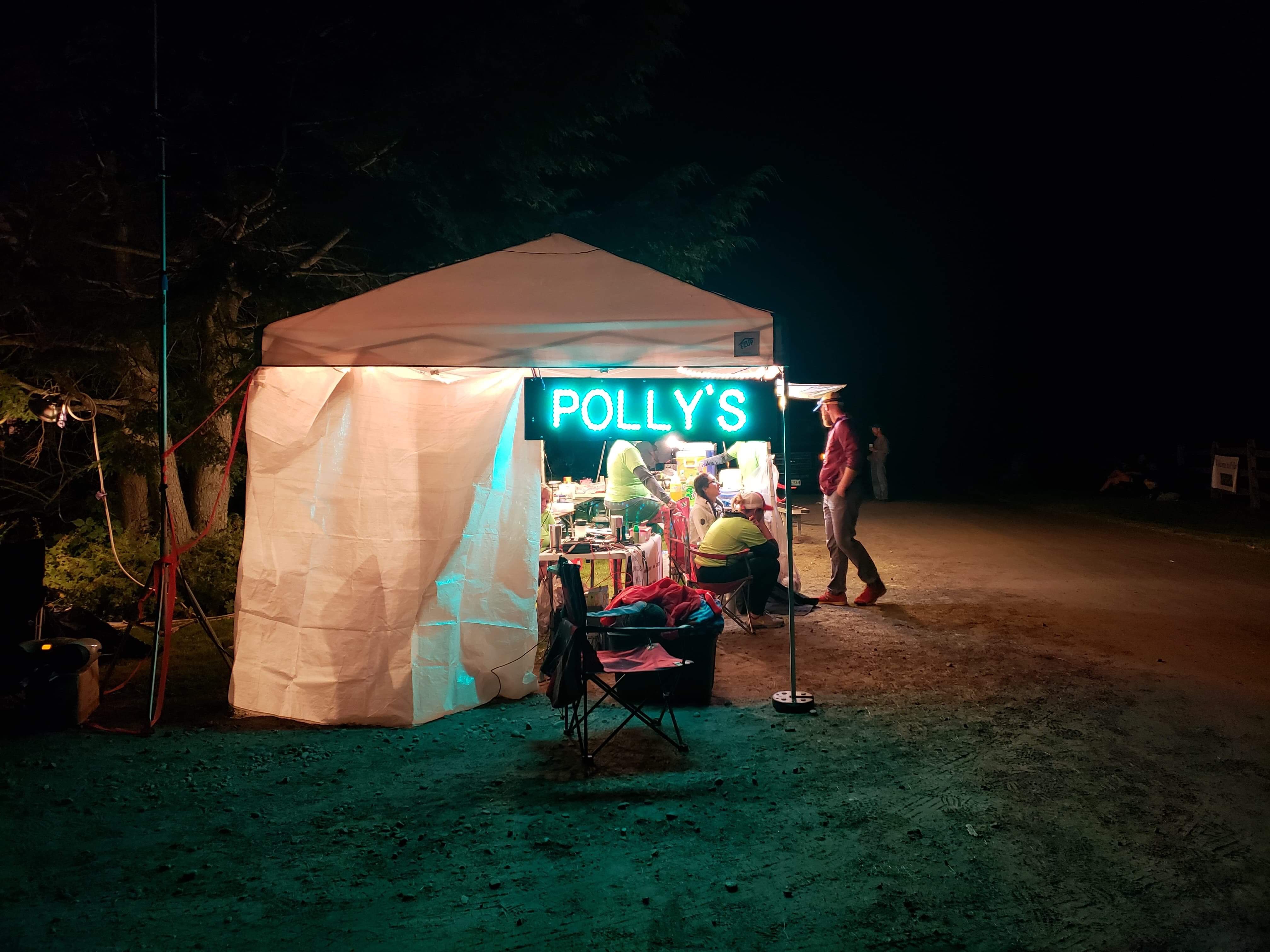 Here I was going to drop my pack, change into a long sleeve shirt, and take my handheld for the last 4.5 miles.  I was dying to get the pack off, as my back and shoulders had tightened up miles ago.  I did some easy stretching and sat down for a couple of minutes while I drank a Coke and had some aid station chow.  They had a whole spread of food, including waffles, drumsticks, sandwiches, and soups. I didn't eat too much as I wanted to get going and get finished.  Samantha and Liz sent us off down the trail and headed back to the finish line to wait for us.
The first couple of miles out of the aid station are very hilly as the course climbs back into Windsor.  This was the only time I hit a low spot that day.  I desperately wanted to run, and all I could do was slowly hike up the hills and silently (ok, not so silently) swear.  I cried, feeling like I'd let everyone down.  Joe had none of it.  He assured me several times that he'd never been prouder of me, and that I had run my best all day and couldn't complain about that.  Of course he was right, and I quickly turned my thoughts around and focused on getting the final miles done.  When I saw the two miles to go sign, I glanced at my watch and did some mental math.  I said to Joe, "I don't think I can make it under 16 hours."  He told me to just do the best I could and not worry about it. When the 1.5 miles to go sign came into view, something in my mind switched.  I suddenly decided that I really couldn't let that 16-hour mark go. Even though I'd originally wanted sub 15, a sub 16 hour would be a HUGE personal best for me on this course.  I put my game face on and ran as hard as I could, glancing at my watch every few minutes.
When we finally reached the last section of single track with a half mile to go, I looked down at my watch to see a black face.  It had finally died.  I had thought I could make it with the battery I had left, so I hadn't worried when I dropped my pack at Polly's (and the charger with it).  Oh well, I said to myself.  Just keep trucking.  Whatever the time is, it is.  Suddenly we saw the milk jugs lit by glow sticks, and I knew we were really close. Then I heard the finish line.  I reached out to grab Joe's hand, and together we ran up the last hill and crossed under the banner.  Shock registered on Amy's, Liz's, and Samantha's faces because we were very unexpected.  Unbeknownst to me, the finish line had a monitor that showed the runners' split times and anticipated finish time.  Because I had run that last section so hard, we finished 40 minutes before my expected arrival time and surprised everyone.  Amy shouted at me, "You finished in 15:51!!!!" and I threw my arms around her.  I had run a 97-minute PR.  I almost couldn't believe it.

As I walked to the med tent ahead of everyone, tears flowed down my face.  I had finally run the race I always knew I had in me.  I had emptied the tank almost perfectly, and raced every single mile to the best of my ability.  I savored this moment by myself because I knew that even though my crew had been instrumental in my race, it was me that had run those 62 miles.  I felt I owed it to myself to enjoy this time in silent gratitude, blessed to have a body that can run this crazy distance and still come out on the other side.  I've never been so filled with peace and deep satisfaction.
We wrapped up and piled into the car for the ride back to the rental, where Sean had stayed behind because he'd had work to do. Imagine my surprise when we were greeted at 2:30 in the morning with a roaring fire in the pit, and cold beer ready to be drunk. The entire day had been incredibly amazing, and this was the perfect ending.  We all sat around and talked about everything that had happened, filling Sean in on the details of the race.  When I finally fell into bed about 4am, I slept better than I ever have after an ultra.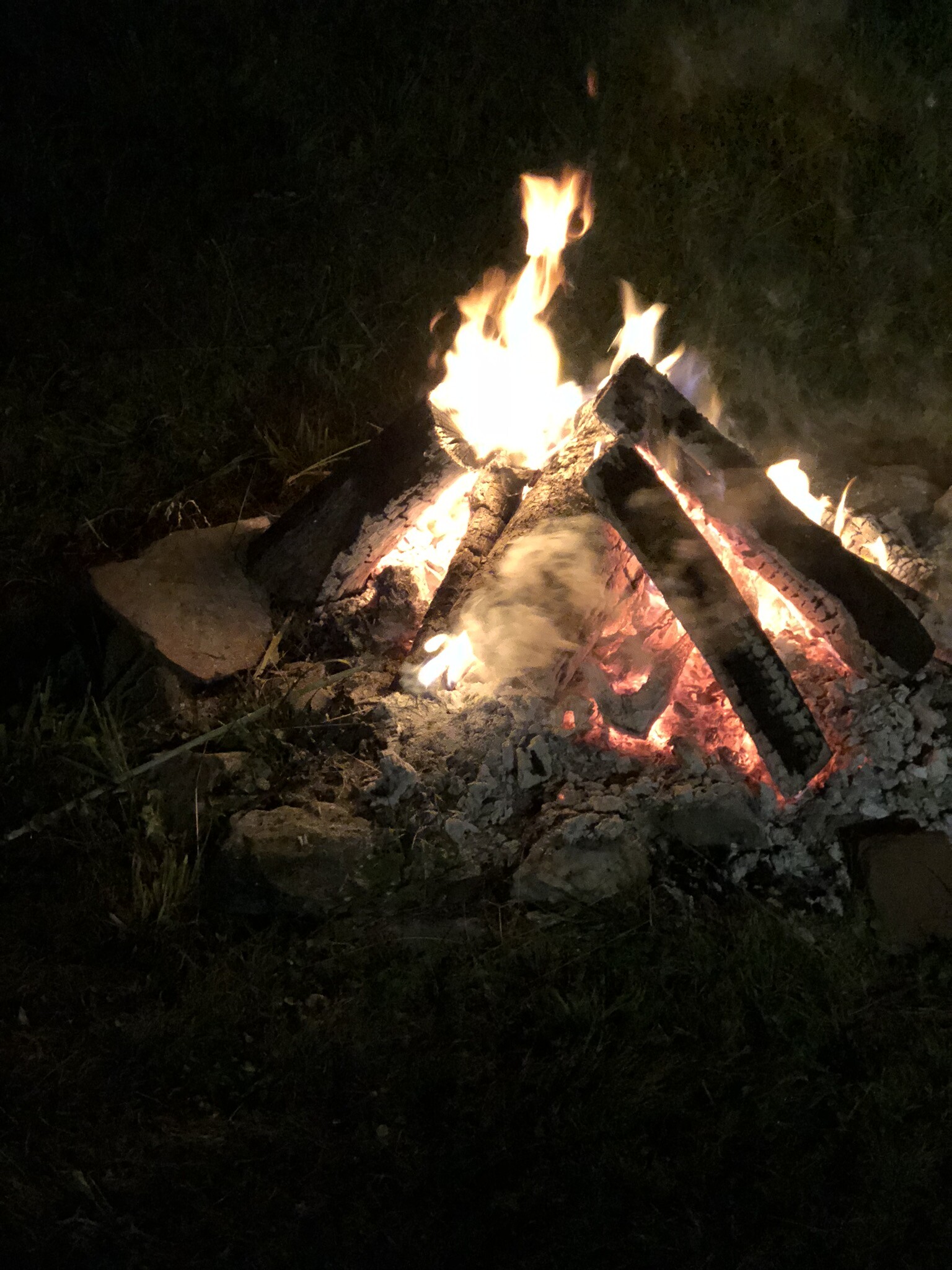 Words just can't express my gratitude to everyone involved in this year's VT100k.  I am humbled. I have the most amazing people in my life.  People who truly care about my success.  People who will go above and beyond the call of duty to make sure I have everything I need. People who refuse to let me quit. People who love me.  And people who inspire me to be better every time I set foot on a trail.  Without you, I would not be able to fulfill these crazy dreams.  There are just too many angels to name, so I will not even try – but you know who you are.  Because of you all, the journey continues.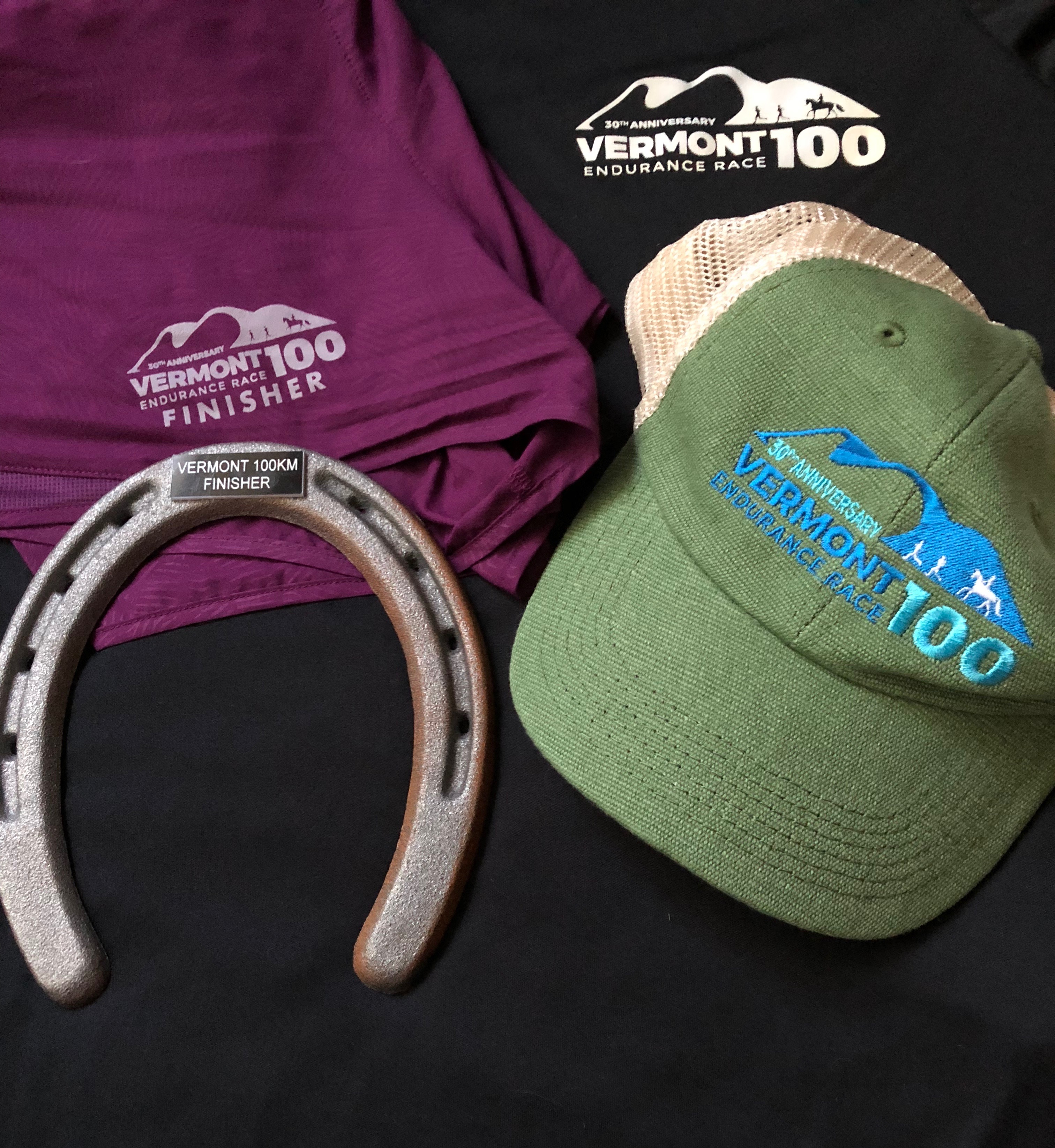 Vermont 100 mile – I'm coming for you.
For those interested, I tried to mentally keep track of food and hydration:
Approx 120 oz of Skratch Sport Hydration (various flavors)
Approx 24 oz of Coke
4 bags of Skratch Matcha Green Tea Chews
8 oz V-8
Frozen grapes, watermelon, and oranges (unknown amount)
Salted potatoes (unknown amount)
Approx 8 oz of Ramen (broth and noodles)
Cheese quesadillas and avocado wraps (unknown amount)
Smarties
A lot of water!!