On Oct. 2, 2016, I ran the Nipmuck Trail Marathon put on by the Shenipsit Striders. The Striders have a wacky sense of humor and put a "high fall risk" sticker on the bibs of first time runners of the race. My main mission at this race was to prove this sticker wrong. Unfortunately, the sticker would turn out to be annoyingly accurate.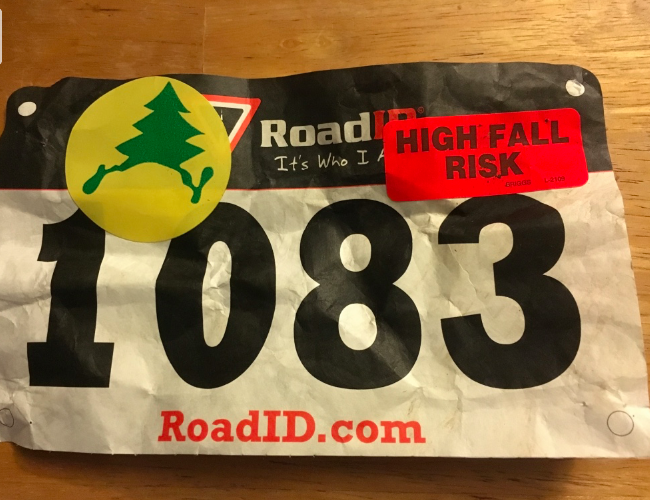 The race starts at Perry Hill Road in Ashford, CT and consists of two out-and-back sections. The first section goes south 6.2 miles to Rt 44. The race returns to Perry Hill Road and then goes north 7 miles to Boston Hollow before making the final return to the finish line back at Perry Hill. I was told that the first 12.4 miles were technical, while the final 14 miles contained more hills but was more runnable. Ha!! I'd like to talk to whoever considers the second part of that race to be more runnable. I'm pretty sure that the entire course was strewn with more rocks and roots than I'd ever seen on a racecourse (ok, with the exception of the Vegan Power 50k in Pittsfield, MA).
The gun went off at 8:01am and 100+ runners forged ahead to tackle the trail. I started with my friend Colleen and we ran in close proximity for the first few miles. I consider Colleen to be a much stronger runner than me, so I eventually let her blast down the trail while I slowed to a sustainable pace. I passed Nipmuck Dave and he commented on my VT100 tattoo. I told him that I had only done the 100k and was embarrassed to admit that I'd been too wrecked to get out of bed to watch him complete the 100 miler. Hopefully I'll get the chance to do that in the future. That guy is an unimaginable badass, completing rugged trail races with the assistance of custom-made crutches. I think we should change his name to Badass Dave.
I caught back up with Colleen at the 6.2-mile turn around point. Here was a wonderful aid station stocked with cookies, chips, and Coke. I was stuffing my face when I felt a tap on my shoulder and heard a voice ask, "Do you remember me?" Turns out it was someone I'd sold trail shoes to, and he was here doing his first marathon. We chatted for a minute and then started back on the return trip. Tony asked if he could hang with me and get a feel for pacing a race like this. Hell, I'm no expert but I'm always happy to have someone share the misery. His brother met us several times at road crossings, cheering us on while making fun of us at the same time. We tore into the halfway point like we were being chased by dogs (oh wait, we were. Ok not really, they were Tony's brother's dogs, but the picture looked like the hounds of hell were tailing us).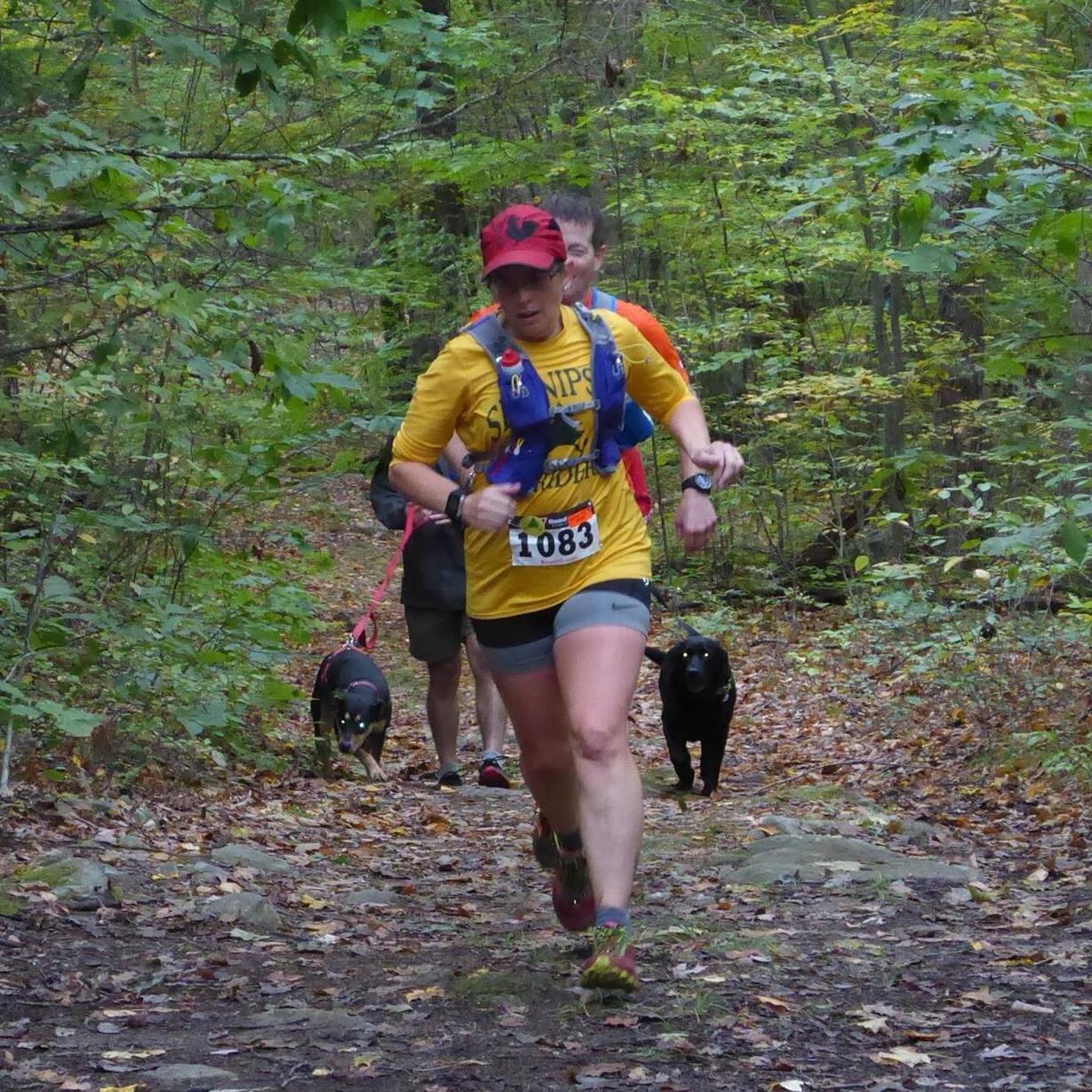 (photo credit: Dominic Wilson)
The first half of the race was REALLY technical. Lots of rocks, very rooty along the river, and a lot of narrow single track that didn't make it easy to move off the trail for the oncoming traffic. It's the nature of trail running, but it makes it near impossible to get into any kind of rhythm. I managed to stay on my feet and keep my wits about me, but I was rapidly tiring and trying not to think about the back half of the race, which was rumored to contain the most elevation change. Tony and I chatted the whole time, and I high-fived all the folks I knew as we passed each other. As we started on the northern section, it became apparent that this was indeed the hilly portion of the race. Yikes.
The first quarter mile of the back half took my breath away. Literally. It was a steep climb, and my heart rate spiked well before we reached the crest. Good lord. I prayed that the rest of the miles weren't all like this. I knew that there was a mile long road section and I was really looking forward to stretching my legs and getting some good strides in. Unfortunately there was a good two miles between us and that road section. Tony became like a drill sergeant, urging me forward when I faltered and telling me not to listen to my brain as it screamed for me to stop. I thought I was hallucinating when I saw a sign in the middle of the woods for free range turkeys. Turns out that was real. I imagined I'd be hearing banjos any second, and that was enough to spur me on.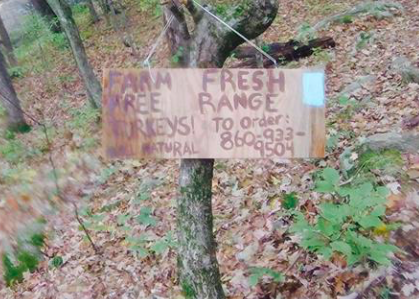 (photo credit: Dominic Wilson)
We eventually popped out onto the road and were greeted by Tony's brother. We didn't chat long as we planned to take advantage of the easier running to make up a little bit of time. It was a nice, long downhill road section to the Iron Mine aid station where my husband was volunteering. I couldn't wait to see him, as I knew that would lift my spirits. It felt good to really stretch on that downhill section, but I knew I'd pay for it later in smashed quads. We rounded the corner and the aid station came into view, manned by Marc, Jamie, Joe and Jack (a few of the folks who launched my trail running). I love aid stations that are run by ultra runners, as they contain all the heavenly treats: fresh cold fruit, cookies, boiled salted potatoes, and Coke. Tony and I filled up on goodies and charged off down the trail.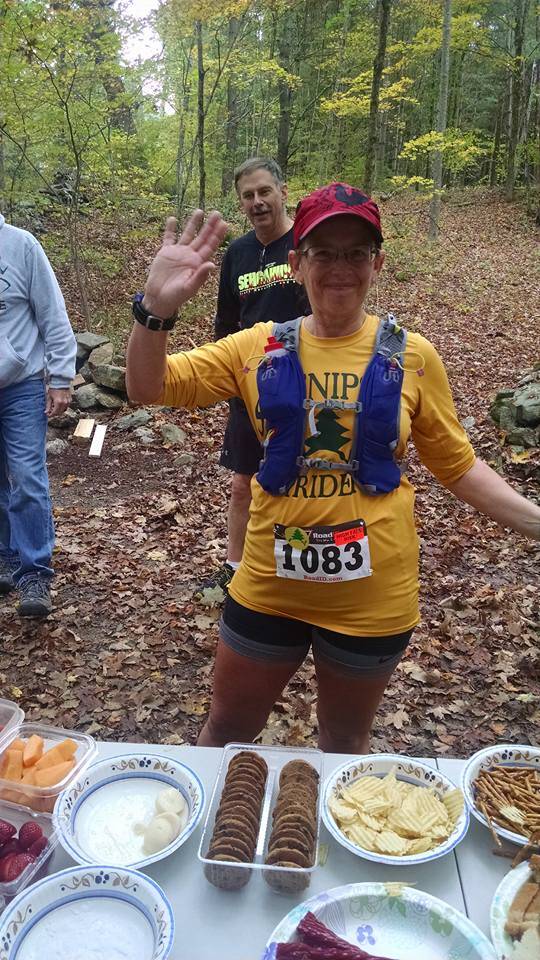 (photo credit: Marc Scrivener)
It was about this time that I became an anchor. I urged Tony to drop me and just run his own race, but he refused. Part of my reasoning was that if Tony left me I could slow down, so it wasn't totally unselfish. I was dying. Yes, I had run a 100k but that had been mostly on dirt roads. I hadn't run this far on single-track trails before, and it was really depleting me. My goal going into the race had been to finish in six and a half to seven hours. I knew that the technicality of the race would take its toll. Tony, however, had different plans.
The final few hundred yards before the turn around was a steep set of wooden stairs. Awesome. Just what I needed. Wet, mossy wooden stairs + exhausted legs = OMG someone just kill me. I got down the stairs as quickly as I could because at the bottom was another oasis of an aid station. We spend a little bit of time here, fueling, hydrating, recovering, and joking with the volunteers. Overall I still felt pretty good, despite being tired and heavy-legged. Even though I wanted to hang out and rest, we decided that we should just get started on the final leg of the race. I almost wept at the thought of climbing back up that set of wet, slippery stairs. But drill-sergeant Tony was hot on my heels and barking at me to get a move on.
Seven miles. Seven miles and I could stop. But those seven miles were hilly, rocky, slanted trails strewn with dry creek beds and fallen trees. I slowed more and more and Tony got farther and farther ahead of me. Every once in a while he would stop and wait for me to catch up. It was in this section that we caught up to Colleen and passed her. She was doing well, keeping to her plan, and I was happy to see her smiling. Meanwhile, I felt like I'd been hit by a truck but I tried to appear strong as we ran past.
It's amazing how much pain a person can tolerate when you have a relentless voice calling your name from up the trail. Right about then I hated the trail, I hated running, and most of all I hated Tony. I think I even started to whine. What I needed was a kick in the ass, and Tony delivered. He had put up with my shenanigans for a few miles, and told me that even though my brain told me I couldn't go any farther, he knew that I could. So with renewed enthusiasm (hahahahahaha) I pushed forward. It was right then that the premonition of the "high fall risk" sticker came to fruition. A toe grabber forced a Superman into the dirt. Well, at least I'd managed to wait till a soft spot in the trail and wounded nothing but my pride.
Just when I thought we'd never get back to the Iron Mine aid station and my wonderful husband, I spotted Jack and Sasha up ahead on the trail. Finally!!! We again stuffed ourselves with the wonderful spread of goodies before tackling the last few miles. We had the one mile of road (which was unfortunately uphill in the return direction) and then 2.5 miles of rugged, steep trail before a quick downhill to the finish. My energy was flagging again, but Tony still refused to leave me. I wonder if he knew in that moment how appreciative I was of his unwavering encouragement.
We powered up the road section and slipped back into the woods. I was repeating the same mantra in my head, similar to Dory but in trail runner fashion (just keep running, just keep running). Back past the free range turkey sign. Up the last seemingly unsurmountable hill. Finally I heard Tony call to me from up the trail. "Come on, Faith. I'm not crossing that finish line until you are by my side!!" With one final push, I dug deep and found the will to keep running. I followed Tony down the hill and under the big yellow "FINISH" banner. Time on the clock: six hours, two minutes, twenty-six seconds. WAY sooner than I expected.

I managed to stop my watch before I staggered into my husband's arms, completely spent. Tony had coaxed, cajoled, and pushed me to finish a full half hour under my goal time, while finishing his own first marathon. He had refused to let me give anything less than my best, and for that I will be forever grateful. I am still learning how to overcome my own doubts and fears, and this race taught me that I have much more tenacity and perseverance that I ever thought I had. I had run my first TRUE trail marathon and earned my second blue-blaze log "trophy". My sincere thanks to my husband Joe for once again supporting me in the crazy journey. Thank you also to all the amazing volunteers (Marc, Jamie, Jack, Sean, Tim, Stacey, Jess and the rest of you awesome people) and to race director David Merkt for putting on a great race and taking excellent care of us out there. Happy Trails!!