On July 8, 2018 I ran my first mountain race at the USATF Mountain Running Championships at Loon Mountain in Lincoln, NH.  I planned to use this race as my last hard training run prior to my goal race at the VT100k on July 21-22.  My husband Joe and I decided to turn it into a mini-vacation, so we arrived on Friday afternoon and planned to stay until Monday morning.  Lincoln is a cool little town with plenty to do, lots of great places to eat, and a couple of breweries within a short driving distance.  It also happens to be right at the entrance to Franconia Notch State Park.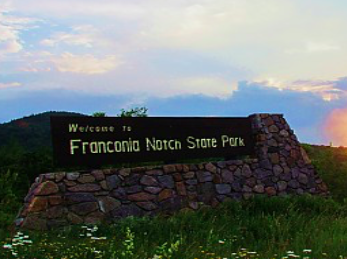 The race directors for Loon Mountain partnered with the Trail Sisters to encourage more women to participate in this event, so I had connected via Facebook with a few ladies from New England who were planning to run.  It was fun to make plans to meet in person!  Joe and I met Lisa at a popular local breakfast place on Saturday morning and enjoyed her company immensely, so we decided to spend a little more time together and let her show us some of Franconia Notch.   We climbed the couple of miles up to Kinsman Falls and then made the return trip to the car, visiting a few of Mother Nature's works of art on the way.
Since Lisa hadn't gotten sick of us yet, we made plans to meet at bib pickup at One Love Brewery and then grab some dinner.  Bib pickup was a zoo, being that it was the championship for USATF, the collegiate championship, and the NACAC.  It was cool to see amazing athletes from all over the world and to know that we would be literally running in their footsteps.  We learned that we'd be running with almost 1000 of our closest friends over the imposing course the next day.  We chowed down on burgers, toasted the mountain with our beers, and returned to our hotel to settle in for the night.
We arrived early to the mountain so we could get parking in the primary lot and meet up with Lisa. Joe's race started at 8am, while mine wouldn't go off until 9:15.  When Loon hosts the championships they split the start to make things a bit easier. This year made it doubly effective since they had record attendance.  Even though the trails are wide access roads, cat tracks, and cross-country ski trails, it was nice to know that we'd have a little breathing space by splitting the field.  While we waited for the men's start I saw everyone I knew that was there.  Odd, considering the crowds!!  Soon it was near start time so Lisa and I went down to see the men off and await our own gun time.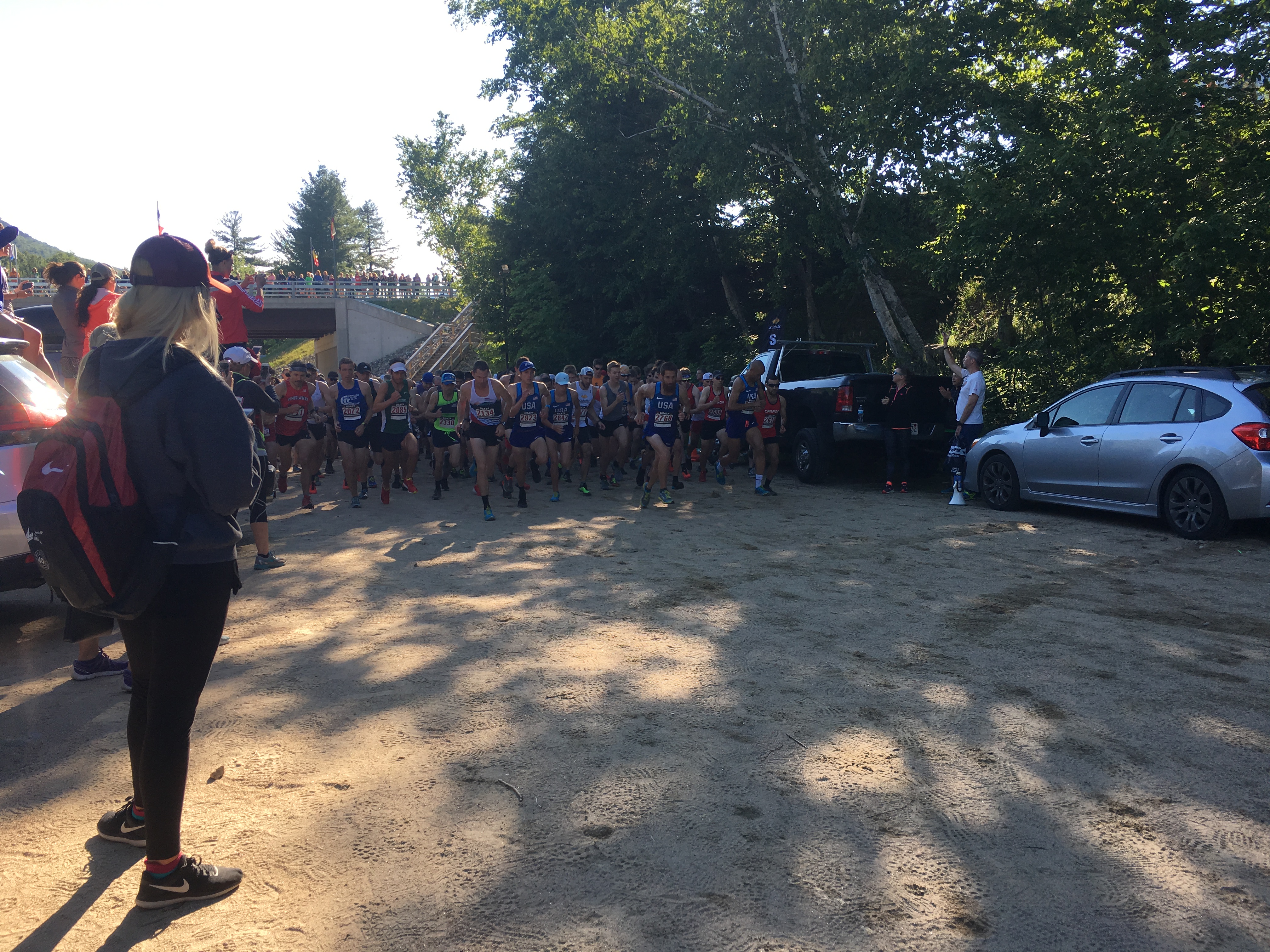 When it came time to start our own ascent to the top, we placed ourselves in the middle of the pack and chatted about our goals.  We planned to stay together until we couldn't stay together anymore.  The gun went off and we got an easy half-mile or so of flat ground to warm up, and then the trail went up.  And up.  And up.  A staggering climb punctuated with a few flats and two nice downhill sections.  One spot was particularly muddy and Lisa attempted a quick trip through it – and succeeded in a face plant and a hilarious moment.  Luckily she wasn't much worse for the wear and we continued on towards the summit.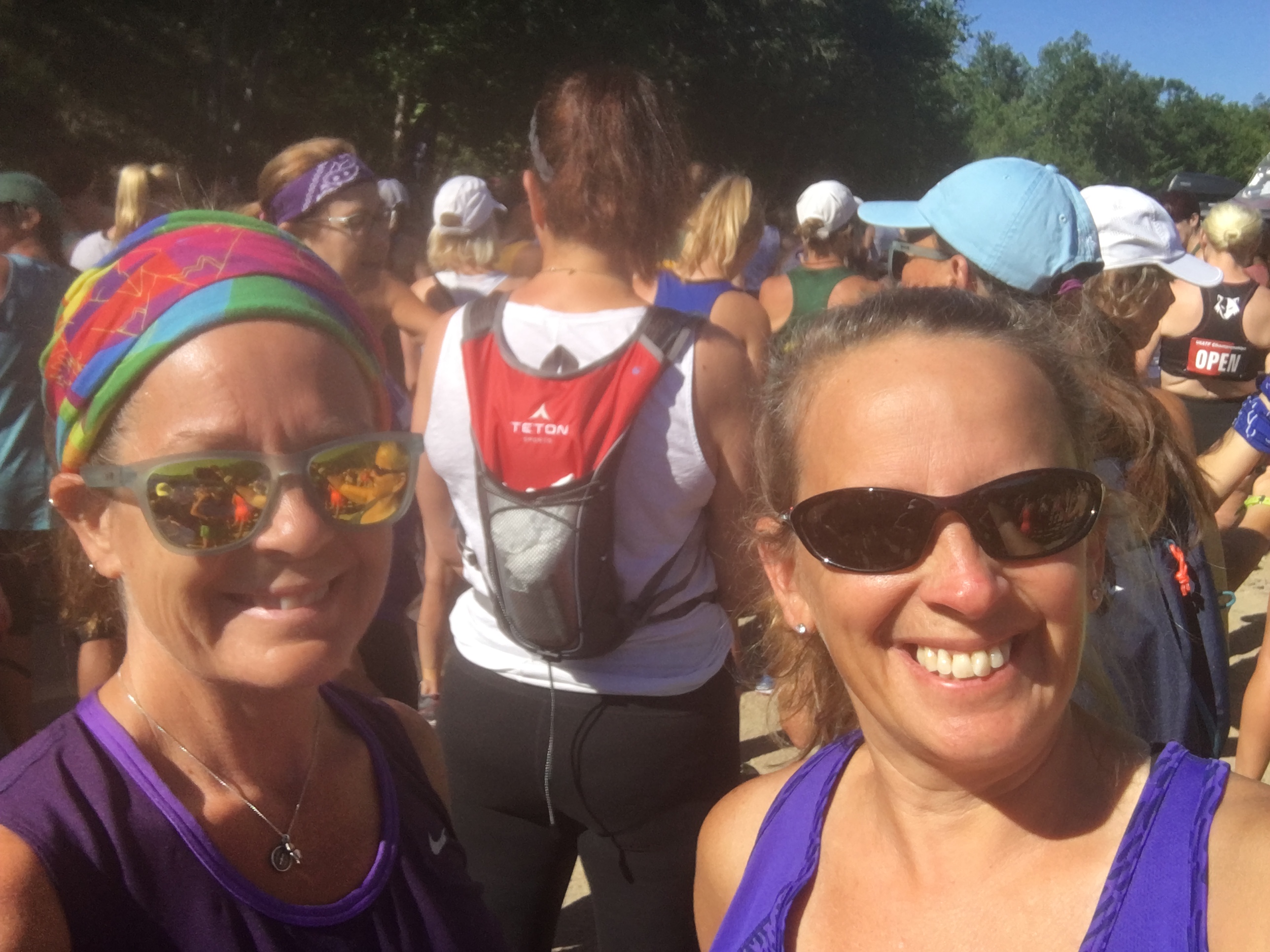 If I'm to be honest, the course wasn't as difficult as I had expected.  The weather was perfect, much cooler than the previous two weeks had been, and the footing was mostly dry and non-technical.  I had been doing a lot of hill training over the previous two months so I felt well prepared for the climbs.  As we approached the first aid station, I saw a familiar face.  Pat Caron had run a spectacular race, had run back down the mountain, and was now at the aid station handing out water. What a tremendous athlete and an amazing person he is.  I'm honored to know him.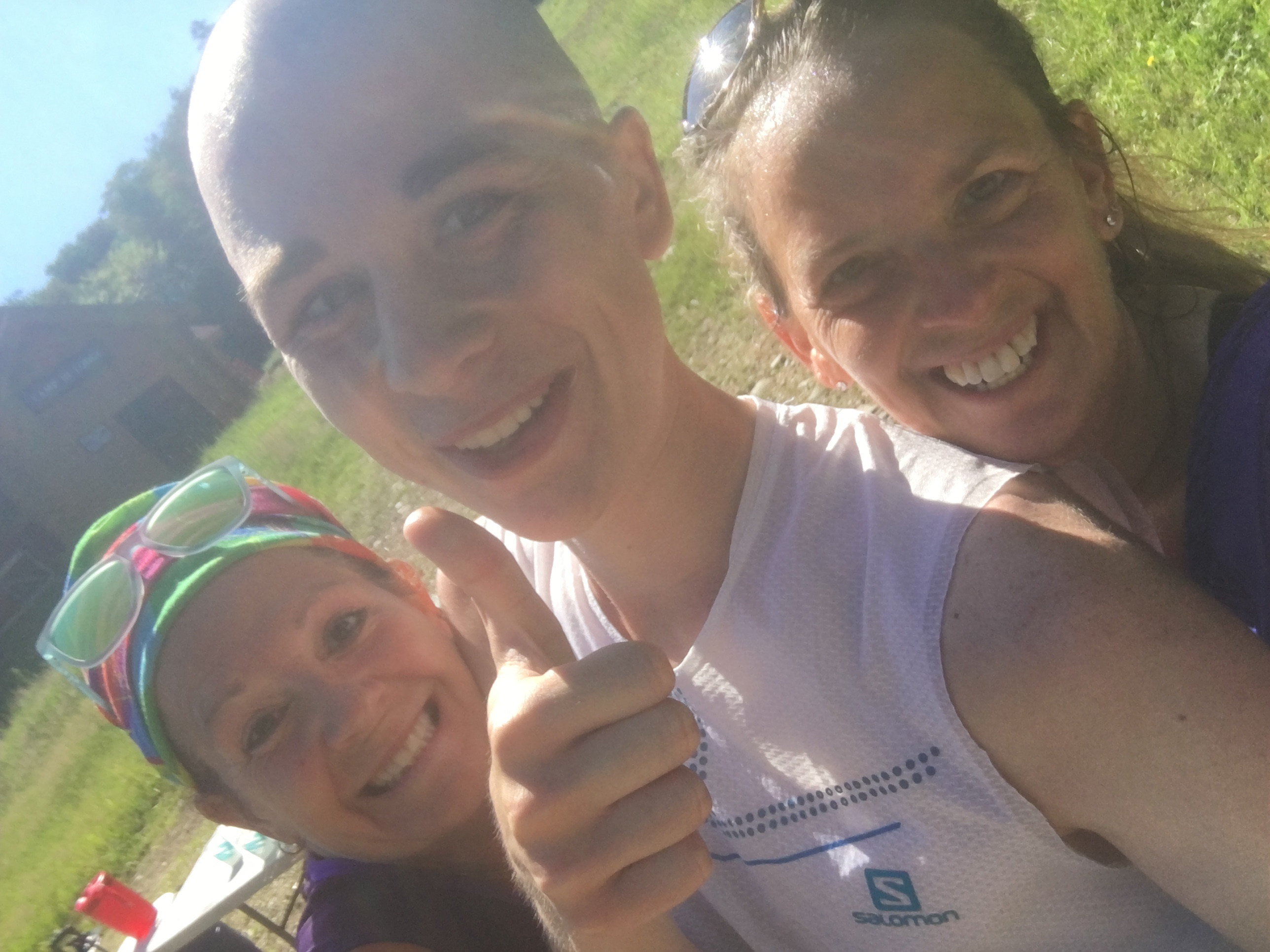 It was soon after this that Lisa started to fall a little behind.  I felt bad leaving her, but we had agreed to run our own races.  I knew she'd been battling a hamstring issue, and I hoped that she wasn't dealing with a lot of pain.  I tried to put it out of my mind and just kept pushing forward. The race organization has a twisted sense of humor and had put out what I can only assume were supposed to be motivational signs.  I'm pretty sure I wasn't the only one to do the one-finger salute to some of them.
I arrived at the second aid station feeling pretty good.  I had drank about 10 oz of Skratch sport hydration and about the same in plain water, and had eaten a bag of chews, so I was well hydrated and fueled up.  I knew I had a nice downhill stretch before the big tamale.  Upper Walking Boss has a nasty reputation for bringing runners to their knees – literally. It is a kilometer long and has an average grade of 40%.  Yikes. I really wanted to blast the downhill section but I knew if I did, I'd pay for it on the Boss.  I tried to relax and just let gravity take me down the hill while I mentally prepared to get through the final stretch of this race.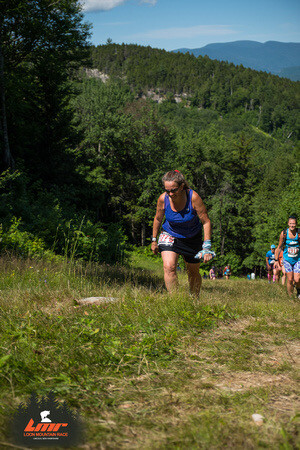 I crossed the timing mat at the bottom of the Boss and took a deep breath.  I looked up before I started to climb, and almost wished I hadn't. Holy hill, Batman.  I remembered my training at Wachusett Mountain and tried to focus on just one step at a time.  I made it about a third of the way up before I finally had to stop and rest. I'd been looking down at my feet, and took this opportunity to look up ahead of me again.  Just a bit ahead of me was my friend Diane.  Thinking that it would be fun to cross the finish line with her, I pushed a little harder to catch up.  I pulled up alongside her and realized she was suffering, too.  "Well, Diane," I said to her, "we are going to get this thing done together."
We death marched the final half kilometer, stopping at each flag for a breather.  Several Striders, including Joe, dotted the sides of the course, yelling encouragement, making jokes, taking pictures, and just generally being awesome.  We crested the top of the steep section and I turned to Diane and said, "I haven't walked a finish line yet, and today is not going to be that day."  So we started to jog (if you can call it that) and struggled to get to the mat.  I glanced up and saw the time on the clock and burst into tears.  Everyone had told me to take my road half marathon PR and add 20-25 minutes to it to get my estimated finish time for this race.  By those calculations, it should have taken me 2:15-2:20 to get to the top.  We crossed the finish line in 2:04:10.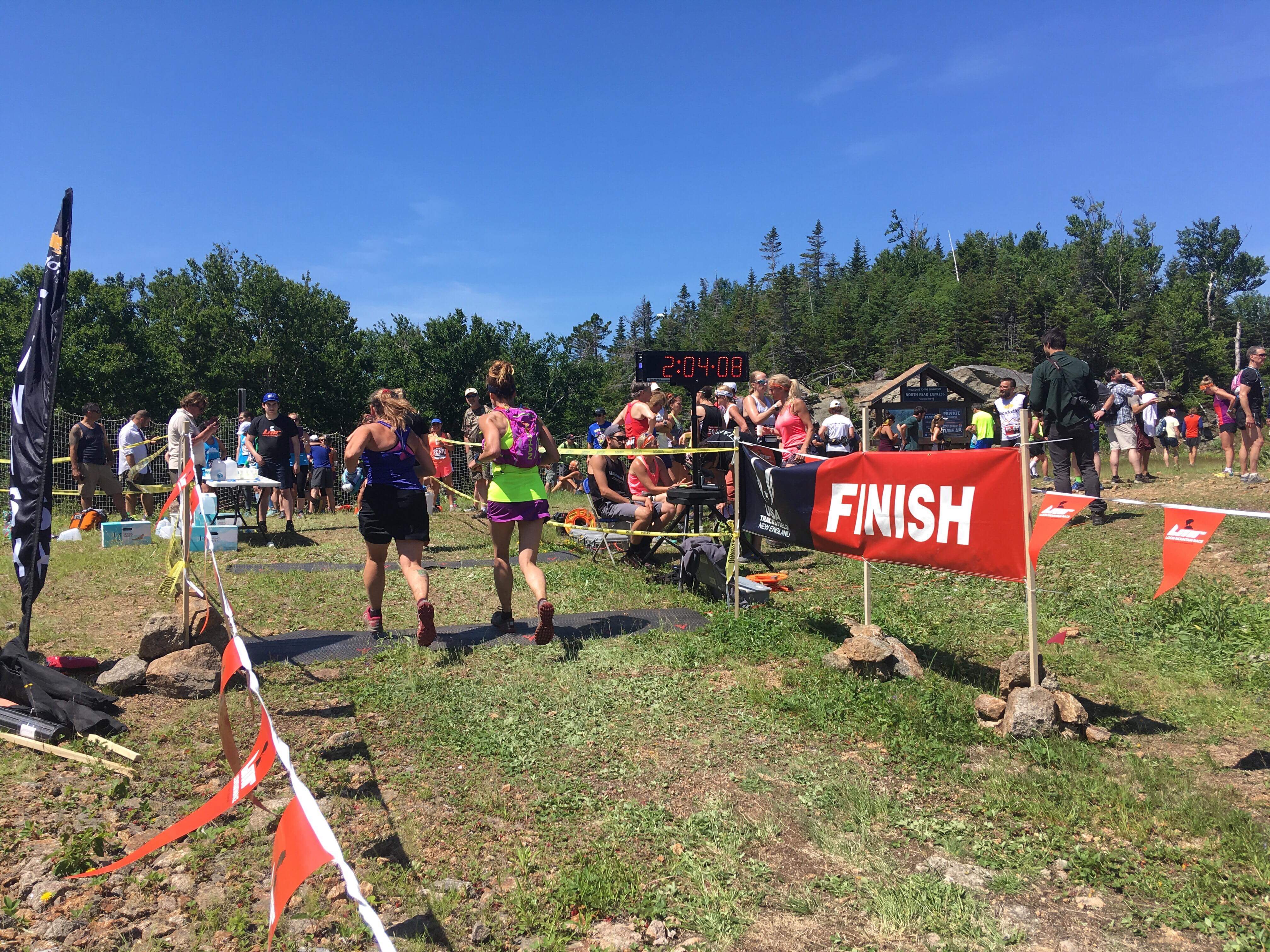 Lisa crossed a few minutes later, and we all celebrated by taking group pictures, watching a finish line proposal, and taking in the breathtaking scenery before starting our way down to the gondola that would take us back down to the lodge.  I took a moment to appreciate having the strength and the opportunity to take part in this race.  What an incredible blessing.
I love these challenges. The ones that you don't think you should be undertaking.  The times when you feel out of your league and wonder just what the hell you're doing there.  The events that you have to claw your way to the finish line are the ones that show you just how tough you really are.  Nothing good comes easy, and I hope I never forget that.  Loon Mountain Race brought me amazing memories, cherished new friends, and an incredible sense of accomplishment and confidence.  I'm ready.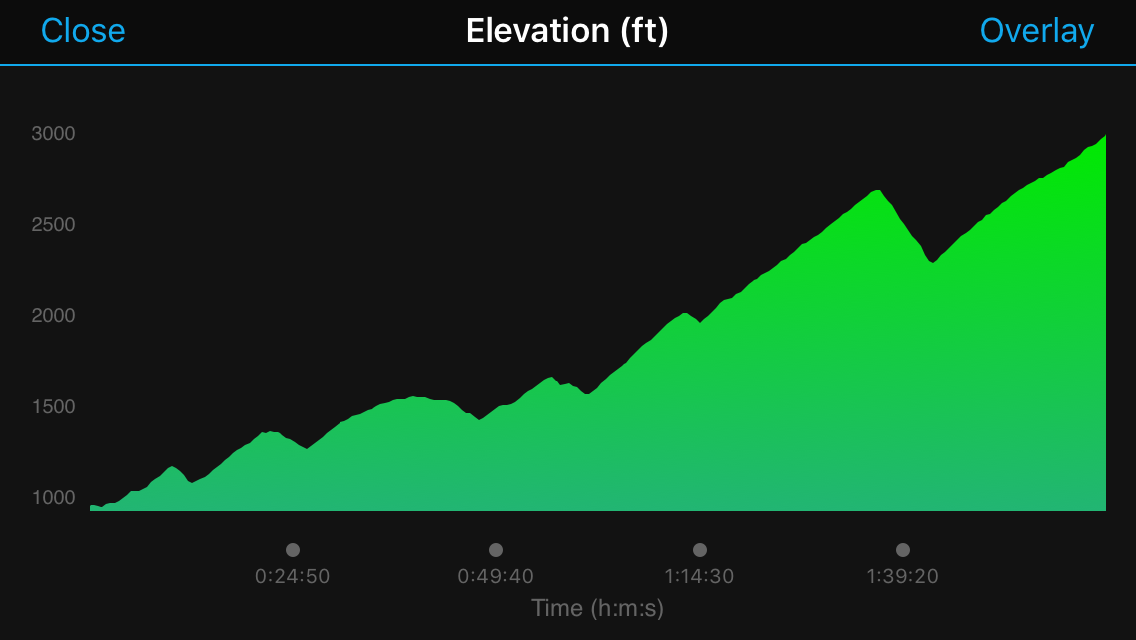 See you at Silver Hill.