This past Saturday was National Trails Day, and I chose to celebrate it by running the inaugural Chesterfield Gorge Ultra.  This race is a 30-hour, run as much as you want in the time allowed event.  The fact that this race was the brainchild of legendary RD Amy Rusiecki (one of my pacers for this year's Ghost Train 100 mile) made it extremely appealing and I couldn't wait to get to the trail and start knocking out the miles.
I spend Friday night in Holyoke with Laura and MJ, and we met Crutch and John at Fitzwilly's Pub in Northampton for pre-race food and beer.  It was so much fun to sit and relax and exchange crazy stories while we enjoyed awesome sliders and local craft beer.  I highly recommend you hit this place if you are ever in the area.  On our way back to the car we passed a cool little place called the Tunnel Bar and wished we could stop inside and check it out, but it was time to head back to the hotel and rest for the day ahead.
We got up bright and early Saturday morning to head to the race.  Amy really outdid herself with this venue, and she managed to order almost perfect weather for us – overcast and dry.  We arrived at check-in to find that not only did she lie to us about having no bling (she got us awesome pint glasses with the race logo), she fully intended to share the beer that all the runners were bringing for her (bonus!!). We got our bibs, dropped off our inter-loopal gear, and awaited the start.
Laura and I intended to run together until it no longer made sense.  I was doing the 50-mile as a training run towards the VT100k, and since Laura couldn't make VT this year she was using this race as her 100k.  Due to the difference distances we planned to run, we knew that our paces would eventually have to be different.  We started off down the trail at what we thought was a good pace and enjoyed chatting with other friends who'd come for the race.
The views along this trail are really awesome.  We spent a lot of time following the Westfield River.  It's a popular spot, and it was cool to see people out in the river fishing and swimming.  Neat rock formations, wildlife, and the sounds of the moving water all added to the experience, and we took it all in as we made our way towards the 7.75 mile turnaround spot.  As we approached the far aid station the overcast and dry weather had turned to sun and humidity, and with more than a mile of exposed trail we knew this would eventually take a toll on runners.  We focused on staying hydrated and cool, and made the decision to slow our pace.
Along the way we met Dave and Rob, who were brothers doing their first ultras.  We ran the return trip with them, chatting and laughing about life and running.  The miles were rolling by pretty well and I managed to eat and drink better than I have on most of my ultras.  We had been stopping to stand in the icy streams that cross the trail because the cold water felt so good on hot, pounded feet.  Little did I know how this would come back to bite me in the ass later in the race.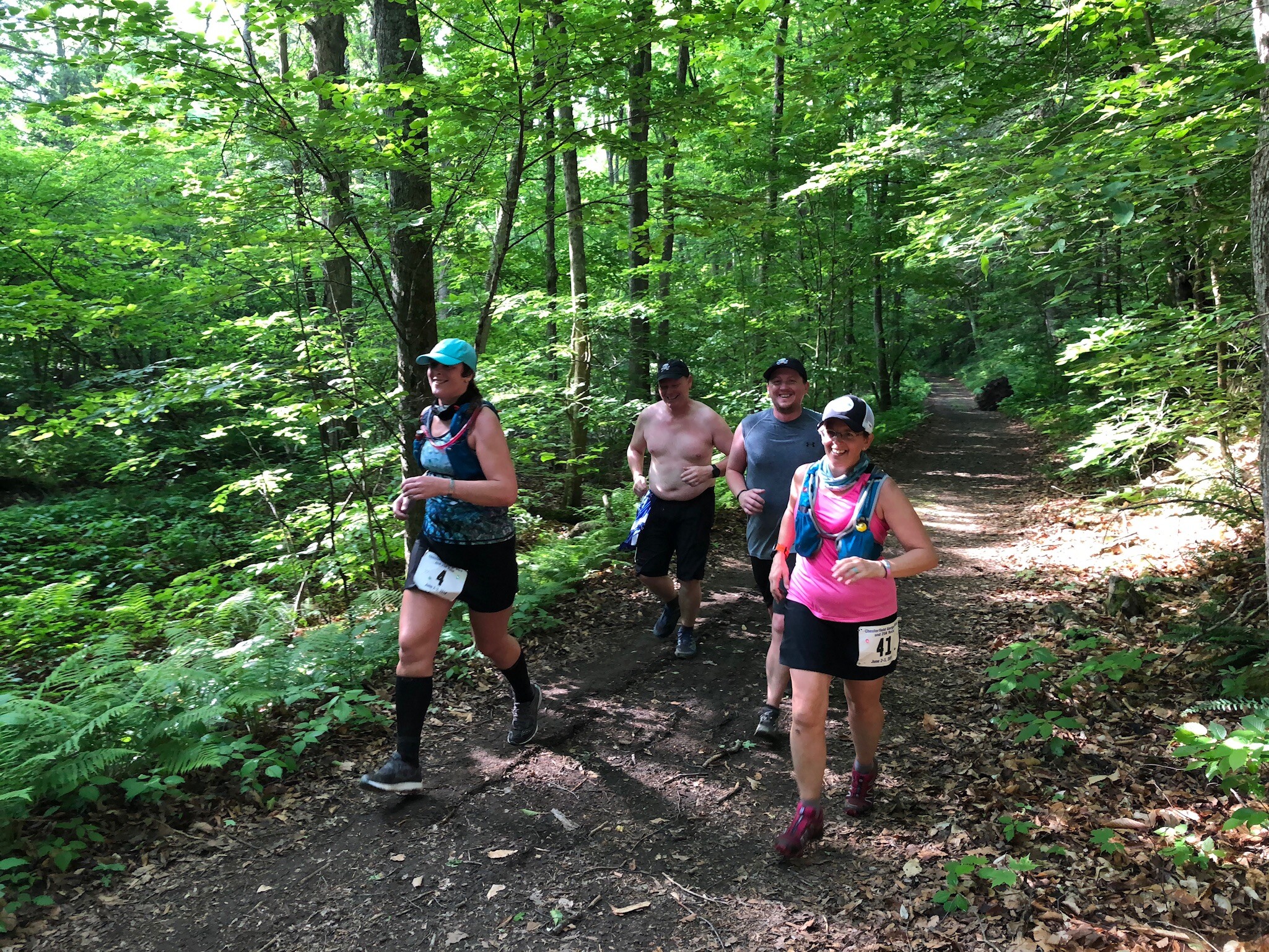 We arrived back at base camp and mile 15.5 feeling pretty good despite the higher temps and sunshine. I'd been drinking about a liter of water between aid stations so felt really well hydrated but behind on calories. I ate quite a bit, exchanged my wet singlet for a dry one, and debated on changing my socks and shoes.  Since I didn't feel any hotspots I elected not to spend the time changing my shoes but instead used the porta-potty while Laura changed her own wet shoes.  Within a few minutes of arriving at the aid station we were ready to head back out, still feeling pretty damn good.
We spend a fair amount of the next 7.75 miles discussing our plans for the rest of the race and decided that the time had come to split up.  We agreed to stay together until we reached the far aid station and then I would go on alone.  It was hard to leave Laura, but I knew I wanted to move along faster and we both had to run our own races.  We got to the turn around and spend a few minutes refueling, refilling our packs, and getting ready to take on the trail alone.  I gave her a hug and took off, moving away before she could see my tears.
About a mile or so after the aid station, my right foot started to get annoyed.  I noticed a hot spot forming right in the center of the ball of my foot, a place I've never had a blister before.  It still wasn't bad, just a slight discomfort, so I pushed on. I did notice that the loops seemed to be getting longer, a fact that brought attention to my declining energy level. I still felt good, though, getting iced down at every aid station and filling my pack with ice water, and eating and drinking well.  When I arrived back at base camp I wasted little time, quickly refilling my pack, changing into yet another dry singlet, and heading back out for my last long loop. I would still have to do one short out and back to complete my 50-miler, but at least the worst would be over.  Or so I thought.
Just past the half way point in the loop was a nice little stream that I had stood in almost every single time I passed through it.  The cool water felt so good on the hot and tired feet.  This time when I did it, I felt the stinging of a probable blister (or two) and immediately regretted not changing into dry socks and shoes.  Ah, well, I only had 12ish miles to do, how hard could it be?  I pushed on to the far aid station and spend a little bit of time there, getting cooled down and chatting with the volunteers.  I was still way ahead of my 12-hour goal so I was ok with using up a few minutes of time getting some mental energy.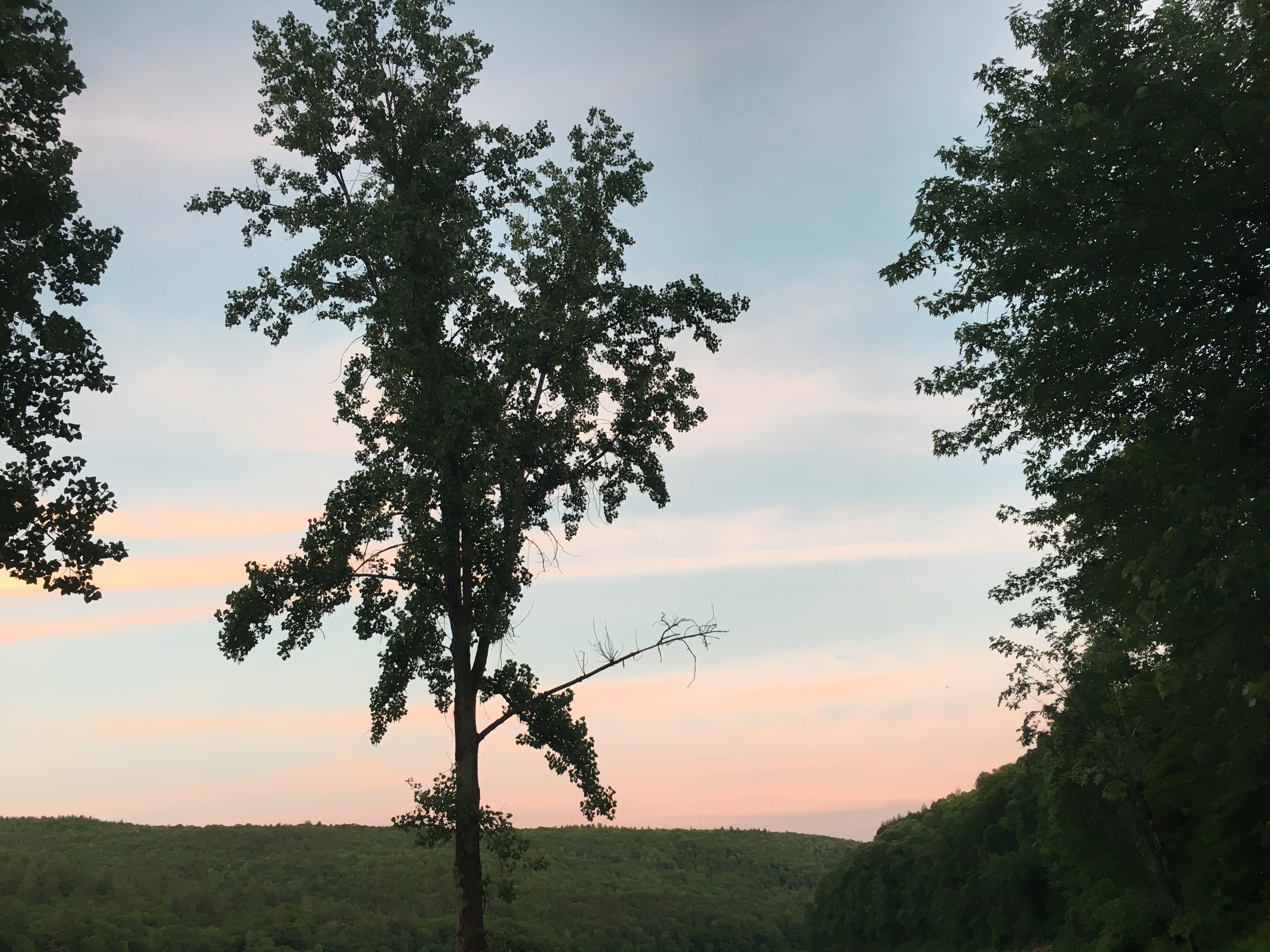 A lot of the far end of the trail was covered in traprock, which hadn't bothered me until the last loop. Now, each step on that right foot was excruciating, forcing me to walk way more than I wanted to.  I started a rapid downward mental spiral.  I recognized it but couldn't seem to do anything about it.  I tried some of the tricks I've learned, desperately trying to spin the situation around, but the more I tried to rebound the farther down I spiraled.  My foot was just screaming, and all I wanted in the world was to stop and take that shoe off.  By the time I got to the mid-point aid station I had made the decision that I was dropping at what I (incorrectly) thought would be 45 miles.  For some reason I was thinking that it was a 15 mile loop, and that my watch must be wrong, because they said I still had 3.5 miles to go back to base camp and my watch showed 43 miles.  I knew there was no way I could do another 8.5 miles on this foot.  I headed off down the trail, sad that I would miss my 50 mile goal, but confident that I was making a responsible decision.  After all, I have a big race in 7 weeks.  I had basically walked most of this loop, and that didn't change for the remainder of it.
I arrived back at base camp and said "time for taps".  Anyone who has any knowledge of the Barkley Marathons knows those dreaded words.  Amy came over to me and asked me what was wrong. I quickly told her how my foot felt and told her I couldn't do another five miles.  I even stopped my watch.  She told me it was only 3.5 miles.  I redid the math in my head and realized my mistake and said, "aw crap" and re-started my watch.  Everyone laughed and suggested I sit down and let the crew take a look at my feet.  I removed my wet socks and shoes and was shocked to see how macerated my feet were.  Holy shit, what a mess.  Deep crevices in my right foot explained the pain I was feeling.  They found a blister between my toes (another first for me) and drained that one.  MJ ran over to the car and got my cushioned Hoka road shoes, and grabbed dry socks and Gold Bond powder from my drop bag.  Amy and her crew of volunteers fed me some acetametaphen, dried my feet, covered them in powder, put dry socks and shoes on, and sent me back out with MJ.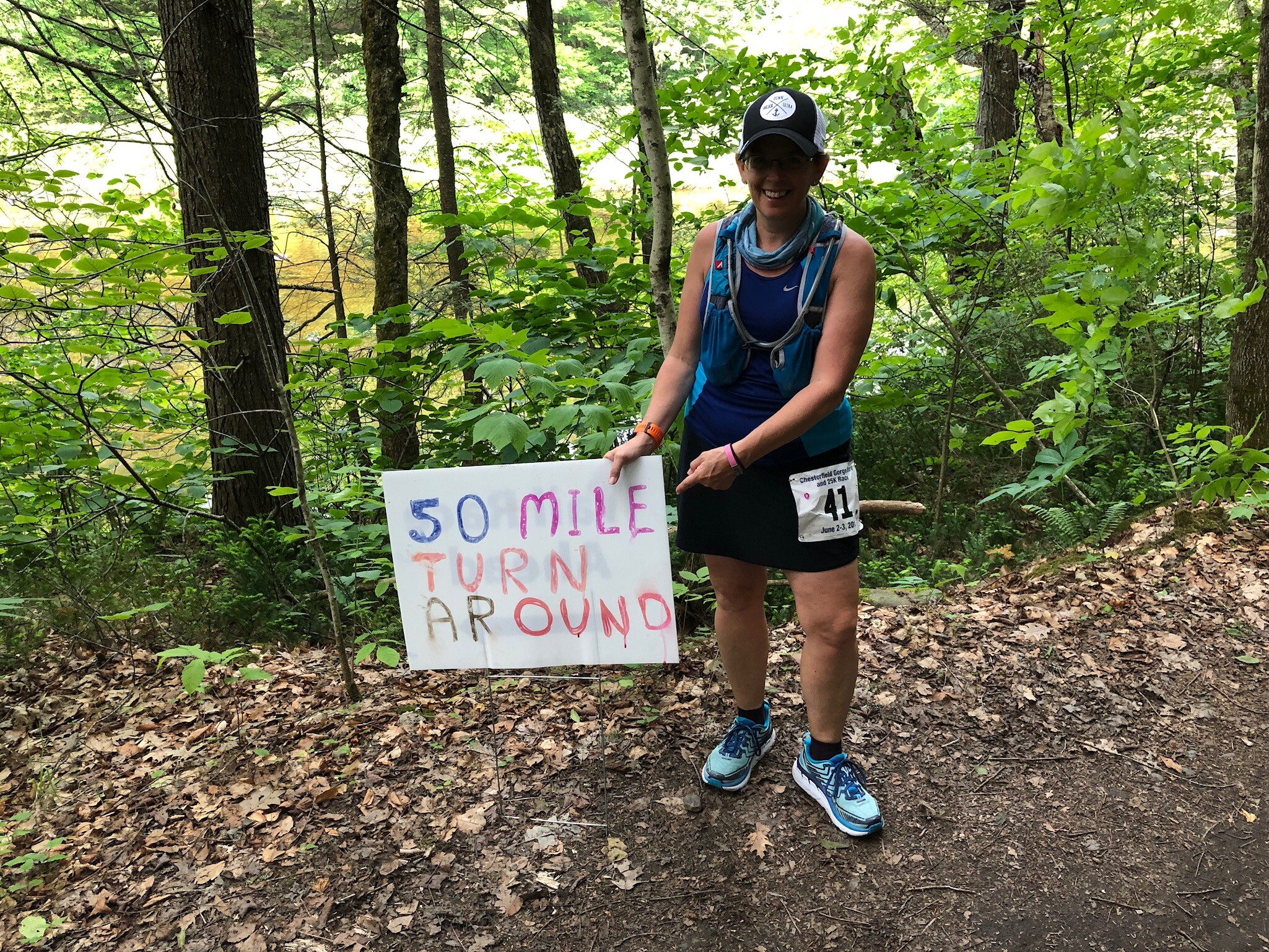 I was shocked at how much better my feet felt, and I jogged alongside MJ's long walking stride.  I ran the whole last 3.5 miles, hills and all. Leaving MJ in the dust, I tore into the finish line at a sprint, surprising everyone.  Despite all the problems of the last 12 miles or so, I managed to miss my time goal by only minutes, coming in at 12:07.  Amy wrapped me in a big hug and said, "that's the runner I want to pace at Ghost Train!!!"  She's just the best, pouring passion into each event she does and deeply caring about her runners.  I'm so blessed to call her my friend, and I hope she knows how much I love and appreciate her.  She even gave me one of her coveted Sunday Morning Stouts, which rapidly dulled the foot pain and returned me to my cheery emotional state.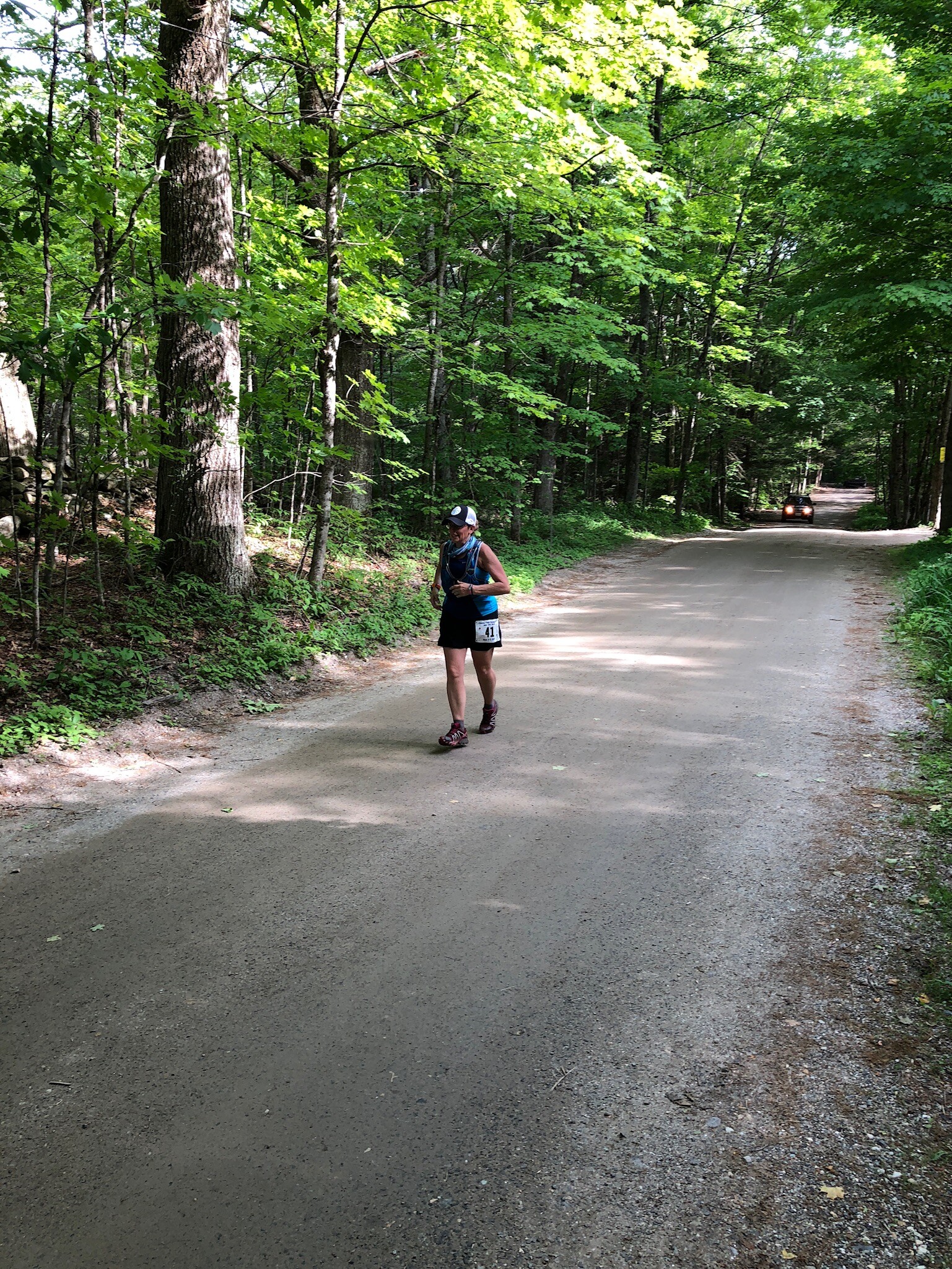 I spent a few hours cheering other runners on to their finishes while I waited for Laura.  She did a tremendous job, finishing her 100k in just over 18 hours.  It was a great day for both of us.  Turns out she had been having her own blister issues, and had to use some mental tenacity to get through her race.  I think we both learned a lot about ourselves during our time on that trail.  I know I learned that I have more grit that I thought I did, and I'm confident now that even if things go to hell in a hand basket, I can fix it and move on.
Many, many thanks to Amy and her crew for a spectacular event.  I hope to return for as many years as she chooses to host this race, and I'll be sure to change the damn shoes and socks no matter how good I feel. I also need to recognize the many people who make this crazy shit possible for me: Liz, Donnie, Crutch, Beth, John, Jon, Laura B, Carolynn, Brad, and Laura L for sharing all the miles (and beer);  the CT Trailmixers and the Shenipsit Striders for the cool training events and races they host; Skratch Labs for taking care of my hydration, electrolyte, and fueling needs;  and most of all, my husband Joe – my rock, my biggest cheerleader, and my best friend.  Thank you all for everything, and I'll see you at Silver Hill.