"The real purpose of running isn't to win a race, it's to test the limits of the human heart." ~ Bill Bowerman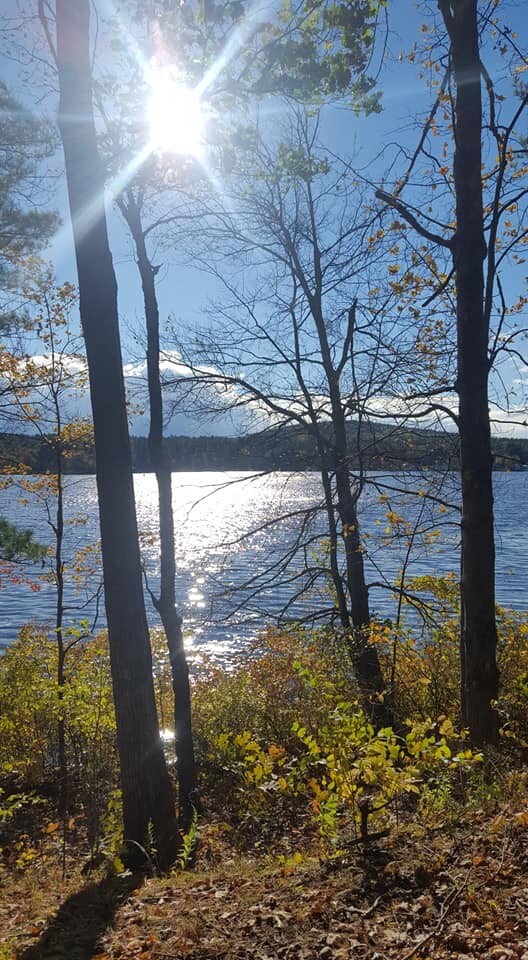 This past weekend I attempted my second hundred mile race at Ghost Train Ultras in Brookline, NH.  Although my fitness and mental game were at their peaks, I had an injury going in that I knew could potentially wreck my day (or night, as it were).  However, I've learned that sometimes even though things don't go quite as you planned, things turn out even better than you expected.
I arrived at Camp Tevya with my crew extraordinaire  (Brad and Carolynn) and fellow runners Liz, Kim, Laura, and Mike.  We had managed to get our primo spot and were getting everything laid out as we awaited the start of the race.  A neighbor came over and told us that someone else had told her to make sure she set up next to us, as my crew chief was awesome at taking care of feet.  Apparently our reputation precedes us!!  We got everything set up and finished getting geared up to take off at the sound of the Yeti yell.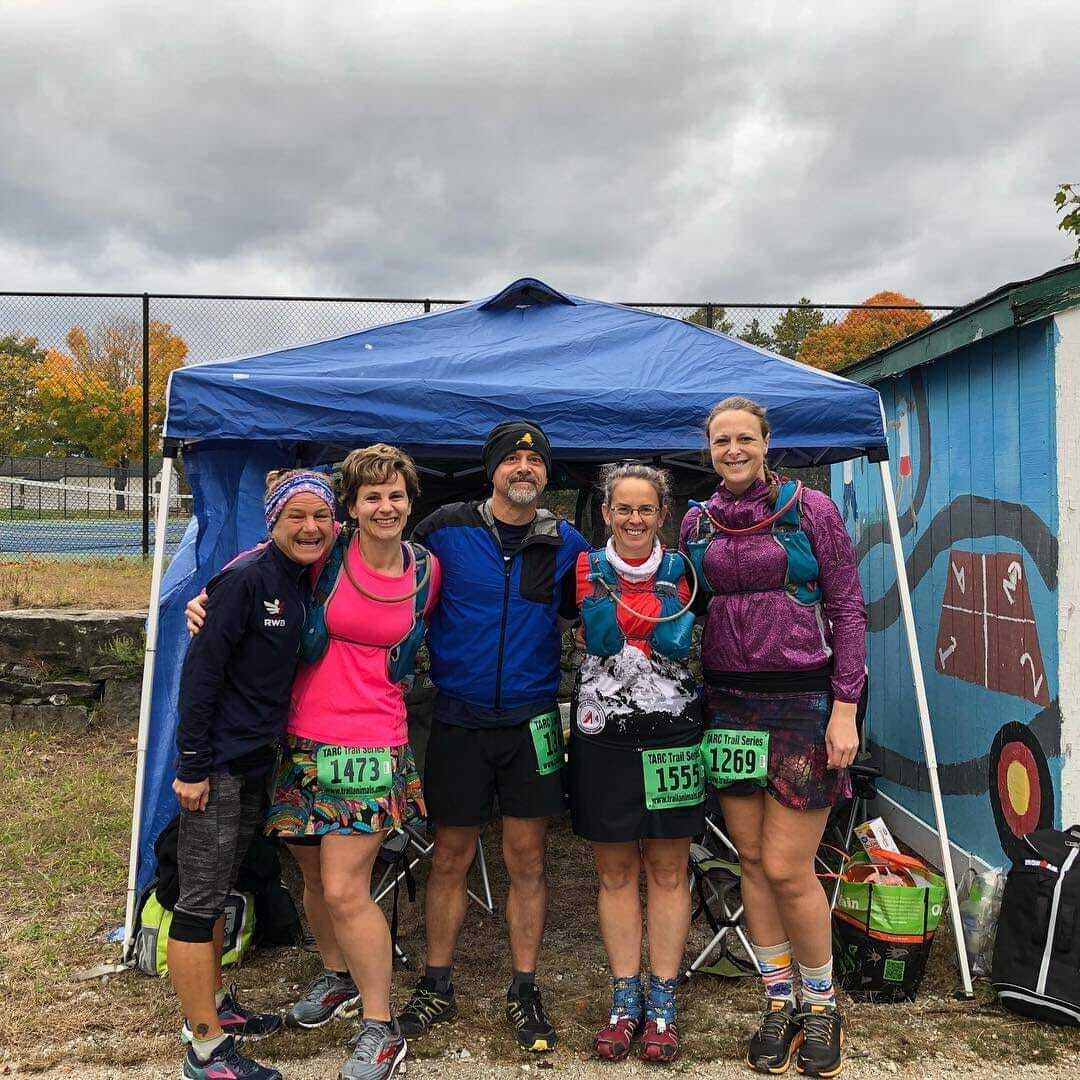 I had decided to forego my run/walk strategy in favor of just running until I couldn't run anymore.  It had worked well for me this past summer at the VT100k, as I had figured out the the walking is what caused me so much foot pain.  With that in mind, I settled into a relatively easy pace and ran most of the first 7.5 miles with my friend Peggy, who was attempting her first hundo finish.  What I love most about this race is the social aspect of it all.  You can run in your own head if you like, but if you prefer to chat while you run, well, this race gives you the option for both.
I had scarfed down some chow at the Milford aid station and was heading back to Camp Tevya when I heard a familiar voice.  Familiar as in "haven't I heard that voice on TV before?"  As I approached the individual belonging to said voice I asked, "Are you Tim?"  He turned to me with a raised eyebrow and said, "yes….".  Don't worry, dude, I'm not a stalker.  OK, maybe I am just a little.  I told him how his name had come up on FB  as a recommended friend (we have a few common connections) and told him that I remembered him as the human sacrifice from the Barkley.  He chuckled and said, "geez, I'm never living that down."  I took a quick selfie as I figured he would soon leave me in the dust, but as it turns out we were pretty well matched for pace at that stage in the race.  We ran the incoming 7.5 miles together, chatting about races and how we got into running.  The time flew and before I knew it we had arrived back in camp.  Thanks, Tim, for getting me a segment PR and my fastest loop ever at Ghost Train.
I had chosen to change my shirt and socks each time I came in to Camp Tevya because again, it had served me well in Vermont.  I sat down to change socks and realized I had a blister brewing.  It was way too early in the race for this nonsense, but given the fact that my gait was altered due to the injury, it was an evil that needed to be addressed.  Brad quickly patched me up, and I had some food and Coke, geared back up, and headed back for loop 2.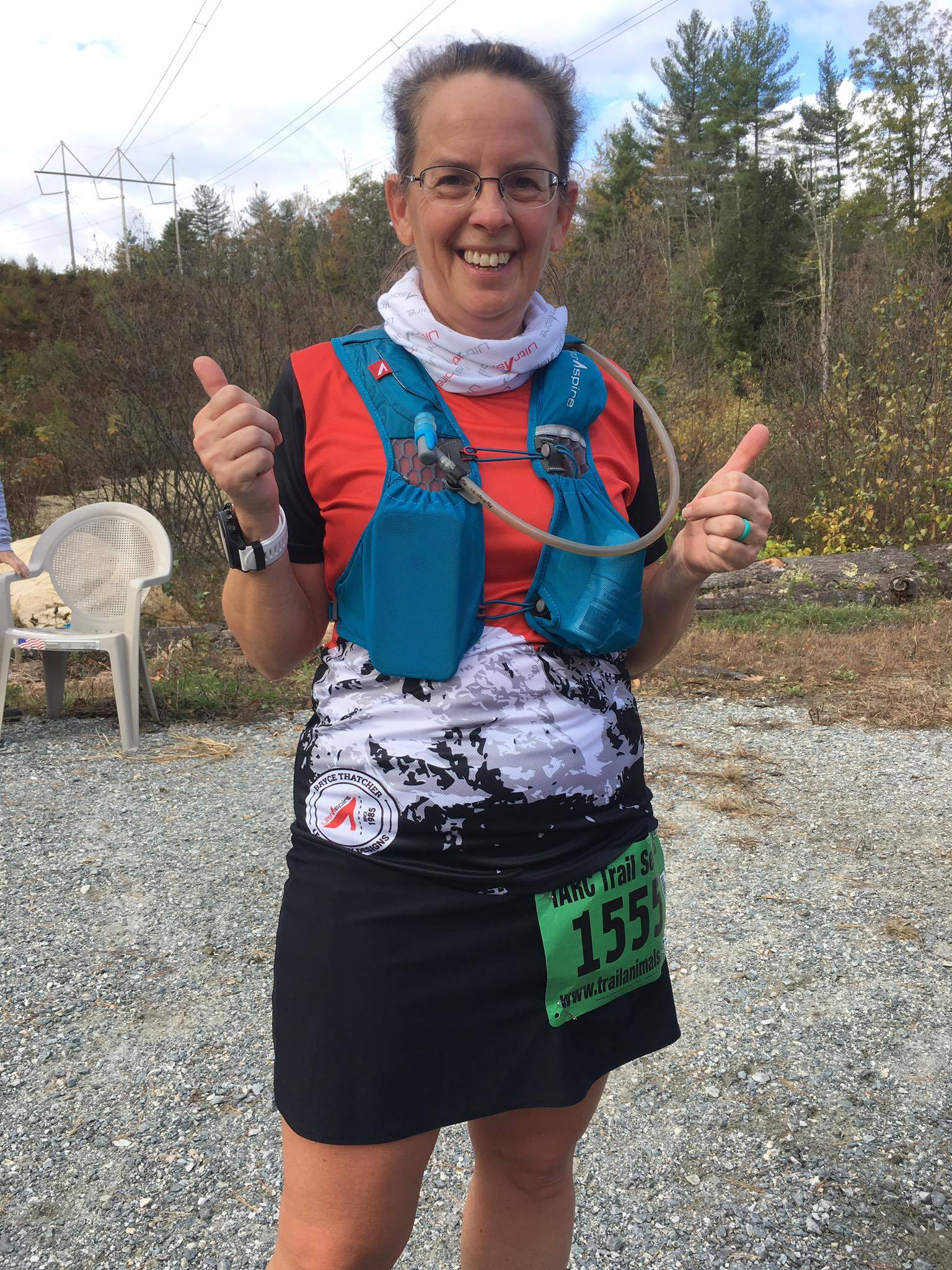 I realized that the pace I ran for the first loop was not going to be sustainable, so I slowed considerably the second time out.  I was still moving well, eating and drinking plenty, and having a blast.  I leapfrogged Mike and Tim a couple of times, saw Liz and Kim and Laura in passing, and enjoyed the cool weather and the New England October scenery.  At this point, there was still no doubt in my mind that I would finish the hundred.  I blazed into the Milford aid station, crammed more goodies down (hard-boiled eggs, avocado wraps, and bacon – OH MY!!!) and then shot back over the bridge and onto the trail south.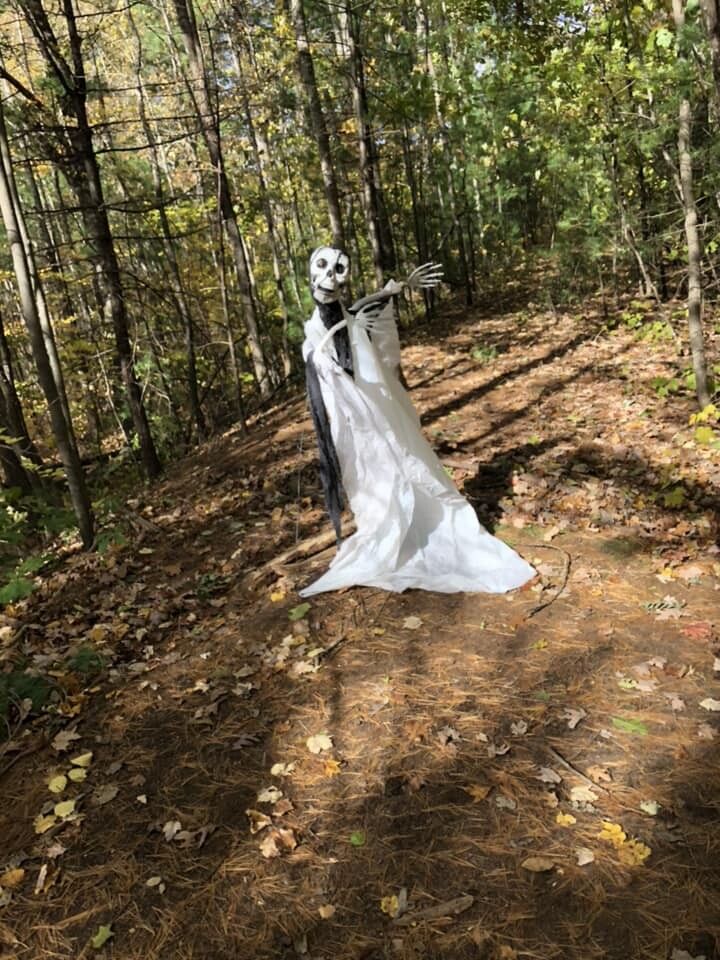 This was where I'd made a crucial mistake last year.  At the 30 mile mark I had not thought to put on warmer clothes and I paid the price by not being able to warm up the whole night.  That would not happen this year.  I again changed shirt and socks (and yet another blister had to be lanced and patched) and threw on a pair of warm pants.  I headed back out on the trail, this time with Brad in tow.  We covered miles 30-45 pretty well, and I know I ran way more during these miles than I had last year.  I still felt pretty strong and was continuing to eat and drink well, although I did notice that my mouth and throat seemed a bit dry.  This had happened last year, too, but much further into the race.  I didn't pay much attention to this nuisance and just keep trucking along.  It was starting to get dark and it was very cool to see the new lights in the tunnel.  The volunteers had pulled out all the stops with decorations this year.  I hope they know how much we appreciated their efforts to make the trail as entertaining as possible.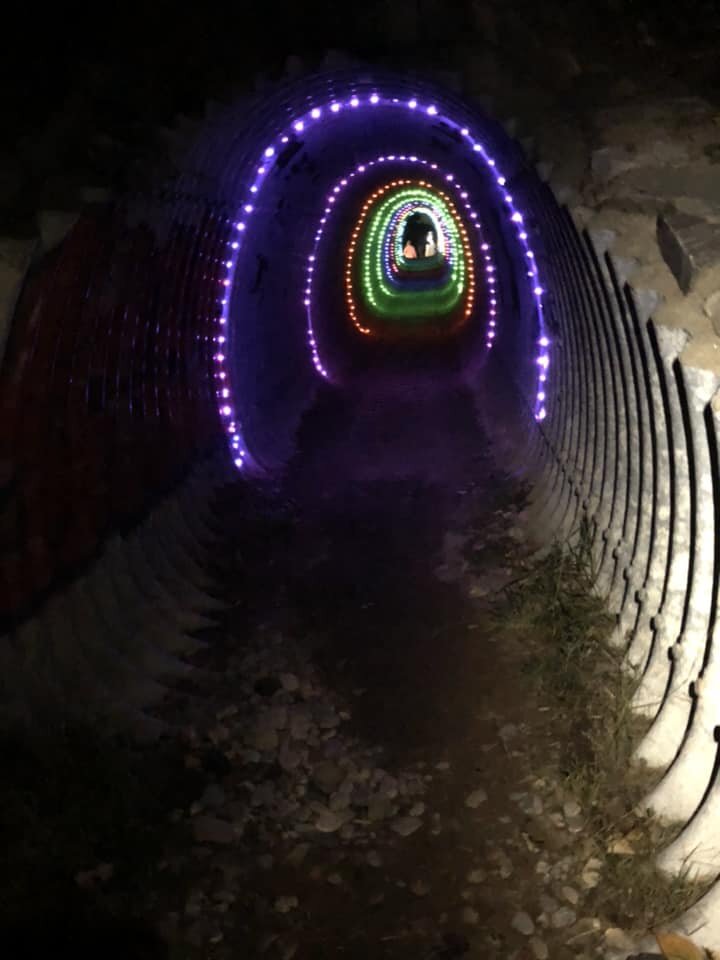 Back at Camp Tevya, I had Brad check out my injured foot.  It was beginning to feel bruised and I was getting a burning sensation after running for 5-10 minutes.  It would resolve itself after walking for a few minutes but I really didn't want to go down that rabbit hole if I didn't have to.  He couldn't find anything but we patched the area anyway, thinking maybe a deep blister was brewing.  I was still moving along pretty well and was happy to now have Amy Rusiecki as my pacer for the next 30 miles.  I planned to pick her brain clean of whatever ultra knowledge she had while she pushed me forward towards the 75 mile mark.
Miles 45-60 passed much the same way, although I slowed considerably after leaving the Milford aid station.  Amy passed the time by telling me stories of her first 100 and meeting her husband Brian (B-Dog to his friends and competitors, as I found out).  It was so much fun running with her, and she took amazing care of me.  Even though I was hurting and slowing down I still had a smile on my face and was in really good spirits.  I was still on top of my fueling and hydration, and other than screaming quads and that nagging foot issue, I was jonesing to keep pressing on.  I tried to do the math in my head to figure out how I measured up to last year's efforts, but runner brain took over and I quickly gave up.  Just keep swimming, I thought.
Coming into camp this time was a very different experience.  The world was (mostly) quiet and it was dark, with many runners of the shorter distances now sleeping and the finish line party subdued.  We looped through the covered bridge, across the start/finish mat, and back to my crew.  It was at this point that the very slightest notion of not finishing crept into my head.  The pain in my foot was multiplying and now showing up as compensatory pain behind my knee, in my hamstring, and the right quad was really sore, as it had taken the brunt of unloading the left foot with every stride.  I sat down for probably 20 minutes this time, eating noodles, getting my feet checked, and drinking down another Coke.  I added more warm clothing, changed the batteries in my fading headlamp, and Amy and I headed back out into the dark.
I made it most of the way to Milford before my foot gave up completely.  I was now reduced to just walking and it was taking its toll on all the joints in both feet, and the right leg was now almost useless for doing anything but moseying along on the flat.  The hill and the stairs were brutal.  Any uneven ground sent my foot into spasms.  We got to Milford and I sat by the fire with my feet up on the woodpile while Amy filled my pack and brought me food.  I had maintained a good mental outlook for 67.5 miles, but now I gave in to the emotions.  Amy dragged me out of the aid station and soon after we got back to the trail, she pulled out the big guns.  I had had my students write me notes for my crew to read to me when the shit hit the fan, and that time had come.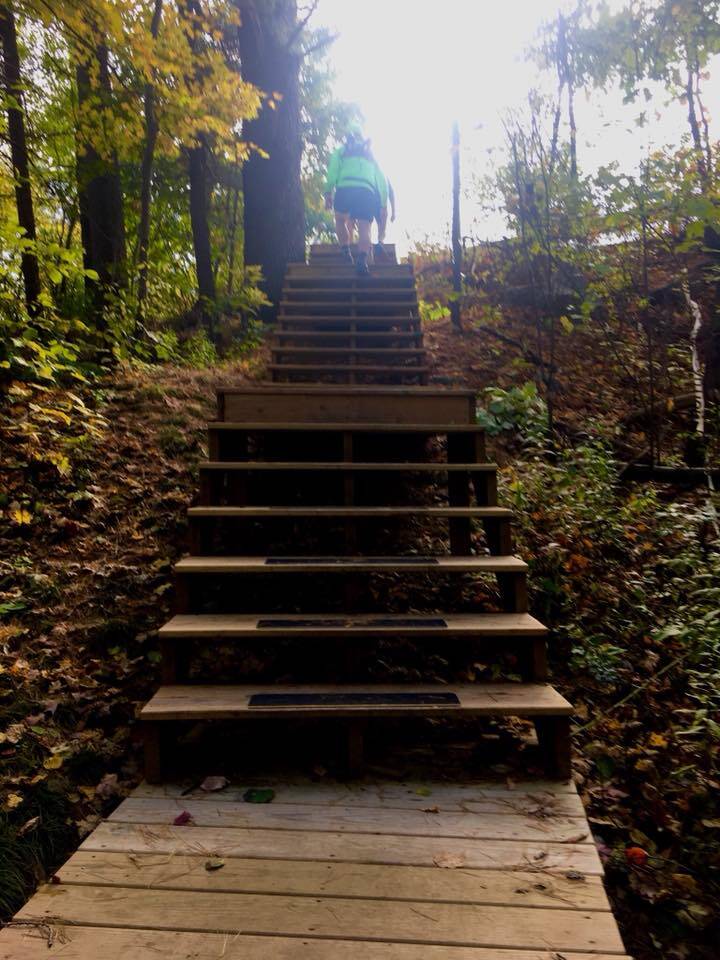 She read me the first few and my emotions just came crashing in.  All I could think about was letting those kids down.  I tried to summon up the strength to push those thoughts out of my mind.  A mile or so down the trail, she read me a few more.  When the tears came again, Amy asked me to tell her about the students who had written the notes.  I know she was trying to help me get my mind right again, but I had already given in.  The pain in my foot wasn't likely to get any better.  The compensatory pain in other areas of my body would also continue to get worse, and I thought about what kind of damage I could be doing.  I already had my qualifying race for Vermont, so I had nothing to prove here.  I gave a voice to my concerns and we spent a few miles talking through my decision.  The more I thought about dropping, the better I felt.  Emotionally I was disappointed, but physically all I felt was relief.  We got back to camp and as we passed my crew spot, I looked at Brad and said "we need to have a conversation."  Amy and I made our way through camp and across the 75 mile mat.  We got back to our crew and Brad sat me down to take a look at my feet.  Although he couldn't see anything, I was in so much pain that I couldn't imagine shuffling another 25 miles.  Just as that thought made its way out of my mouth, the wind and rain started.  That was the definitive moment for me.  I looked at Amy and said "can you go tell the timer that I'm done?"  And with that, my ride on the Ghost Train came to an end.  And I didn't regret it one bit.  The only regret I have is that I didn't get any photos together with my awesome crew.  I guess some things get forgotten when you try to run a hundred miles.  Couldn't expect Amy to take any pics with her "I'm stuck in the 80s" flip phone.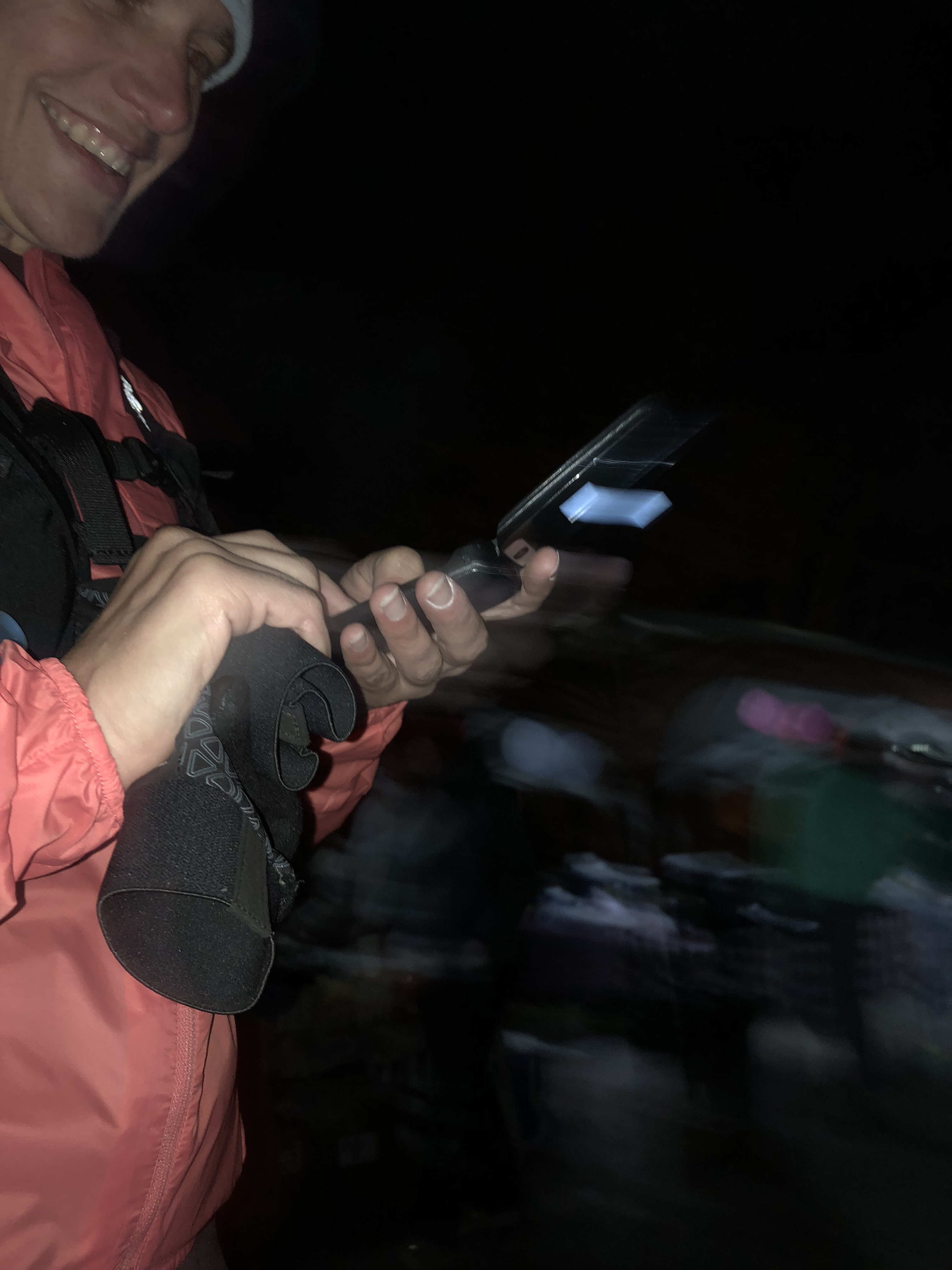 The wind and rain continued to increase as we packed up and headed back to the hotel.  Just before I collapsed into bed for some sleep, I checked out my foot in the harsh light of day.  It seems that the painful culprit was a large blood blister growing under the callus that had built up on the outside of my foot, evidence of me landing heavily on the outside of the instep.  At least now I had an answer.  When I woke up late that afternoon, I had pizza delivered to the hotel, opened a beer, and indulged in Gilmore Girls reruns on Netflix until I flamed out again around 11pm.
I won't be returning to this race in 2019, as I plan to do the VT100.  I'll take what I learned from my 20 hours on the train and hopefully be at 100% and ready to tackle my dream race.  After having done the 100k option a few times now, its time to put the big girl pants on and step up to the plate.  As always, there are too many people to thank for all their help…all my running buddies, my crew Brad and Carolynn, and my pacer Amy.  Most of all I need to thank my incredible husband, Joe, for being endlessly supportive and never letting me give less than my best.
PS: I checked the results and I finished 8th overall, 2nd female in the 75 mile division.  Not to mention that I got to share some of the trail with not one, but TWO Barkley veterans.  Silver lining?