"The real purpose of running isn't to win a race. Its to test the limits of the human heart." ~ Bill Bowerman.
The heart. The mind. The body. And, quite frankly, the sanity. I have to admit that I learned the intensity of this philosophy at the Catamount Ultra 50k this past weekend. Set in the beautiful mountains of northern Vermont, this race starts and ends at the Trapp Family Lodge – a place that I have longed to visit since I was in the Sound of Music in elementary school (we won't discuss just how long ago that was…).
I had signed up for this race months ago as a build up to my A-race, the Vermont 100k. Given that I had ridden my first metric century the weekend before Catamount, I wasn't planning on finishing with a fast time. Also, the elevation profile of this race is pretty impressive so I knew it was going to be slow going. Add to that the fact that New England has had a wetter than normal late spring and early summer and, well, there was the trifecta of challenges. Tired legs, steep climbs, and probably a lot of wet trails. HA!!! Wet trails – what an understatement that turned out to be.
My husband and I had spent the previous week with friends in Quebec, Canada. We drove home on Thursday just in time for me to unpack, repack, and drive back to Vermont on Friday. I arrived at my friend Kim's house in Fayston around 630, more than a little tired but looking forward to the weekend. I had already gone to the race venue to pick up our race packets and snap a few pictures so we had some dinner, chatted a bit, and headed to bed. Surprisingly, I slept really well considering all the stress of driving for the better part of the past two days.
The weather report said it was supposed to be mostly clear on race day; however, it was raining as we drove to the lodge. It continued to mist the entire time we were getting our drop bags set up and using the portalets for the last time before gun time. Well at least it wouldn't be hot has Hades and we'd have a bit of natural cooling. As we milled around the start line, we met Mirna – an ultra legend who has been featured in several publications. It was pretty cool knowing that we'd be sharing the trails with someone so inspiring.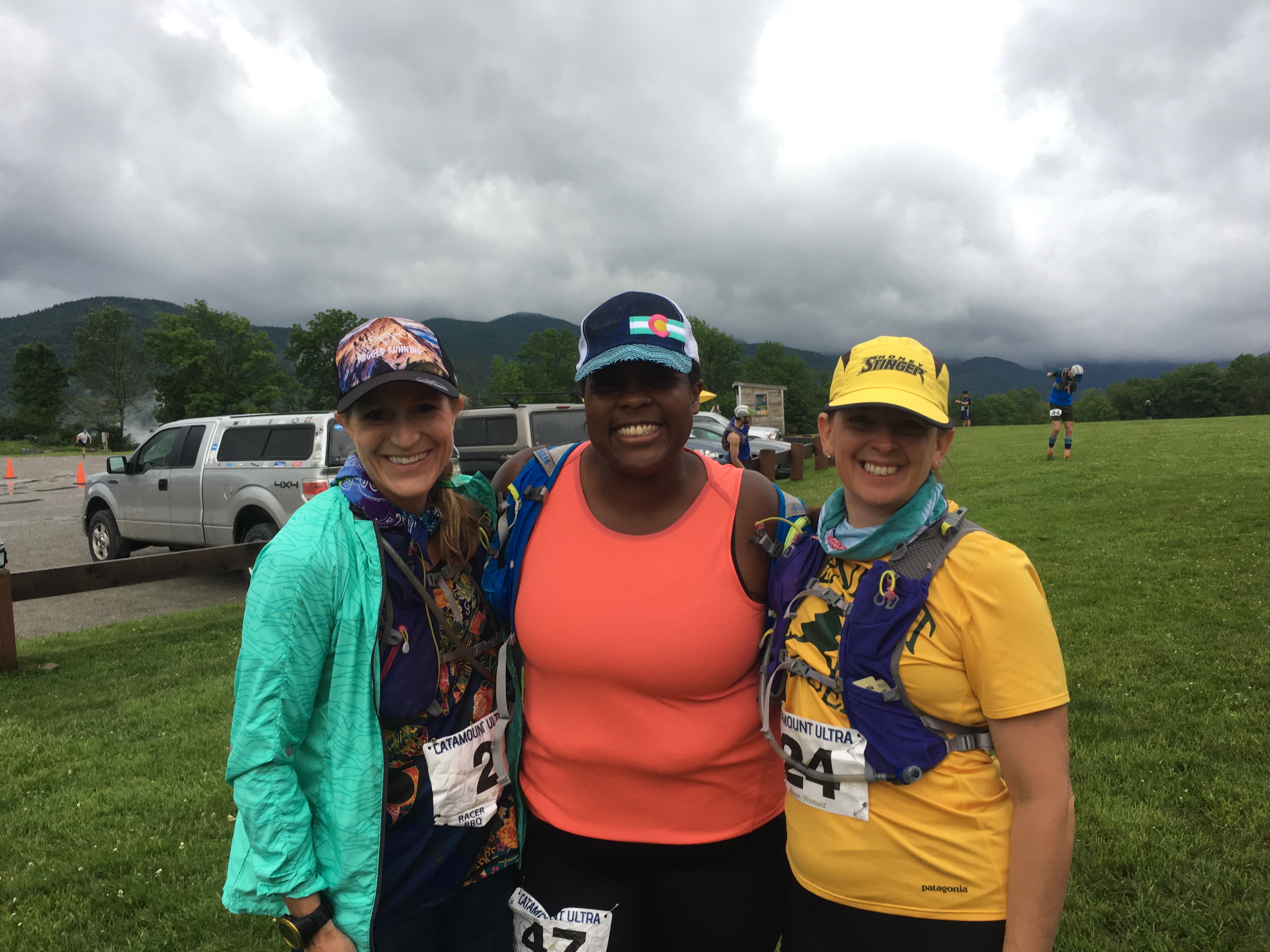 The first 4.5 miles of the course contains the bulk of the elevation, which, because of the double loop nature of the 50k, has to be dealt with again in the middle of the race. Getting to the top wasn't as bad as I expected it to be, and so far the footing had been pretty good considering all the rain that had fallen in the past few weeks. The first aid station was here and I refilled my pack, had some food, and left feeling pretty good. That feeling lasted about two minutes. The next mile and a half contained some of the worst footing I had ever experienced on the trail. Ankle deep soupy mud, steep ascents and descents with no good traction, and water running right down the middle of the trail.
After the hellacious mud section came the reward – a two-mile downhill gravel road with the second aid station at the bottom. Here I tried a wonderful concoction of lime juice, agave and chia seeds. Feeling amazingly revived, it was easy to head out on the trail despite the fact that we were mere feet from the Lodge. It would have been so easy to bail out, but the downhill section that continued across a field assured me that the worst was behind me. Hahahahahahahahaha oh, how the trail lies to us. Up and down, through the woods, across more fields, and yes – more mud. Mud so deep at one point that I almost got stuck. Luckily my shoes stayed on (I heard that many people had lost shoes at this one particular mud hole) but I was really beginning to feel drained. At mile 13 I texted my husband, telling him I was considering my first DNF. I didn't know if I had it in me to do another loop of this, and I really didn't want to get injured before the V100k. He assured me that only I knew the right choice to make. I decided to wait until I got to the start/finish area before I would let myself think about it too much.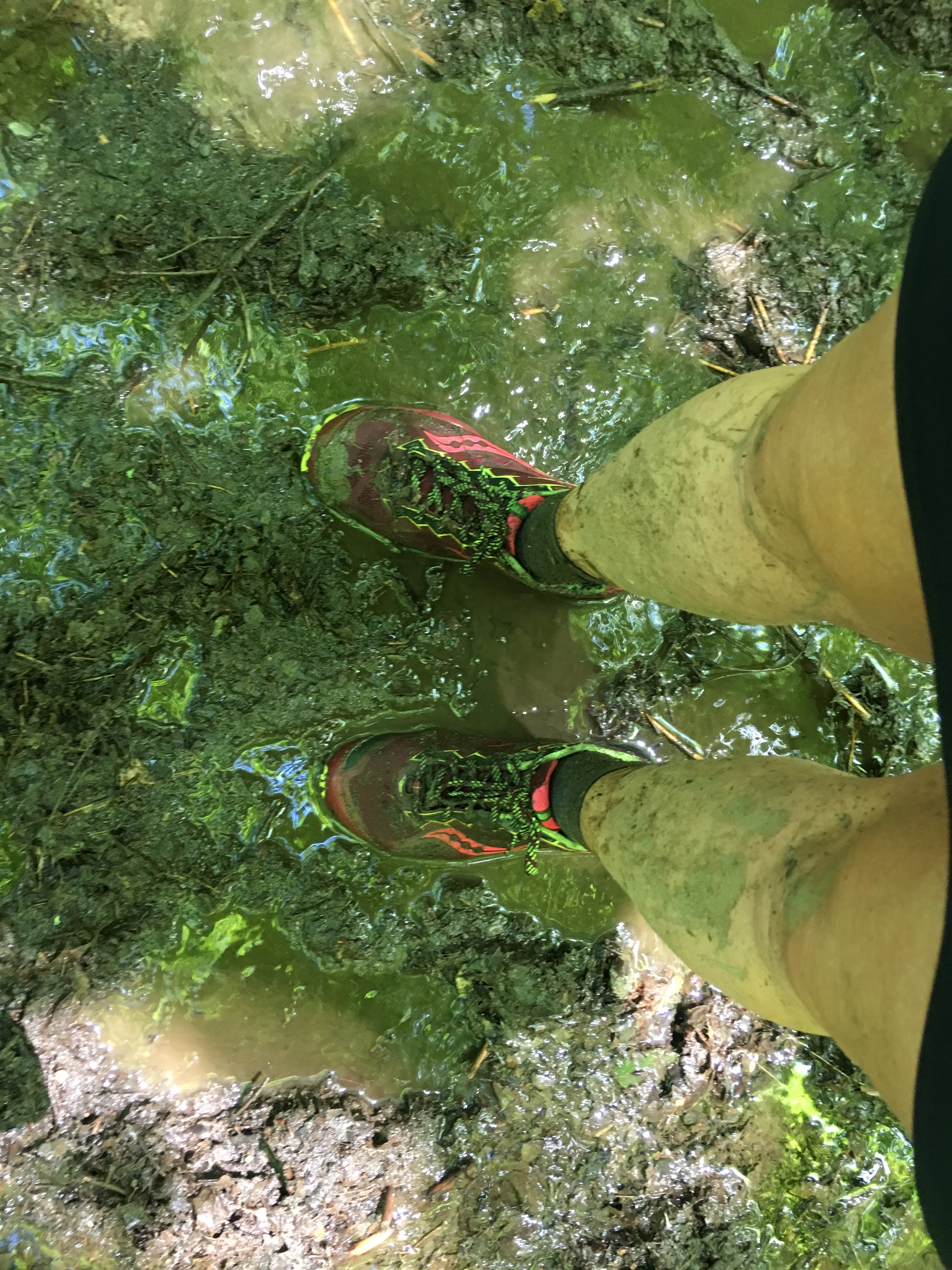 The last ¾ of a mile of the course is on a beautiful dirt road section with a downhill to the chute. I came into the aid station in 3:55, feeling pretty depleted, and I told the volunteers that I doubted I would go back out but I would check in with them in a bit. Another runner who had decided to drop after the first loop helped me changed my shoes and refill my pack with Honey Stinger gels and snacks and water. I weighed my options: go back out for another 4-5 hours of torture, or accept my first DNF. After a few minutes, I said, "what's the worst that can happen?" to the volunteers and headed back up the chute. As I past the 25k runners who were eating and drinking their hard-earned beers, I thought to myself, "what the fuck am I doing???" but I continued to trudge on. I just couldn't bring myself to say the words "did not finish".
The climb up to the first aid station was unimaginably difficult. The sun had come out and it was now heating up nicely. I stopped several times along that section to submerge my buff and my hat in the wonderful icy streams, and that helped keep me going. When the top of the climb finally came into sight, all I could think about was the mile and half of mud that awaited me. Well, at least the worst really was now behind me. Or so I thought. I got through the mud and was finally on the blessed two miles of downhill gravel road. That mud section was the slowest I'd ever done at an ultra. The mud mile, as I like to call it, took me almost 28 minutes to get through. But at least now I only had 8 miles of rolling hills between the finish line and me.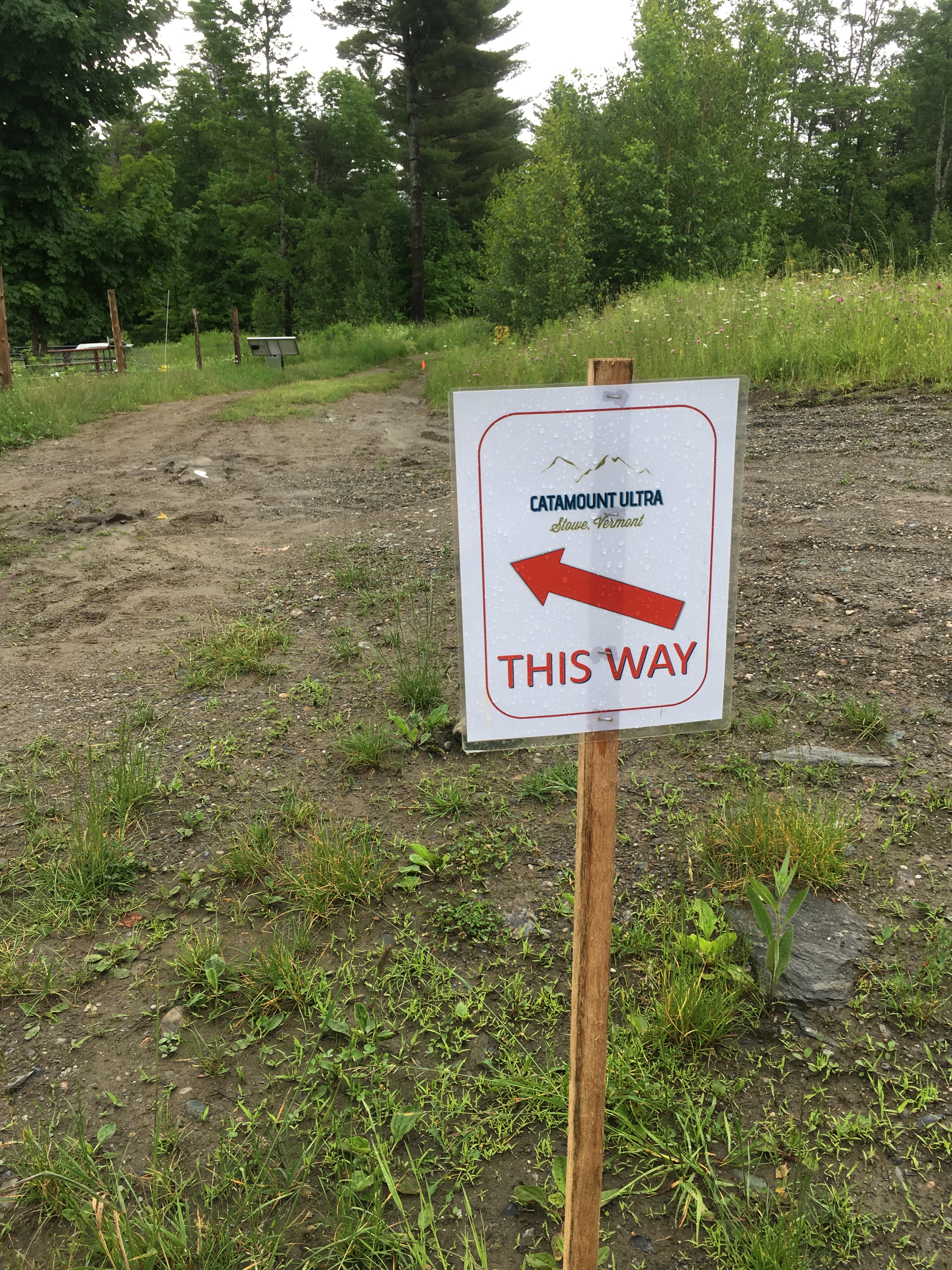 Have you ever wondered what a wet trail looks like after 500 runners have gone through it? Let me fill you in. It turns to mud. Lots and lots of mud. The easy up and down sections that I had traversed on the first loop had become short dry sections with mud holes in between. It was impossible to run, as I was now completely exhausted. All I could do was keep moving forward at a walk, hoping that my water would hold out until the final aid station with four miles to go. It did, and as I let the volunteer at that aid station help me fill my pack I finally allowed myself to believe that I was going to finish. I had been so worried about making the cutoff because of all the walking I'd had to do. It was ticking down to seven hours, forty-five minutes and I still had three miles of mud to get through before I got to the last mile of dirt road and the grassy, downhill finish (the cutoff time for this race is 9 hours).
I finally came out onto that dirt road with roughly eight hours and 20 minutes on the clock. I made the decision that I wanted to finish in under 8:30, so I summoned up every last ounce of willpower and energy I had left and started to run. Several people had ventured up the trail to watch the last of the runners come in, and their encouragement kept me going when I wanted to stop and walk. I knew that Kim had probably finished much earlier (she had finished last year in just over 5 hours) and had already headed home, so I prepared myself to enter a virtual ghost town at the finish line. As I came off the dirt road and headed down the grass to the finish chute, I heard her screaming my name. Tears filled my eyes as I realized that she had waited for me, and that she intended to run me in. I looked up at the clock and saw it closing in on 8:30 so I started to sprint. Kim said "dang girl, you've got a kick!!!" which spurred me on even more. I crossed the finish line in 8:30:07, and that was good enough for me.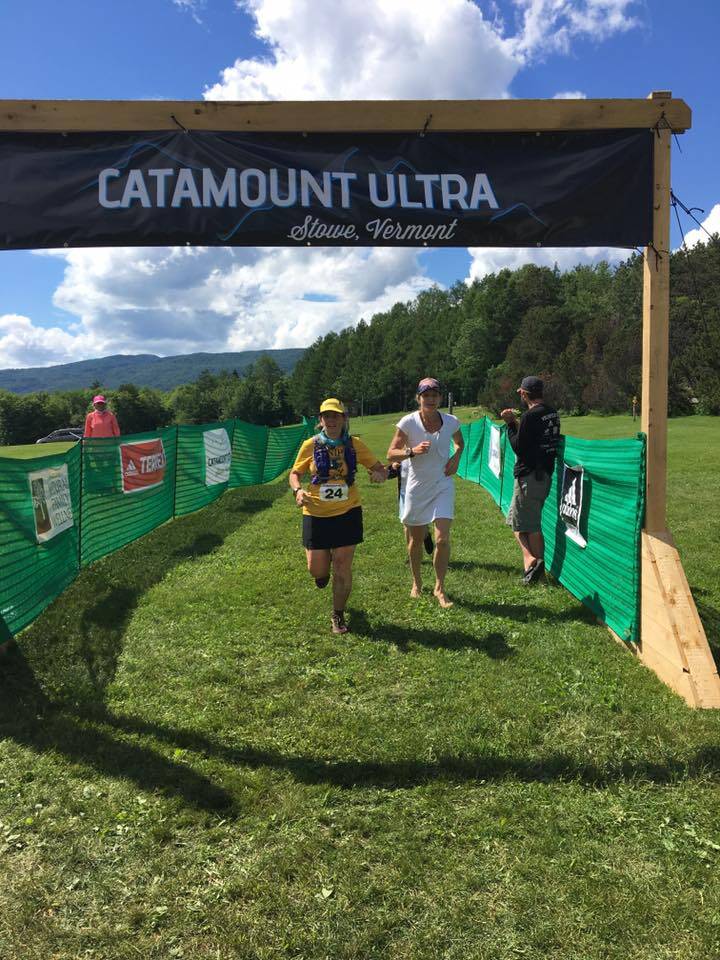 I learned so much about myself that day. I had never really thought of myself as having mental toughness, but now I know that I have an unlimited supply of it. There had been many, many easy avenues to Quitter's Road during this race (many places where the course either came through or very close to the start/finish area) and I had passed by them all, choosing instead to see how much I could put myself through. I am incredibly proud of myself for finishing that race, knowing how many great runners had chosen to drop at the 25k mark. That finisher's beer never tasted so good!!!
As I look forward to the Vermont100k I know that I have the guts and the determination to reach my goals. The plan is to finish in less than 15 hours, giving me a qualifying time to enter the 100-mile race next year. Until then, its taper time!!!!
Happy Trails to you…and never, ever give up on yourself!!