19
Nov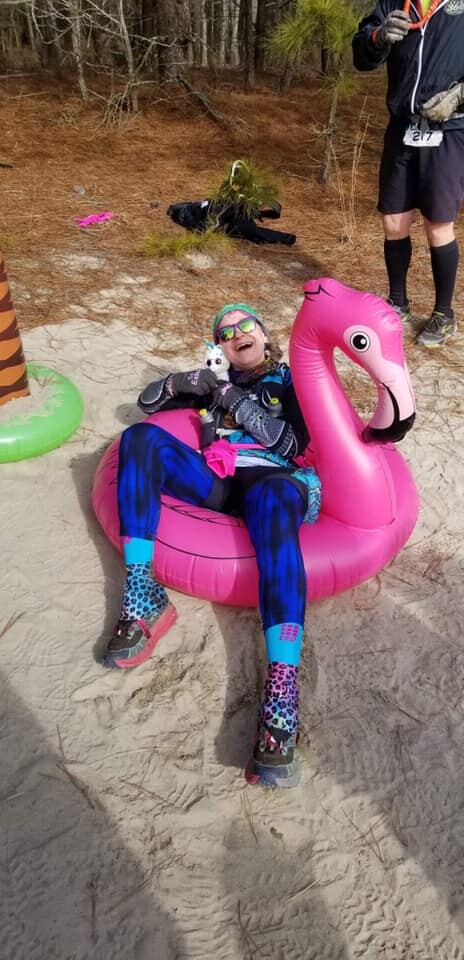 Run Long ~ Run Strong: How old are you?
Lesa D: I am 50 years old and will be 51 in November. I love the fall (not the shortened days tho) not only because it's my birthday but the weather is chilly, the colors are spectacular and I love Thanksgiving! 
RLRS: Tell us a little about yourself (kids, married, job)?
LD: I am twice married now to my soul mate. Or at least I like to think so. We have no children but a rescued Carolina Dog. Of course we guess that's what she is because 'someone said so.' Her name is Mebbie after Meb!!!

I am a social worker at a VA hospital in NC and currently work with service members (mostly combat) that are transitioning off active duty into the VA Health Care system. I'm originally from W. PA just North of Pittsburgh.

Believe it or not, I totally use to hate running, I mean, LOATHE it!! But, I found that I can have fun and now that I found ultras – Mind Blown!! I can walk if I want to. 
RLRS: When and why did you start running?
LD: I started trying to run in the summer/fall of 2012 and failed miserably. I didn't know what the crap I was doing and ended up getting horrible hip pain all ITB crap. I saw a group doing run/walk intervals one day and I thought for sure I could do the same. The winter of 2013 my husband signed me up for an all Ladies beginners running group and I learned to use run/walk. I actually was a group leader for the same group for 6 years. 
RLRS: What keeps you motivated to train?
LD: Signing up for races. I think I would crap out if I didn't have some form of race to motivate me. Plus, I like to travel for my races.
RLRS: What are your hobbies outside of running?
LD: I read, but I need more hobbies. Do you have suggestions?? We keep talking about joining a group that helps build fences for dogs but we never do. I suck. 
RLRS: What is your favorite race?
LD: Oooo. This is a tough one. I love MCM but the Flying Pig Marathon is a close second. 
RLRS: What is your bucket list event?
LD: I don't have one. (coach's note: Yet.)
RLRS: What is the funniest thing to happen to you during a race?
LD: Meeting up with a friend, who I was supposed to train MCM with and didn't. Out of 30K runners we bumped into each other at the porta-potties and we ran 23 miles together. 
RLRS: What is your proudest race moment?
LD: Shoot.. getting the DFL award at the Algonquin 50K race this past Feb. Like, I literally had two seconds to spare when I crossed the finish line. It shouldn't really be my proudest race moment bc I spent way too long screwing around at aid stations but it was an EPIC finish! 
RLRS: What is the one thing you wish you knew when you first started running
LD: Stretch, stretch and stretch and foam roll. Oh, and don't buy the pretty shoes, but shoes that work for you. 
RLRS: What is your best piece of advice for new runners?
LD: Don't compare yourself to other runners because if you do you will take the fun out of running for yourself. Bad runs happen and they are bound too, but you keep going. Forward, relentless, motion.