09
Sep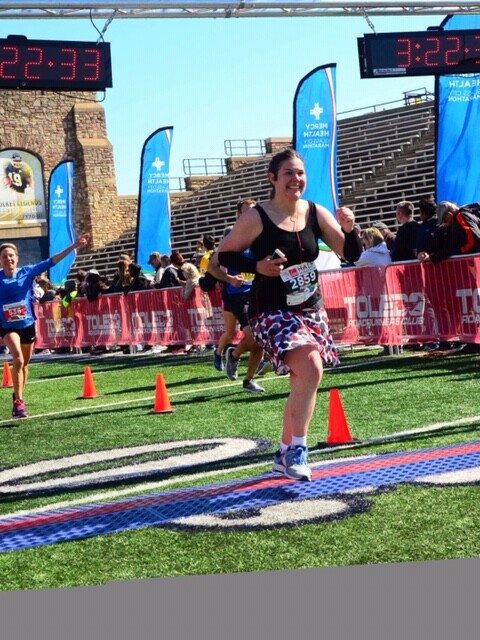 Run Long ~ Run Strong: How old are you?
Natalie Dielman: 43
RLRS: Tell us a little about yourself (kids, married, job)?
ND: I work at a library doing programming for adults.  
RLRS:When and why did you start running?
ND: About 10 years ago – I never understood why someone would run for fun and then one day I decided to try it. No idea why!  


RLRS:What keeps you motivated to train?
ND: RI love the feeling of accomplishment when I finish a race (or long run).  I've never considered myself an athlete but I'm constantly amazed by what my body (and mind!) can do when running.
RLRS:What are your hobbies outside of running?
ND: I love to read, hang out with my family, and explore new places.
RLRS:What is your favorite race?
ND: I loved the Dublin Rock and Roll Half Marathon – great course, fun support, and a wonderful city.
RLRS:What is your bucket list event?
ND: Reykjavik Half Marathon!
RLRS:What is the funniest thing to happen to you during a race?
ND: I'm a pro at posing for race pictures – even if I'm so over the race at that point, I can get a big smile on my face for the picture.  At the Dublin race, mile 12 or so, I started my race picture pose and the photographer said something like "smiling! Very impressed!", lol.
RLRS:What is your proudest race moment?
ND: Finishing my first half marathon (Disney) was surreal and amazing.  
RLRS:What is the one thing you wish you knew when you first started running?
ND: That it is so mental!  I really have to make sure when I think I'm ready to stop that it's not my mind talking (and it usually is my mind telling me I'm tired, not my body).
RLRS:What is your best piece of advice for new runners?
ND: You can do it – really!  And the more you run, the better you get.