08
Jun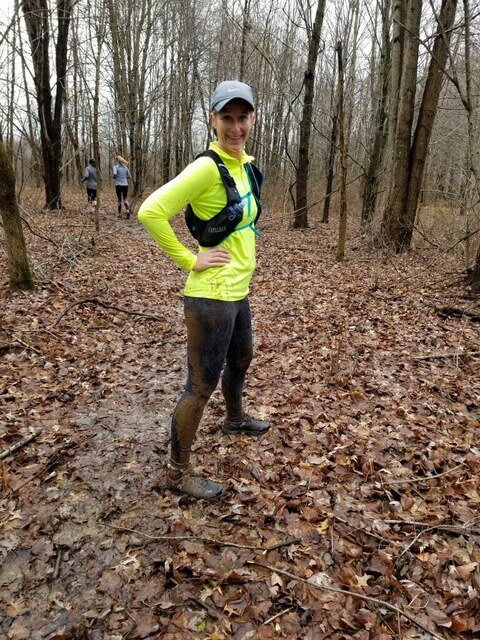 Run Long ~ Run Strong: How old are you?
Cynthia Thompson: 50 years old
RLRS: Tell us a little about yourself (kids, married, job)?
CT: Two sons, ages 31 and 20. Oldest is married and has given me three adorable grandchildren (5 and 2-year old boys, 6-month old girl). Single. Work as a purchasing manager in the chemical industry.


RLRS: When and why did you start running?
CT: I started running at the young age of 46 when I realized I was playing in two different tennis leagues but still felt like I was out of shape – and I quickly learned that I was even more out of shape than I believed! I put myself through an unplanned C25K and . . . kinda got addicted!


RLRS: What keeps you motivated to train?
CT: I love the friendships I have developed running – having so many amazing women to train with keeps me going even when I am having a rough time. I also love a challenge – once I have committed to a race, I hate the idea of letting myself down!
RLRS: What are your hobbies outside of running?
CT: Wait, there are things to do outside of running? OK, OK. I still play in a Summer tennis league, I try to get on the water as often as I can with my kayak, I live the dream as Mimi to my grandkids whenever I can . . . and does binging Netflix crime series count as a hobby?
RLRS: What is your favorite race?
CT: I try to never run the same race twice – I like the adventure of trying new and different things! I have to say that Big Turtle 50 miler is my favorite to date – but maybe that is because I am so very proud of the accomplishment of it. It was a beautiful course too in the Daniel Boone National Forest in KY.
RLRS: What is your bucket list event?
CT: There are too many races to run! I love the idea of the Volcanic 50 which circumnavigates Mt. St. Helen's – I so vividly recall watching that volcano erupt, and the idea of running it fascinates me.
RLRS: What is the funniest thing to happen to you during a race?
CT: Hmmmm . . . I was struggling with IT band pain during the Carmel (IN) Marathon, and there was an aid worker with pain spray – but I couldn't pull my compression pants up far enough for her to be able to spray the outside of my knee! So . . . yeah, I kinda pulled my pants down right on the side of the course (yes I was wearing moisture wicking undies – no mooning my fellow runners)! Sadly, it didn't even help much and I ended up finishing the half instead of the full. But hey, it was quite the moment!
RLRS: What is your proudest race moment?
CT: Crossing every finish line for a distance PR has been a proud moment – but I definitely became the most emotional when I finished my first full marathon (Little Rock). I will always be thankful to my friend Cari for running the entire 26.2 with me, motivating me, and even singing Disney tunes to me LOL.
RLRS: What is the one thing you wish you knew when you first started running?
CT: I wish I knew that every runner has insecurities, fast or slow is a matter of perception, and your only competition is yourself! (Sorry, I know that's more than one.)
RLRS: What is your best piece of advice for new runners?
CT: Join a run club and run with friends! I have formed some of the most amazing, supportive friendships through running, and the training is so much nicer when you do it together!